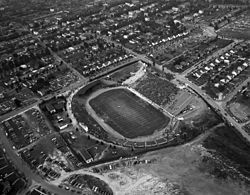 The financial fiasco that is the 'Redskins training camp goes to Richmond' is laid at Mayor Jones's doorstep. Bob McDonnell has turned economic incentive on its head. He handed out $4 million to the private sector while doubling down with Richmond's unfunded mandate. Bob has a future in banking.
Mayor Jones has to wonder exactly how this political derivative pays off. He has appointed a panel to discover the obvious: Richmond cannot get there from here. It will take more prayers than even McDonnell's pal Pat Robertson can muster to deliver this miracle; better phone the Pope.

Although moving the camp to a spot within the city limits has been taken for a given, Redskins general manager Bruce Allen, interviewed Thursday at the team's headquarters in Ashburn, would only say a site in the city is "preferable." – Richmond Times Dispatch
It really doesn't matter where in Richmond the panel settles upon. There is no existing facility in the city limits. The best nearby is already spoken for. So, wherever in Richmond this burden lands, Dwight Jones knows it will cost dearly. That is even before the annual payment to the team of $500,000. Imagine that! Richmond will pay the Redskins for the honor of having spent millions in infrastructure that might have gone to schools or some other urban luxury. It's a new kind of fiscal chokehold that allows passing a state deficit of $9.6 million to the city of Richmond.
What I know of Richmond comes from having actually lived in the city; not in the suburbs or a city mansion on the public dole like our Governor. It's got to be wonderful enjoying the city, writing checks out of someone else's account and being escorted around limo style. It is a wonderful city with so much to offer…almost anything but an appropriate venue for a professional football summer camp.
But it is not just the money for the facility and the half million dollar a year bounty. Anyone who has suffered through August traffic in Richmond around either of the two obvious locations for the training facility knows that not another vehicle is welcome. It simply won't work no matter how many traffic cops assigned. Local businesses will suffer because their regular clients will no longer have ready access during these three weeks and may not return after finding alternatives. No silk purse can be sewn from this sow's ear.
Back in the day when Bruce Allen lived in the Richmond area, there was no real call for him to become too familiar with the city. His trip to City Stadium was along tree lined avenues with almost no stop lights. He crossed the newly constructed inner beltway probably without a thought that it was designed with halting urban blight in mind. And when he drove home from college, he did not even have to deal with the once and apparently now future toll booths that congested traffic on and along I-95. He could reach home in the DC suburbs in 75 minutes or so. There was almost no good reason to travel up the Boulevard unless he wanted to get some of that canned New England clam chowder at the then spanking new Howard Johnson at I-95. And I'd almost bet he never made it out to the Virginia State Fair or Richmond Raceway.
Anyone who travels to Richmond to attend the camp as an observer will do it only once even with RGIII as a draw. Frank Sinatra, as Grand Marshal, attended the Tobacco Bowl shown in the City Stadium photograph from 1949…and never came again.
With that in mind, let's run just Richmond's numbers. Forget that Bob paid a private sector entity millions to continue what it was already doing; that is come home after playing and consistently losing games. Richmond must pay the Redskins an additional $4,000,000 over the years it is obligated to host for the privilege of spending another $1,000,000 a year for infrastructure and public safety expenses. That is $12,000,000. The Governor's team estimates the economic impact at $6,000,000 a year. Being generous and optimistic, the city will realize a meager $300,000 a year in tax revenues from that "impact." (And if the old State Fair grounds or Richmond Raceway or anywhere outside central Richmond is used, nowhere near that amount will be realized.) That leaves at the minimum a $9,600,000 hole that will come out of the Richmond budget. There's how you balance a state budget.
So sad to be you Dwight. There is no way this omelet turns out well.