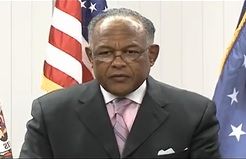 Tis the season for miraculous financial initiatives. The man who didn't clearly outline
Richmond's obligations for his NFL football summer training facility
or find backing for
burying hallowed historical ground under a minor league stadium
is now preparing to make the Democratic Party of Virginia (DPVA) homeless.
All the get rich land development schemes that characterize Richmond City high finance remind one of the common flights of fancy on The Honeymooners. One difference, though: Mayor Jones is banking with other people's money and trust. After making an effort to gain clarity on the DPVA's financial health, there is nothing to show but despair. Appropriate since Jones and his recent predecessors as Chair have all left the political party borrowing against time while concealing the bottom line. Requests for financial statements have been ignored, so the depth of the hole remains closely held. Miraculously, during six years with a Democrat in the White House and in a state with two Democratic United States Senators plus the election of Democrats to all three statewide executive offices in the past year, time has run out on the Party's mortgage.
A big portion of the DPVA party leadership's responsibility is to provide the hired staff with sufficient resources to run a statewide political party. But Jones, who fought through charges that he doesn't represent the party's principles of equality and equal rights to gain the position of Chair, has been an absentee landlord. The infrastructure, physical and fiscal, has continued to decay since his ascension to the post. He has consistently missed meetings and party conference calls. E-mails go unanswered. The excuse is always that his responsibilities as a pastor and Mayor consume his time. Those responsibilities did not preclude him from interfering in an intra-party state Senate primary race (his influence proved ineffective). Now he's on the verge of missing the payment on the DPVA's "digs" on Franklin Street in Richmond.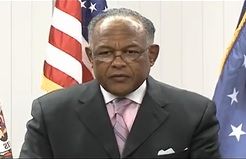 Or agree to resign as Chair either if the
federal appeals court overturns Judge Wright Allen
in Bostic v. Rainey (and/or the Harris case) or if the federal court ruling is appealed to the Supreme Court. In the unlikely case where the ruling is upheld and not appealed, stay on.
Citing an order by the U.S. Supreme Court to halt same-sex marriages in Utah as a federal court ruling allowing them is pending appeal, Brown said "the stay gives us hope that it will be overturned" and that "it is not all lost." - reported in the Richmond Times Dispatch
Come May, there is small doubt that the Democratic Party of Virginia (DPVA) will be called upon for a strong statement of support for same-sex rights. A Party Chair whose views are "evolving" won't carry that water. The Chair must be as dedicated to same-sex equity as those who have vowed to continue the fight against it.
Or, lie. Say you genuinely support marriage equality. You have to decide whether being a hypocrite or a liar is the greater sin; clearly you have to commit one. You do have some experience which will inform your choice. You didn't bat an eye when you spun a tale of success regarding the training camp blunder.
Your choice. But "evolving" isn't leading; it's following. The DPVA deserves a leader who can be honest about where the Party is, be certain where it should go, and be able to deliver tangible results.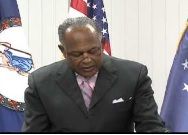 It must be tough being an elected Virginia Democrat; with Governor McAuliffe leaning on you to support his choice for the Virginia Party Chair. No matter where you stand or how this turns out, Terry will be there when the smoke clears. There is no public option. Tough business, this.
So really, the support for Dwight Jones coming from elected officials must be severely discounted. Many of them don't have a vote in this selection or have regularly failed to attend Central Committee meetings, so there they have no say either. And at this point, after the Boyd Marcus maneuver, they cannot be certain if there would be any consequences if Jones does not become Party Chair. The vote is closer than many will acknowledge and a secret ballot provides cover for the principled stand.
"Should Jones assume the chairmanship, it will be interesting to see how Democrats finesse painting Republicans as intolerant for embracing a view their own head of the party shares." - Richmond Times Dispatch Editorial
On the face, some pretty savvy members of the General Assembly have come across as illogically rationalizing their support for Mayor Jones. Calling the objections a litmus test or saying Jones is being denigrated is about the only way you can respond when your Party's Governor has leaned in on you. Rejection of litmus tests applies more appropriately to candidates for elected office, not to the face of the party. And what does it mean when you say Jones should get a pass because the Governor is at fault for the selection? If Dwight Jones aspires to be Governor, this may be his Waterloo. His choices are not what he wants them to be. They are to announce an incredible revelation or to step away. If he becomes Party Chair, he will spend four years documenting his inability to deliver on promises. Unlike
unsubstantiated claims of $40 million in capital investment
, failures to fill seats in the House of Delegates and state Senate are readily evident. Bad posture for one who will want to claim effective stewardship. In February 2011, President Obama instructed Attorney General Eric Holder not to defend DOMA, and I believed we had jumped a major hurdle on our way to civil rights for all our citizenry. Don't Ask Don't Tell had been repealed in 2010. Then came the push by VP Joe Biden, and the President announced on May 9, 2012, he was in favor of marriage equality. Then in June 2013 we had the Supreme Court decision on DOMA, in which Justice Scalia foretold of state marriage bans being challenged across the country. Those lawsuits were filed, some have been heard before federal courts across the country and to date all have been found to be unconstitutional.
Last year during the Commonwealth's statewide elections, I repeatedly heard our candidates speak in favor of full and equal civil rights for all of the citizens of the Virginia including marriage equality. Newly elected Attorney General Mark Herring stood tall when he refused to defend Virginia's same sex marriage ban because he believed it to be unconstitutional.
Sensing a rising tide of sentiment against the prospect of Mayor Jones' candidacy for DPVA chair, it seems the "powers that be" have chosen to short-circuit the process. This further solidifies the argument that Jones is no more than a strawman for whomever feeds his self-perceived competence.
While this certainly will save the Central Committee substantial time and effort at the meeting on March 15, if true, the announcement will come as a pre-emptive strike that is not so surprising, yet will serve to allay any illusion that the DPVA functions for the benefit of its members. And it will be good news for the Republican Party of Virginia, despite themselves, because it would guarantee that the DPVA will lack the focus required to maintain control of the State Senate beyond 2015.
The best part of this ham-handed move is that it alienates the party members who reside in districts that are currently held by Republicans; as in the grassroots members who the DPVA needs the most to accomplish any gains anywhere. While a competent, experienced, incumbent Executive Director would be able to manipulate a marionette Chair with one hand, it will probably require both hands just to keep the ship steady in the heavy rolls that can be anticipated with the staff changes that have already taken place.
Advice to the powers that be: don't ask for unanimous consent or acclamation at the Central Committee. It doesn't exist.
Update: The revised version from the RTD.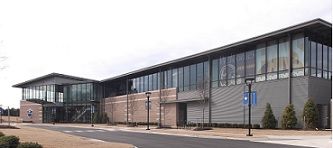 The stadium deal is a useful distraction. While the school system crumbles, Dwight Jones mumbles. The return on investment of his professional football venture is a closely guarded disappointment. Now he ties baseball to slavery. Where was he when Curt Flood made the only reasoned connection? It is shameful self-promotion.
When the Richmond Times Dispatch held one of its public square forums about the stadium proposal, Mayor Jones slid into the back of the room and refused the opportunity to explain why Richmond should invest millions in circus events in another scheme that will rob the deficient school system of funds sorely needed for not only current operations and maintenance funding but also investment in deteriorating infrastructure. It isn't just schools, but they are most important. On this, the Mayor is mute.
"They paved paradise and put up a parking lot..." - from Joni Mitchell's Big Yellow Taxi
Jones's argument that the Shockoe Bottom stadium is somehow tied to the funding for the preservation of what should be hallowed ground is oxymoronic. The ground was long ago violated when I-95 plowed through; enough. And now the Mayor wants to break ground without a care about the potential sanctity of the very location he's ready to plow under. Somehow he's argued privately that is only the concern of those who oppose the slavery museum. And
Jones is desperately looking for evidence that supports his "vision."
That property on Patterson where Shirley McClain's and Warren Beatty's father was a school administrator is being used in a clumsy bait and switch. You have to wonder if Shirley will one day return there to haunt the place. You don't have to wonder if this deal will haunt Richmond.
The seven basic principles of (fiscal) magic:

Palm - Hold the public trust in an apparently empty hand.
Ditch - Secretly trade the public trust.
Steal - Secretly obtain a fungible obligation.
Load - Secretly move the obligation into a form that is popular.
Switch - Secretly exchange one obligation for another.
Simulation - Give the impression that something has happened that has not.
Misdirection - Lead attention away from a secret move.
With Mayor Jones "acting" to represent the public interest, private interests unveiled a Redskins summer camp proposal that featured a "public-private partnership." The mayor apparently unwittingly allowed his "advisors" to pretend they went with nothing in hand to the private sector seeking sponsors. There is actually no telling how many different objects were palmed during the pitch. Palm: But we now understand one of the hidden objects was a property on Patterson Avenue. Ditch, steal, and load: Quietly, Bon Secours sidled up, greased the palm and that property slid into theirs.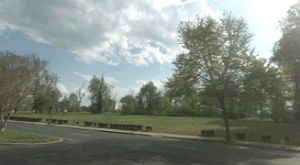 Virginia owns 11.2 undeveloped acres of prime industrial property adjacent to railroad turnout and intermodal freight transport access. Offer it to
an innovative auto company
for development and year round employment for hundreds? Or, give it away and commit to an investment of millions for an annual three week carnival.
Instead of industrial development financed by the private sector, our Governor, prospective author of the Republican platform fiscal chapter, has backed the city of Richmond into a corner that will result in the commitment of millions of state and city dollars to fulfill the deal he cut that already cost a $4 million state "incentive." Maybe Bruce Allen learned something at the University of Richmond after all and is a shrewder negotiator than imagined. Not. Our Governor is more of a tool than ever imagined. And, Dwight Jones's silent acquiescence in this matter is his own indictment.
"The property is attractive to the team because it is undeveloped and large enough to accommodate two side-by-side football fields and a fieldhouse..." - Richmond Times Dispatch
The size of the required investment becomes clearer as Richmond arrives at the point where it is time to fish or cut bait. A year from now, Bob's deal may spawn a fieldhouse and two football fields in central Richmond. A fieldhouse. Imagine the conversation where Bob explains to Dwight that the state's investment, the transfer of 11.2 acres of state owned land, now never to generate a potential dollar of property tax revenue ever, far exceeds the value of the city's obligation to build a multi-million dollar facility that has a guaranteed, no rent tenant three weeks a year. Odds are, Dwight takes the fall in this contest.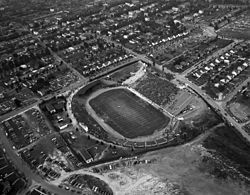 The financial fiasco that is the
'Redskins training camp goes to Richmond'
is laid at Mayor Jones's doorstep. Bob McDonnell has turned economic incentive on its head. He handed out $4 million to the private sector while doubling down with Richmond's unfunded mandate. Bob has a future in banking.
Mayor Jones has to wonder exactly how this political derivative pays off. He has appointed a panel to discover the obvious: Richmond cannot get there from here. It will take more prayers than even McDonnell's pal Pat Robertson can muster to deliver this miracle; better phone the Pope.

Although moving the camp to a spot within the city limits has been taken for a given, Redskins general manager Bruce Allen, interviewed Thursday at the team's headquarters in Ashburn, would only say a site in the city is "preferable." - Richmond Times Dispatch
It really doesn't matter where in Richmond the panel settles upon. There is no existing facility in the city limits. The best nearby is already spoken for. So, wherever in Richmond this burden lands, Dwight Jones knows it will cost dearly. That is even before the annual payment to the team of $500,000. Imagine that! Richmond will pay the Redskins for the honor of having spent millions in infrastructure that might have gone to schools or some other urban luxury. It's a new kind of fiscal chokehold that allows passing a state deficit of $9.6 million to the city of Richmond.