Quick background: the following three are extreme right wingers, all rabid Trump supporters. Elizabeth Schultz is, believe it or not, a member of the...
See below for E.W. Jackson's Facebook post in which he rips Think Progress (he calls it "Think Propaganda" - hahahaha, hilarious!) and the "George Soros...
As usual, 2013 Virginia GOP Lt. Governor nominee and 2016 Ted Cruz endorser E.W. Jackson is not just wrong, but crazy wrong. In this...
In predictably insane fashion, of course...
Craaaaaaaaaaaaaaazy!  But yeah, expect a LOT more of this in weeks and months ahead...ugh. As I listened to Democratic Lieutenant Governor candidate
Ralph Northam
at a fundraiser last night, it occurred to me that the two candidates for that position couldn't possibly be more different. It is, in short, a race between an accomplished professional who takes everything he does seriously -- and a rabble-rousing demagogue who's never succeeded in anything other than spreading extremism.
Dr. Northam's day job is as a pediatric neurologist. Think about it: he treats kids with brain injuries and disorders -- not a position you can BS your way through or in which you can do a half-assed job and call it a day. It's a highly skilled profession on which children's lives and futures depend. And he's been in practice for over 20 years, after serving as a physician in the Army and completing residencies at two Army Medical Centers, including Walter Reed.
He's been in the State Senate since 2007, where his signature accomplishment was the law banning smoking in restaurants, protecting the health of their workers and patrons. Now think about that -- he got a solid smoking ban in a state where tobacco has been king since the colonial era.
Northam, is in short, a serious professional, someone who focuses on resolving important challenges -- which, it's worth reminding everyone in this age of Tea Party craziness, is exactly and only what we want our government officials doing.
And then we have the Reverend E.W. Jackson, the extent of whose seriousness on matters of governance may be summed up by the video from his failed Senate campaign where he smashes watermelons labeled "Federal Budget", "Unemployment" and "Obamacare" with an axe. Luckily for Ralph Northam, the senator's environmental positions appear 'radically liberal' in comparison to his drive-the-planet-into-the-ground opponent for lieutenant governor, E.W. Jackson. Not only are Jackson's political positions on the environment inimical to its preservation, Jackson represents the wing-nut group of conservatives in Virginia whose primary forte is cooking up conspiracy theories regarding every level of government.
Jackson has argued, for instance, that the Virginia Department of Environmental Quality is a puppet of the U.S. Environmental Protection Agency, 'killing' Virginia's coal-mining sector as a result. While Jackson may believe it's just good politics, a part of me also thinks that Jackson actually believes some of the far-fetched conspiracy theories that he spins out for the mainstream media to print across its front pages.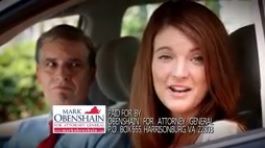 In quick succession, four polls have shown the race for governor is slipping away from Ken Cuccinelli. Yesterday Quenton Kidd, Director of the Wason Center for Public Policy at Christopher Newport University (CNU) discussed recent poll results with
Cathy Lewis on Norfolk's WHRV
. Not all the news was great.
After about a month or so with a McAuliffe lead of around five percent and margins of error around three and four percent, there had been an argument that the gubernatorial race could be closer than the numbers indicate. Two days ago, Politico published a poll showing McAuliffe holding a 10 point lead and soon afterwards CNU released the results of a poll with him up by nine percent. Roanoke College had McAuliffe up by seven and today the Quinnipiac University poll has him with a lead of eight.
Lewis asked Kidd about the libertarian candidate. Kidd responded that Sarvis continues to perform well with about eight per cent of the vote (according to CNU). Sarvis's support, by Kidd's assessment, is coming out of what would naturally be Cuccinelli's voters; he's a protest vote for Republicans and independents who would normally go with the Republican. So the real question is: What do they do on election day? Do they stay home, do they go back to their natural base and vote Republican, or do they stick with Sarvis? Kidd believes that is the real unknown right now.
Kidd told Lewis CNU is currently conducting a poll asking about the shutdown and who is to blame; he expected the Quinnipiac poll to address the shutdown (it did). This he said, would begin to give a clearer picture about whether the race opening up for McAuliffe is directly or indirectly attributable to the "larger politics" around the shutdown and Ken Cuccinelli's connection to those "larger politics." Cross-posted at Daily Kos
As the campaigns gear up for November, the two parties unroll their top priorities. The Democrats highlight such issues as jobs, transportation, education and energy.
And the Republicans? Well, according to GOP Lt. Gov. nominee E.W. Jackson, one of the great threats of our time, against which we must protect ourselves, is...yoga:
When one hears the word meditation, it conjures an image of Maharishi Yoga talking about finding a mantra and striving for nirvana. . . . The purpose of such meditation is to empty oneself. . . . [Satan] is happy to invade the empty vacuum of your soul and possess it. That is why people serve Satan without ever knowing it or deciding to, but no one can be a child of God without making a decision to surrender to him. Beware of systems of spirituality which tell you to empty yourself. You will end up filled with something you probably do not want.
Um, okay.
Republican hostility to yoga may not make much sense, but it does reflect a certain consistency. Yoga is particularly popular with the ladies, and the GOP has already declared war on most of the rest of women's life and health. (What's next, a ban on chick flicks?)
A GOP War on Yoga also fits well with their messaging. The whole Limbaugh-Beck-Fox News schtick is all about what Thomas Frank has called "backlash populism" -- getting lower class whites to vote against their economic interests by getting them all hot under the collar over some imaginary liberal cultural elite. So let's be clear -- any sane person ought to be able to beat the loony
melon-smasher
E.W. Jackson for Lieutenant Governor. And I'd support any Democrat, Independent, Green, Liberal, Socialist, Reform, Whig or Tory candidate running against him.
That said, it's the responsibility of every Virginia Democrat -- every one of whom better be planning to vote in our primary June 11th -- to choose the BEST candidate to beat him, the one who will beat him by the largest margin and thereby send the strongest message against extremism.
I've decided that choice would be Aneesh Chopra.
Just look at what the two men stand for, and it quickly becomes clear that this is in many ways the perfect matchup for Democrats:
- The future (tapping the power of innovation) -- vs. the past (tapping the power of fear and hatred);
- America, land of immigrants -- vs. America, land of xenophobic immigrant-bashers;
- A message of inclusion -- vs. a message of stereotyping and shutting out perceived "outsiders," including gays;
- A future of clean energy-- vs. a retreat into the past out of fear of crazy anti-environmental, anti-science conspiracy theories;