Home
Tags
Friends of Nelson
Tag: Friends of Nelson
I agree with "Friends of Nelson" (see their open letter, below): Gov. Northam absolutely should attend tomorrow's meeting in Buckingham County "with keynote speakers...
Those in Nelson, Augusta and other counties across the Commonwealth fighting Dominion's proposed Atlantic Coast Pipeline are appalled the chair of the Commerce and Labor Committee, Senator John Watkins, would write
this Resolution commending Domminion Power
and take it to the Senate Floor for a vote [Lowell's note: where it passed by voice vote; same thing in ths House of Delegates], even after he heard the testimony of landowners regarding the aggressive, bullying tactics Dominion has used in its efforts to secure survey of private property against the will of landowners.
This is just another example of our elected officials bowing to Dominion, portraying Dominion as a good corporate citizen, while continually passing legislation benefitting those legislator's largest corporate contributor against the best interests of the citizens of the Commonwealth! Senator Watkins was very much in favor of the "Ratepayer Ripoff Bill" (SB 1349) which shields Dominion from reviews of its books, while thwarting legislation which would have repealed the survey law (SB 1338). Nelsonians couldn't be happier that Watkins is retiring!
General Assembly
2015 SESSION
SENATE JOINT RESOLUTION NO. 323
Offered February 3, 2015
Commending Dominion Resources, Inc. The Virginia Senate's Commerce and Labor Committee is Exhibit A in a case which exemplifies the influence of Dominion on the Virginia General Assembly. In its Committee hearing Monday, lawmakers first questioned whether Dominion Transmission is a "public service corporation" under Virginia law, during a brief discussion regarding SB 1166, which would have required Dominion to open its books if they used eminent domain in its projects.
Friends of Nelson President Joanna Salidis, during her remarks, held up Code Section 56-49, even offered copies to the Senators, and said if Dominion Transmission is not a public service corporation, then why are we here, why are they getting these special carve outs only utilities receive? Attorney Henry "Hank" Howell 111 told the Committee during his remarks that these companies are not public service corporations. SB1166 was referred to a committee studying the FOIA statute.
About 50 landowners and community activists (some who brought teenage children) from Nelson, Buckingham, and Augusta Counties made the trek to Richmond Monday morning to lobby all 40 senators regarding SB 1338, which would repeal a law Senator Frank Wagner introduced in 2004, known as the Wagner Act. Code Section 56-49.01 purportedly allows natural gas companies to send "survey" crews onto private property to complete surveys, borings, etc. without landowner permission. There is no time limit for these "surveys," nor notification of a specific date to be given the landowner for when these teams of contractors will appear on their private property. This special exception is allowed only to natural gas companies and no other "public service companies" in Virginia.
The citizen lobbyists had previously set up morning appointments with legislators. When they arrived, they broke up into eight groups to ensure contact and discussion with each Senator. They ate lunch and then made their way to Senate Room B where the hearing was scheduled to begin at 1 pm.
After a lengthy two-plus-hour delay because the Senators were in session in the Capitol, the hearing finally began. Senators continued to saunter in after the hearing had been gaveled into session by Chair Senator John Watkins. Watkins, when meeting with one citizen lobbying group Monday morning said, "We need electricity, this isn't going to happen," referring to the repeal of SB 1338.
This event has been postponed until FEBRUARY 9, 2015
Jeff Schapiro's article today in the Richmond Times Dispatch very clearly outlines the cozy relationships Dominion has with elected officials across Virginia. Those fighting the pipeline have known about Dominion's "contributions" to General Assembly members and other elected officials for many, many months. The opposition has attempted to make those facts known through posts here on Blue Virginia, and in other coverage of the fight to stop the proposed destruction and desecration of both public and private property by the proposed Atlantic Coast Pipeline project.
The determination of landowners and advocates is actually bolstered because of Domimion's money, lobbyists, and well-connected executives. All of that adds proof to the claims of injustices being heaped on landowners and communities. Dominion's attempts to thwart the grassroots only strengthens the resolve of the opposition, as illlustrated by Friends of Nelson President Joanna Salidis' statement last week: "Bring it on Dominion. The more you force your way, the more we will fight the injustice."
The grit and determination of the people in the continued fight for property rights, and to prevent the damage the proposed Atlantic Coast Pipeline would have on cultural, historical and environmental resources will not be diminshed by Dominion's money and power. On Monday, February 2, Free Nelson and Friends of Nelson will return to Richmond for a "Stop the Surveys" lobby day being co-sponsored by both groups and the Virginia Sierra Club. Senate Bill 1338, introduced by Sens. Hanger and Deeds, is to be brought before the Senate's Labor and Commerce Committee Monday afternoon. SB 1338 would repeal the statute which now purportedly allows the ACP's contractors to legally trespass on private property.
The groups are well aware Dominion's lobbyists are currently in Richmond pushing to kill Senate Bill 1338 in Committee. Landowners and activists, however, will show up to lobby Committee members on Monday morning, asking them to stand on the side of the people by voting Monday afternoon to allow Senate Bill 1338 to reach the floor of the Senate. Like-minded supporters are encouraged to join the groups in Richmond to participate in the Lobby Day!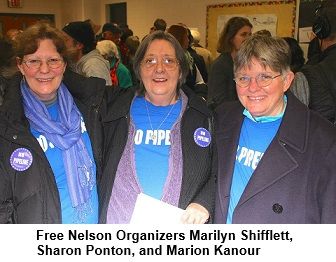 Please help Free Nelson and Friends of Nelson Get Support to Repeal the Survey Law!
Today in the Roanoke Times, Dominion's Chief Environmental Officer, Pamela Faggert attempts to justify Dominion's bullying, abusive tactics to use lawsuits to force unwilling landowners to submit to the survey of their private property. She refers specifically to an article written by Michael Martz of the Richmond Times Dispatch, which ran in many papers across the state. The article outlined the historical and cultural treasures in southeastern Nelson County, referring specifically to the Monocan tribe villages located along the James River that would be in the path of the proposed ACP, as well as an African-American community known as Union Hill.
Union Hill was established after emancipation when previous slaveholders gave the ancestors of current Union Hill residents land on which to live and farm. Many in this community have worked tirelessly to keep their legacy intact, but Dominion believes it simply has the right to desecrate these properties by running its 42" behemoth through the center of this community. Union Hill also includes the first African-American Church in Nelson County, St. Hebron Baptist Church. This church was at one time a white-only church, but was deeded to African-Americans in the 1840's. The deed includes a statement allowing both whites and blacks to preach and worship within its walls. We imagine this was there to protect the African-American worshippers since slaves were not legally allowed to own property before emancipation.
Ms. Faggert justifies the lawsuits saying "over 3,000 miles of potential routes have been considered." From the reports filed with FERC, it is obvious lines on maps may have been drawn for other possible routes, but Dominion gave them no serious consideration. They simply tallied the miles of forestland, wetlands, pasture and state and national properties the other "proposed routes" would traverse and summarily dismissed. They did no environmental, cultural or historical studies of those proposed routes; none at all. Members from several community groups opposing the Atlantic Coast Pipeline to include Free Nelson, Friends of Nelson, the Pipeline Education Group, and the Augusta County Alliance held a rally this morning at Charlottesville City Hall. After the rally, the group marched chanting, "Hey, Ho, The Dominion pipeline has got to go," 4 blocks west to a location where a fundraiser was being held for Kentucky Democrat Alison Lundergan Grimes. Ms. Lundergan Grimes is seeking the U.S. Senate seat now held by Senate Minority Leader Mitch McConnell.
Governor McAuliffe had accepted an invitation to attend this fundraising event. As the group approached from the west, Governor McAuliffe was spotted approaching from the east. At first, he obviously didn't understand what was happening as he continued to approach his destination. However, when he realized a group protesting Dominion's "energy super highway" was waiting at the door of the event he was to attend, he abruptly changed course and ducked into the restaurant next door.
He chose to refuse to acknowledge or speak to the group consisting of people who worked for and helped elect him last fall. Rather than defend his position in favor of the pipeline, he hid in a restaurant like a frightened child. Really bad form, Governor McAuliffe!