I've been trying to figure out why John McCain, Lindsey Graham, and several other Republican senators are piling on Susan Rice, UN ambassador, for her role as spokesperson for the administration on the Benghazi Sept.11 attack. There is no reasonable evidence for their ridiculous attacks, but maybe there's a political motive.
One of the "shining stars" of the GOP, Scott Brown, got wiped out by Elizabeth Warren, a genuine progressive, in his race to return to the Senate from Massachusetts. If we look at the two names mentioned for Secretary of State we come up with Susan Rice and John Kerry. If the GOP senators can make Susan Rice a difficult choice for President Obama, then perhaps Obama will simply nominate Kerry, thus opening a Senate seat in Massachusetts.
When Willard "Mitt" Romney was governor of Massachusetts, the Democratic majority in the legislature took away his ability to name someone to an open Senate seat. That came back to bite them when Sen. Ted Kennedy died in office in 2010, and Scott Brown won a special election against a feckless Democrat, Martha Coakley. (Coakley actually thought that Curt Shilling, hero of the Boston Red Sox victory in the 2004 World Series, played for the Yankees!) I'm coming to the conclusion that some GOP senators hope they can force the nomination of John Kerry as Secretary of State, thus giving Scott Brown another chance at a low-turnout special election.
Such Machiavellian maneuvers rarely work out as planned. Just ask Bob McDonnell and Bill Bolling. In their dream scenario, Romney names McDonnell his Attorney General (!?!), thus enabling Bolling to be the incumbent governor when he faces crazy Ken Cuccinelli in 2013. Now, all Bolling can do is drop out of the race for the Republican nomination and scheme (we hope) for a way to stop Cuccinelli from getting to the governor's mansion.
Oh, I do love politics!
In 2008, free-wheeling, unfettered markets toppled, erasing $11 trillion of American's net worth and 8.5 million jobs. Right, don't blame Bush; blame the entire bankrupt, oversimplified "conservative philosophy" and its blind eye to history. It all will become clearer in this election year, the bad hand Barack Obama was dealt.
Yet another reason for Republicans to attack public broadcasting: Frontline's series: Money, Power, and Wall Street is helping set the record straight. Incompetence, malfeasance, and reliance on an economic philosophy that rationalizes policy rather than providing safeguards against illegitimate market action are the underlying themes. All of this complements of Republican and private sector influence.
The first episode of this "Election 2012 Special Event" provides an engaging glimpse into the development of a new unregulated market in the securities sector built on an instrument that spread like poisonous kudzu throughout the financial world. From humble beginnings at JP Morgan in an effort to abate the risk exposure to an Exxon line of credit following the Exxon-Valdez disaster, credit default swaps (a kind of derivative that insures a loan against default) became common instruments even in the predatory lending galaxy, usually insulated and isolated in the legitimate financial universe. The stage was set.
Great video, this really encapsulates the ridiculousness and utter lack of authenticity that is Willard "Mitt" Romney's campaign for president. This is a guy, after all, who has flip flopped on just about every issue, including on whether he flip flops. No wonder why Republican voters aren't buying what he's trying to sell.
By the way, is there anyone who still takes John McCain in the least bit seriously, after he picked Sarah Freakin' Palin to be his running mate in 2008? That did it for me, and I say this as someone who used to really admire John McCain as a seeming "Teddy Roosevelt Republican." So much for that. Now, he's just an angry old man who wants to get back at Barack Obama for demolishing him in the 2008 election. So sad.
I wasn't there, but I've heard from multiple sources that, at the most recent Fairfax County Democratic Committee meeting, one of Chris "McCain-Palin Dude" Wade's supporters got up and actually compared him to our own Republican-turned-Democrat (and a progressive one at that) Teddy Goodson. When I heard this, I burst out in incredulous laughter at the utter absurdity of such a comparison. I'll explain why in a few seconds, but first,
a quote from Teddy Goodson herself
:
When I converted to being a Democrat back in 2004, it happened after several years of agonizing re-appraisal and a public statement that I was no longer a Republican. Then I went to work down in the trenches as a novice Democrat. In other words, I changed parties not because I wanted to run for office (starting at the top) but because of ideas
Other than the slam on Chris Wade, that says it all right there: Teddy Goodson switched parties, 7 years ago, after she thought it through carefully ("agonizing re-appraisal), then followed that up by public statements, working her butt off for Democrats, and I'd add, writing for a new progressive blog called "Raising Kaine," starting in 2005. On that blog, Teddy explained, multiple times, and in no uncertain language, EXACTLY why she had switched parties, and EXACTLY why she now considered the Republican Party to be off the far-right-wing deep end. To date, of course, we've gotten none of that from Chris "McCain-Palin Dude" Wade.
Again, there are numerous and profound differences between Teddy Goodson and Chris Wade, so many that it's hard to know where to start. Here are just a few:
Remember Chris Wade, the
self-described "strong McCain-Palin supporter"
? Remember how
Gerry Connolly
complained that
Wade had no serious civic or political credentials qualifying him to run for supervisor, and also publicly cited concerns over Wade's voting history, notably two recent cases where he voted in Republican primaries?
Well, that Chris Wade - we'll call him "McCain-Palin Dude" henceforth - is now running, believe it or not, as a "Democrat" for Braddock District Supervisor in Fairfax County. Yes, I know this is laughable, but apparently, it's not a joke. Running against McCain-Palin Dude is a real Democrat, Janet Oleszek, who served on the Fairfax County School Board and who was the Democratic nominee against Ken Kookinelli in 2007 (unfortunately, she lost by a narrow 101 votes).
Well, now Oleszek is running for Braddock District Supervisor, and has been attempting to debate McCain-Palin Dude. Unfortunately for Braddock District Democratic voters, McCain-Palin Dude is refusing to debate Oleszek, except under absurd, bizarro rules that nobody in their right mind would agree to (see Oleszek's email to the Braddock District Democratic Committee, on the "flip"). Not surprisingly, it appears that McCain-Palin Dude is afraid to be asked questions, publicly, at a Democratic debate, such as "how on earth could you have been a STRONG MCCAIN-PALIN supporter in 2008, and now claim to be a Democrat?!?" I mean, in fairness, I don't blame McCain-Palin Dude for being terrified of such a forum, as he clearly has no answer for why he morphed overnight from "strong McCain-Palin supporter" to "Democrat," with no explanation whatsoever. (note: I am NOT against Republicans switching parties -- recall that I drafted former Reagan Administration official Jim Webb -- but I'd like to hear a coherent explanation of WHY they did so, just as we got from Jim Webb in 2005/2006).
Finally, you've gotta love McCain-Palin Dude's attempt to restrict questions at the debate to people who can prove they live in Braddock District. Again, it's clear McCain-Palin Dude is terrified of an open forum, with questions asked by reporters or anyone else who cares to do so. The question is, why would any Democrat vote for someone like this?!? (Hint: they shouldn't!)

There is a subtle message in the Republican argument over the
NLRB case against Boeing
: "We want a third world option." It is part of the specious contention that the states were intended to be laboratory experiments. And it has implications for future economic growth in Virginia.
The case is an action initiated by the National Labor Relations Board (NLRB) because Boeing's announcements about the production facilities move to South Carolina evinced retaliation against workers for exercising their bargaining rights. The company could not have made the case easier to pursue. Maybe the board's meager enforcement record during the previous administration emboldened Boeing.
Republicans in the House and Senate have sent letters to President Obama complaining about the enforcement action. 19 Republican Senators (including both South Carolina members and John McCain who should have learned to stay out of SC politics) have complained to the President in a letter with an Orwellian call for a path to the past:

"America will not win the future if Washington penalizes workers in states that have discovered winning economic strategies." (emphasis added)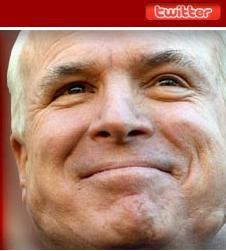 Senator McCain has provided yet another reason to look askance at the driver of the car with that McCain/Palin bumper sticker. And, maybe he is revealing the reason Palin was his chosen. McCain has become the Republicans' lecherous uncle. First he tweets Snooki about her tanning bed. Now this:
John McCain is once again letting his voice be heard on a vital national issue: Snooki!

The Arizona Senator and former Presidential candidate offered his two cents on the July 30 disorderly conduct arrest of the Jersey Shore star.

"I kind of think she might be too good looking to go to jail," McCain, 73, gushed of 22-year-old Snooki (real name: Nicole Polizzi) during a Wednesday radio appearance on Phoenix's KMLE.

Snooki, who spent a few hours behind bars before bail was posted, agrees. On Monday, she told MTV, "I'm too pretty to be in jail...I'm not a criminal." - DailyFill
If you don't have dinner plans next week, here are a couple of great ideas for you.
First, you can enjoy a lovely soiree with Bob McDonnell, John McCain and Fred Malek. Maybe they'll talk about this or this while they're dining on...this, perhaps? And all for just $2,400 (or more, if you so desire). Sounds like a fun time -- or, on second thought, not!
Second, if that's not enough right-wing fun for you, there's always this event, which looks like a barrel of laffs!

Karl Rove, the man once known as George W. Bush's brain, is coming to Virginia for a fundraiser for the state Republican party.

Party officials expect as many as 300 people to donate up to $60,000. The June 15 event will be in McLean, but the party isn't releasing the location of the house just yet. Could the party be worried about protesters?

Rove, who just released a new book Courage and Consequence: My Life as a Conservative in the Fight, will be joined by Attorney General Ken Cuccinelli and party Chairman Pat Mullins.
In case you attend, here are a few
talking points about Rove
.
*"In the fall of 1970, Rove used a false identity to enter the campaign office of Democrat Alan J. Dixon, who was running for Treasurer of Illinois. He stole 1000 sheets of paper with campaign letterhead, printed fake campaign rally fliers promising 'free beer, free food, girls and a good time for nothing', and distributed them at rock concerts and homeless shelters, with the effect of disrupting Dixon's rally."
*Rove's campaign for national chairman of the College Republicans was run by none other than the infamous Lee Atwater, of the infamous "Southern strategy". In 1981, Atwater explained this strategy, saying, "'We want to cut this,' is much more abstract than even the busing thing, and a hell of a lot more abstract than 'Nigger, nigger.'"
*"Rove was fired from the 1992 Bush presidential campaign after he planted a negative story with columnist Robert Novak about dissatisfaction with campaign fundraising chief Robert Mosbacher Jr. "
*"Rove has been accused of using the push poll technique to call voters to ask such things as whether people would be "more or less likely to vote for Governor Richards if [they] knew her staff is dominated by lesbians."
*And, of course, there's the Valerie Plame scandal. In 2005, "it was revealed that Rove was Novak's second Bush administration source" for outing a covert CIA officer.
In other words, there should be lots to talk about if you decide to attend this dinner. Bon appetit! :)
P.S. Don't miss today's Washington Post story on Fred Malek's background as a "Jew counter" for Richard Nixon.
UPDATE: Wow, check this audio out.
Maybe they can talk about
this
or
this
while they're dining on...
this, perhaps?
And all for just $2,400 (or more, if you so desire; see the various price levels after the "flip"). Sounds like a fun time -- or, on second thought, not!

Still hard to believe this guy used to be a (seemingly) moderate, "maverick," possibly even Teddy Roosevelt-style Republican. Not since he teamed up with Wolf Killa from Wasilla!