As the
Washington Post reports
, the U.S. economy added 162,000 "non-farm" jobs last month, representing "the biggest one-month jobs gain in the past three years." And in
other good economic news
, "[t]he Institute for Supply Management reported that manufacturing activity was up for the eighth consecutive month, with a rate of growth faster than any since July 2004." But wait, there's more:
...Factory orders, particularly in durable goods, are so positive at a 0.6% month-to-month rise that they are beginning to merit the description of "robust." And retail sales at chain stores were also up 0.6% for the week, which means they are on target to top 3% or more for the whole month compared with last year's dismal record.

Motor vehicle sales were up as well, to a seasonally adjusted annual rate of 11.8 million, a vast improvement over February...
And let's not forget the stock market,
which just had
"its strongest first quarter since 1999." Great news, and we have Democrats - who passed a huge economic recovery package, as well as several other jobs measures, with essentially no Republican support - largely to thank for this (the graph above tells a powerful story). So, where's Eric Cantor and his Party of no this morning to talk down America's economy and to tell us that the economic recovery package passed a year ago "isn't working?" No comment on the above graph, which shows the economy cratering under a Republican administration and coming back strong with Democrats in charge? Apparently, the cat's got the Republicans' (forked) tongues so far today, but give 'em time, I'm sure they'll think of something bad to say soon enough.
UPDATE: Analysts weigh in.
For all the talk of major Republican gains coming this November, you'd think that they might already be printing up the letterhead for Speaker Boehner and Majority Leader McConnell. But not so fast, at least according to two new polls this morning.
First, here are some findings from the new, Washington Post-ABC News poll out this morning. First, note that, among both registered and "all voters," Democrats maintain a 4-point "generic" lead over Republicans for the U.S. House of Representatives elections next November. Not great, but not horrible either.
Second, check out these numbers on enthusiasm - or lack thereof - for switching control of Congress from Democrats to Republicans this November. Right now, among registered voters, it's about an even split (2-point edge for "good thing") between those wanting control of Congress to switch parties and those wanting to keep it in Democratic hands. These numbers contrast sharply with the overwhelming desires for change in 1994 and 2006, when we saw shifts in control (Republican takeover of the House in 1994; Democratic takeover of the House and Senate in 2006).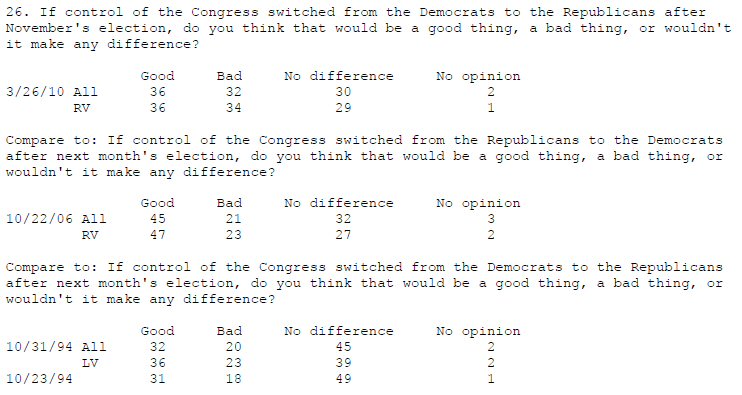 Finally, let's look at the new numbers from Research 2000. The first important finding is that the so-called "enthusiasm gap" has narrowed somewhat since health care reform legislation was passed. Yes, Republicans still have the edge in who's more likely to vote this November, but there's been a big increase in Democrats who are "likely or definitely going to vote", from 40% on 3/8-10 to 55% on 3/22-3/25. Republican enthusiasm also went up, from 51% to 62%, but not quite as much as Democratic enthusiasm. Anyway, this is still an area where we need more improvement, but it's a good start.
Second, take a look at the following numbers from the Research 2000 poll, indicating a major surge in support for Democrats and a sharp drop for Republicans over the past week. For instance, President Obama is up 5 points, to 56%-39% (+17 points), while Congressional Republicans are down 7 points, to 21%-71% (-50 points). Also, the Democratic Party is up 3 points (to 40%-53%, or minus 13 points) while the Republicans are down 3 points (to 28%-67%, or minus 39 points), resulting in a 26-point favorable/unfavorable rating for the blue team over the red team.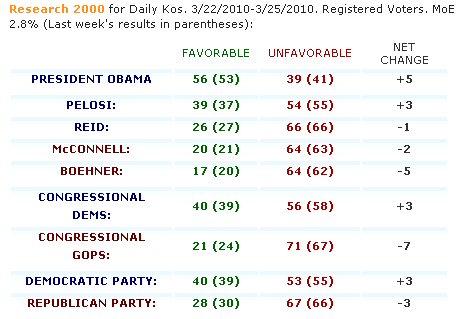 So much for the prediction that, if Democrats passed health care reform legislation, it would kill them at the polls. In fact, it did the opposite. The implication is that passing more of what Democrats were explicitly elected to do in 2006 and 2008 is not a bad thing, it's a very good thing both on policy terms and also politically. So, next up on the agenda: immigration reform, financial reform, clean energy/climate legislation. more on "jobsjobsjobs." Keep getting results, let the Republicans stay as the "hissy fit" Party of No, and we'll see how it goes at the polls this November. Yes, there's a long time to go and these numbers could change (in either direction). For now, though, things are looking pretty good, especially considering the totally biased (towards Republicans and the "Tea Party") news coverage we get from the corporate/right-wing media.
P.S. Also see the recent poll by Quinnipiac University, indicating that the presence of "Tea Party" candidates on the ballot this fall strongly benefits the Democrats. So, let's hope for lots of those, in places like Virginia's 5th CD and possibly other (1st? 10th?) CDs as well.
Sixteen short months ago, Barack Obama stood in Grant Park and reminded us that elections are not the change we seek; they are only the chance for us to make that change. With this week's historic vote on health care reform, our President made good on that promise.
Health care reform is about providing for those who cannot provide for themselves. It is about lowering costs to make health care more affordable for everyday Americans. It is about modernizing our health care infrastructure to ensure it can respond to ever-increasing demands.
It is normal these days to be cynical about politics. Indeed, you cannot help but scratch your head at the name-calling and personal attacks that all-too-often characterize our political discourse.
But as my wife and I sat watching the health care vote on C-SPAN this Sunday evening, I was reminded that through all the noise and all the bickering, real good can happen through politics. I firmly believe that this health care package will not only bring needed reform to the health care system; it will provide new momentum and renewed energy among Democrats to take on the many other areas in need of change in our country - environmental protections, financial reform, and a balanced budget, just to name a few.
Democrats in Arlington should feel proud that we had a role in electing President Barack Obama. The health care bill stands as a telling reminder about why we work so hard at election time. But it should also serve as a reminder that activism does not end at the ballot box. It is our duty as Democrats to work year round, to ensure that our voices are heard by our elected officials, and to ensure that our neighbors know how important it is to get involved.
I will always remember the passage of this year's health care bill as a moment that renewed my faith in the political process. It was a moment that made me believe that the President was right when he said three simple words - Yes We Can.
Mike Lieberman is the Chair of the Arlington County Democratic Committee.
I didn't go to the JJ Dinner this year (I went in 2005-2008, attempted to go in 2009 but had major transportation problems) but here are some tweets by people who were there.
Rich Anthony:
*"Sen. Amy Klobuchar rocks. The people of MN should be very proud."
Vivian Paige:
*"Sen Amy Klobuchar has taken the stage. V. Funny, humble, cracking Palin jokes."
*"Grabbed @GlennNye & asked about the AP story. He shook his head &wouldn't confirm. Others say he told them he's still undecided."
"@tomperriello is a rock star!"
"Had a great conversation with @tomperriello just before he went on stage to speak. Awesome, just awesome. I'm writing a check tonight."
Shawn O'Donnell:
*"Who said Democrats are having a down year ... over 1,300 folks are filing into dinner in the Richmond Convention Center"
*"DPVA Chairman Cranwell does a quick intro ... Richmond Mayor Dwight Jones says hello and speaks about core values"
*"Gerry Connolly from the 11th District gets a standing ovation for passing health care remark..."
*"Tom [P]erriello from the 5th District is getting a standing O ... tomorrow I'll be casting my vote for reforming health care"
*"Webb speaking now about economic fairness and social justice ... now changes in the criminal justice system reform"
*"Warner ... financial reform will happen this year .... two quick bills ... energy sector "home star" ... 500k jobs over a 2 month period"
*"Warner ... w/o those stimulus check VA would look like CA"
Gordon Simonett
*"Sen mark warner tells #dpva that sen. republicans are abusing fillibuster and holding up 64 appointees. Time for up or down vote 14 mos in"
Frank Anderson
*"Warner: Responsible Republicans 'a lot harder to find in Washington.'"
*"Klobuchar ... when the GOP leaders are wrong we must "call them out"..."
David Englin
*"thinks America needs more Tom Perriellos - leaders with spine."
Jon Bowerbank
*"1300+ here at JJ enjoying speeches from our Congressional delegation and they're excited about tomorrow's health care vote. Thx BS; TP; GC!"
*" Sens Webb and Warner did their usual superb job (thx for recognition MW) and keynote speaker Sen. Amy Klobuchar (Minn) is doing good work!"
Marc Broklawski
*"The energy in the room for Periello was nothing short of amazing. A video of the crowd at the end of his speech" http://tiny12.tv/CVXM0
*"Sen. Warner says tomorrow we pass the health bill in the House and later in the week in the Senate."
Scott Surovell
*"Lots of talk tonight from Virginia's federal delegation on the podium tonight about making history passing healthcare tomorrow."
Mark Keam
"Jim Moran & Rick Boucher not at JJ tonight. Many General Assembly members here, as well as most '09 statewide candidates. All good folks"
*"Webb reminds me again why I love this guy. Warner and Perriello close seconds. Connolly, Scott, Nye... We have good public servants in VA."
Aimee Fausser
*"Why is glenn nye here??"
*"I just gave gerry connolly a standing ovation. There's a first time for everything."
Sean Holihan:
*"Tom Perriello just gave the keynote. Can't beat that. He owns this party."
*"Wow - bit of a difference between Connolly and Nye here. Connolly voting for health care."
Kyle Blankenship
*"Connolly steps all over Nye at JJ. Conolly's first line 'tomorrow I'm going to join Obama and pass health care'"
If you're interested in attending the Jefferson-Jackson Dinner in Richmond this Saturday night but don't have the cash,
click here
to win one of 10 free tickets being offered by Creigh Deeds. Good luck!
As
I wrote on Saturday
,
Krystal Ball
swept 1st CD caucuses this weekend in Stafford County and Fredericksburg, demolishing
Scott Robinson
and making his candidacy for the Democratic nomination a longshot at best. Now, Scott Robinson is reacting with class, restraint, and poise. Whoops, wrong Scott Robinson! Ha. Actually, this is how the real 1st CD candidate Scott Robinson is reacting.
This email is being sent with the intent of informing you of troubling events that have developed over the last few weeks involving a fellow Democratic Committee (Stafford County) and what actions the Robinson campaign intends to use to remedy the situation.

It is the opinion of the Robinson campaign that the caucus process in Stafford County was "hijacked" by a small group of Krystal Ball supporters and the democratic process was circumvented with the intention of ensuring that the Krystal Ball campaign not only won a majority of delegates but left the caucus with a "slate" of supporters for Krystal Ball.
What a concept, a Democrat from the "Democratic wing of the Democratic Party!" Thank you David Englin, for speaking the truth about this piece-o'-crap budget.
Budgets are moral documents that express our values as a Commonwealth and determine whom we lift up and whom we leave out. While the final version of the budget is less bad than the initial House version, I still cannot justify supporting a budget that balances the books on the backs of children and the poor and that includes a fiscally irresponsible shell game with the state pension trust fund.

Thanks to strong, unified, vocal opposition from House Democrats, the final budget is less bad than the budget House Republicans passed Feb. 25. For example, the final budget rejected the Republican plan to take money away from poor students and give it to students who are not poor, and it rejected the Republican plan to redirect federal Medicaid enhancement money from health care for the neediest Virginians to non-health care programs.

However, these concessions do not make up for the fact that the final budget cuts billions of dollars from public education, health care for the poor, public safety, and aid to localities, with no serious attempt to mitigate these cuts with revenue and no serious attempt to give localities the power to mitigate these cuts in their own. Even worse, the final budget still includes a risky, $800-million scheme to divert state contributions from the state pension trust fund, which will put Virginia's triple-A bond rating at risk and threaten our ability to meet our pension obligations to teachers, fire fighters, law enforcement officers, and state and local employees.
And how about bringing back the estate tax, repeal of which Tim Kaine foolishly signed into law? Why should we slash services for the neediest Virginians while the top few hundred families (out of millions of residents) get a huge tax break? It's wrong on every level - economic, political, moral - for Democrats to go along with this, so why are they going along with it? I call bull****.
UPDATE: And thank you Scott Surovell!

My grandfather always taught me that you either pay less for things now or you pay more for them later. I do not believe these budget "cuts" are cuts. They are simply reductions in funding on going responsibilities that are now being pushed onto the poor, the uneducated, to middle class families and local government who now have to make the tough decisions.

Educating our children, caring for the poor, and keeping our public safe are a core responsibilities of state government. This Budget does not do that. It balances our budgets on the backs of the poor, the sick, the disabled, college students and their families, and the criminal justice system.

And we haven't done a single thing to resolve this state's transportation crisis.
Exactly!
UPDATE #2: See the Washington Post and WTVR for more on the state budget passage. The vote in the Senate was 34-6, and in the House 73-23. According to Anita Kumar and Rosalind Helderman, "The breakthrough on the budget came when Senate negotiators agreed to eliminate 60 percent of fees that they had proposed to preserve some programs." The result of which, of course, was to harm more vulnerable Virginians. Heckuva job.
I received emails yesterday from both the House and Senate Democratic caucuses, summarizing what they believe to be their successes during the (about-to-conclude) General Assembly session. Here are the highlights, with my comments in italics.
Senate
*"Senate negotiators are fighting for their version of the budget which protects jobs and services in K-12 education, higher education, public safety, and the healthcare safety net."
That's great, but from what I've seen so far this morning, there's not a heckuva lot to celebrate on this front. Unless, of course, you believe that "unprecedented cuts to state spending and core services once thought sacrosanct" and "governmental austerity born of the hardest times since the Great Depression" to be a good thing. I don't. Nor do I consider the General Assembly's unwillingness to raise revenues from the wealthiest Virginians, first and foremost by reinstating the Estate Tax, while slashing funding for programs to the most vulnerable Virginians, to be a badge of honor.
*"The Senate Democrats introduced many bills that passed both chambers of the legislature and await Governor McDonnell's signature, though many worthy bills were defeated by an uncooperative House of Delegates"
If you're a "glass half full" kind of person, you focus on the first clause in this sentence. If you're a "glass half empty" type, you focus on the last clause. Personally, I'm somewhere in the middle, but probably leaning towards the "many worthy bills were defeated" view of things. On the other hand, the Senate killed many bad bills from the House, such as the infamous "Mark of the Beast" bill and a repeal of Virginia's one-gun-a-month law. So, overall, it could have been better but it certainly could have been worse.
*"The Senate defeated numerous bad bills from the House of Delegates including efforts to repeal Virginia's crime-reducing 'one hand gun per month' law, a frivolous bill to prevent forced implantation of microchips, a bill that would have allowed unregulated 'super guns', and one that authorized deadly force, instead of proportional force, against any person who sets foot on your property."
On all these fronts, thank goodness that Democrats control the State Senate to offer a "check and balance" against the right-wing Republican controlled House and governor's mansion.
*"The Senate Democrats also fought for the best interest of Virginians in several debates. At the beginning of the session, the Senate Democrats told Governor McDonnell they would not approve his Secretary of Commerce and Trade appointee because he served as a paid board member of private corporations, presenting a conflict of interest. Senate Democrats also convinced Governor McDonnell to present his budget recommendations as all other Governors do. The Governor decided that $4.2 billion in budget cuts had to be made and after weeks of pressure he eventually presented his plan to make those cuts. Finally, Senate Democrats raised serious concerns over Governor McDonnell's proposed charter school arrangement which would have taken power from local school boards and put it in the hands of a group of political appointees. This arrangement would have violated the Virginia Constitution and Senate Democrats worked constructively with the McDonnell administration and education stakeholders to negotiate a constitutional arrangement that satisfied all parties."
Good work, particularly on the Secretary of Commerce and Trade, although Robert Sledd still ended up with a powerful position advising Bob McDonnell on commerce and trade issues. And on the charter schools, I'm not sure if all the "serious concerns" I heard raised were really addressed. Still, at least they raised them I guess...