Advertisement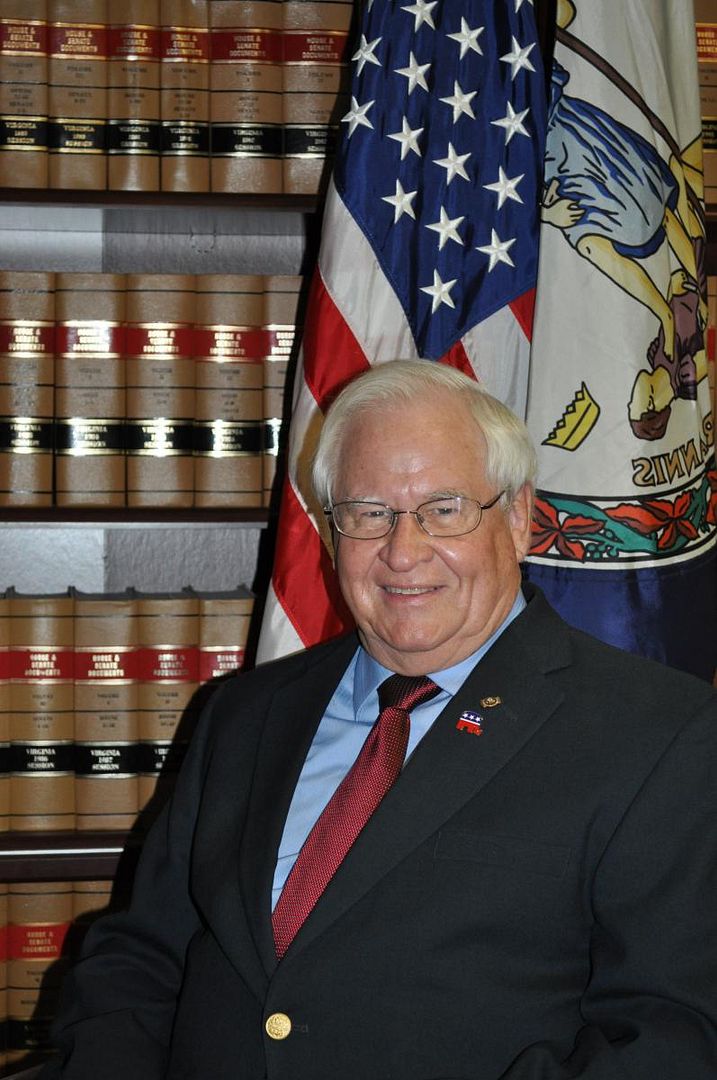 Pat Mullins, Chairman of the RPV, dropped in on Virginia Beach Republicans today to provide perspective on the Virginia elections this fall and update the faithful. His message was simple, direct, and aimed at taking advantage of the vacuum of DPVA leadership; in hiding since 2008.
The elections this year, and you've got all your delegates running, your senators running, what we want you to do is not let anybody currently an incumbent get defeated. Be sure and get out and vote. Even if they are unopposed, vote for them, because if they get 95% or 100% maybe it'll scare people off next time too.

The reason I'm saying this is the whole country is watching Virginia elections this year. I go to RNC meetings and they tell me "We're watching you," just like they did two years ago. After the current occupant of the White House (and I have difficulty calling him President) the current occupant of the White House carried Virginia, there was a fear around the country, "was this going to keep carrying over?" And we said the next year we've already had enough of him. And we voted in Bob and Bill, and Ken; the following year we took three Congressional seats including Scott's in this area and we sent a message.

They're watching this year to see if the blame game being placed on the Republicans, on the Tea Party people, on anybody who doesn't agree, believe it or not, with the White House, is the blame game working? So, they're telling me if we can win the Senate, pick up those two to three seats we need, pick up a couple of House seats, then the word will go out to the country: the blame game isn't working. Virginia is going to be the first state to refudiate (sic) Obama and we're going to carry it through next year.

Now why is that important for next year? Because I've been told that if Virginia's electoral votes don't go Republican, the current occupant of the White House will stay there. If Virginia's votes don't elect a Republican United States Senator, that the Senate is going to stay in the Democrat (sic) majority. So it's that simple. If we want to win, we've got to win this year and send a message: Next year elect a Republican (and any running is better than what's in there right now) and elect a United States Senator to get us a majority we need in the United States Senate.
"…scare people off…" Is that what the Republicans have done? Not really, not yet, but you couldn't tell it by the tactics of the Democratic Party of Virginia. Cleary on the defensive, the party has circled the wagons and placed all bets on the gerrymandering achieved with Senate redistricting. But they forgot a couple of things, one of which Terry McAuliffe addressed when he spoke to Gloucester Democrats last week.

That's right. A veto-proof House of Delegates may be the legacy of the current DPVA leadership. So, even if the Democrats don't lose the Senate this year and manage to capture the Governorship in 2013, there may be no way to right the ship unless two consecutive executives are elected and a half dozen House seats are wrestled into the D column along the way. Not likely on the current trajectory.
Worse, the DPVA may have set the stage for the 2012 Republican meme at the national level. Quite an achievement for a group of people we hardly hear from at all unless they want money.
There's no paywall on Blue Virginia, and we definitely want to keep it that way! If you want to help support our work, you can donate here - thanks!
Also, you can
sign up for our weekly email list here
.