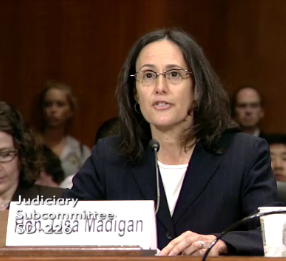 Higher education in America is wounded, debased, devalued. The education marketplace is a wilderness. Educational gems go undistinguished from their ubiquitous knock-offs; unwary marks swim with unabashed sharks. The private sector has raided the public trust, literally and figuratively. How to stop the bleeding?
"As I wandered around the crowd of NYU students…protesting student debt…I couldn't believe the accumulated wealth they represented-for our industry. It was lip-smacking…As bill collectors and debt buyers only work on what is termed bad debt, which is guaranteed under these circumstances and in today's economic environment-we are in for lifetime employment!" ─ Jerry Ashton, student debt collections consultant quoted in an NCLC report
There are voices in the wilderness. Senator Dick Durbin (D-IL) for one. He has proposed legislation to reinstate the federal bankruptcy laws governing private student loans to allow discharge of private loan indebtedness. Last month, two state Attorneys General provided testimony before the Judiciary Subcommittee on Administrative Oversight and the Courts during a hearing on the looming student debt crisis. One, Illinois AG Lisa Madigan, justified the change by emphasizing the differences between the federal and private loan processes and provisions.
There are material differences between federal and private loans. Private loans provide none of the protections afforded students who take out federal loans: interest rate caps, loan limits, income based repayment plans, deferment plans, and cancellation rights.
Student loan borrowing exceeded $100 billion in 2010; total outstanding student loan debt exceeded $1 trillion last year. There is now more student loan debt in this country than credit card debt.
In many cases, student loans are the only path to get a quality education and job skills that Americans need to repay those loans along a rewarding career path. Too many students have been steered into loan arrangements that they will not be able to repay and never be able to escape. As of last year, 37 million Americans hold student loan debt with an average balance of over $23,000. Only 39% of those borrowers were paying down their balances last year. 14% were delinquent on repayment (5.4 million). The remaining 47% are either in forbearance or are still in school and adding to their debt.
42% of for-profit college students had private loans in 2008; up from 12% in 2003.
For-profit college students graduate with more debt than other students who graduate from public and private non-profit colleges.
For-profit colleges have a business model that steers students into private loans even when they still have eligibility left under the federal student loan program.
The most pressing concern is private student loans. One third of graduates with bachelor's degrees graduated with private loans with an average debt of $12,250. Private loans are far riskier than federal student loans. Federal loans have fixed, affordable interest rates. They have a variety of consumer protections built into them including forbearance and income based payment plans. Private loan rates often have two or three times the interest rates of federal loans, have high origination fees, and lack payment options.
Private lenders have targeted low income borrowers with some of the riskiest, high interest loans. Once a student takes out a private loan, the student is at the mercy of the lender. Private student loan debt, unlike credit card debt, cannot be discharged in bankruptcy. This was a result of a change to bankruptcy law in 2005. The amendment that changed the status of private student loans is what Senator Durbin calls a "mystery amendment:" no one can find out who offered it while we do know who benefited from it. Private lending is being aggressively promoted by the for-profit college industry.
Senator Durbin is pressing for:
Restoration of the pre-2005 bankruptcy treatment of private student loans
Full private student loan certification to ensure students take advantage of federal student aid options before turning to private loans
Meaningful accreditation for for-profit institutions
The Consumer Financial Protection Bureau to use its authority to take corrective steps
Illinois Attorney General Lisa Madigan (D) has been fighting predatory lenders in all sectors of the market during her three terms in office. Her focus has turned from mortgage, auto, and payday loans to what she terms sub-prime student loans. Her experience with unfair and deceptive mortgage lending practices includes successful litigation. She has recently filed a lawsuit against Westwood College, a for-profit school operating in Illinois, for deceptive marketing and lending practices in recruiting for its criminal justice program.
The financial crisis of 2008 dried up the sub-prime mortgage market and third party sub-prime loans to students. But for-profit schools stepped in to fill the predatory void , expanding high interest rate institutional loans. These private institutional loans are either self-funded by the schools or funded by investors with a guarantee to repurchase by the schools.
The criminal justice program at Westwood costs a student over $70,000. Comparable programs in Illinois community colleges cost a tenth as much. Westwood signed students up for not only federal loans and grants but also private institutional loans. Those loans carry interest rates of up to 18% and require students to make monthly payments while still in school. The investigation into the school found that the students were completely confused as to the purpose and the amount of the loans. Most had no idea what the interest rate was and some thought it paid off their Sallie Mae loan(s). Some students had no idea that they had taken out a loan. Students, in the end, are left with tremendous debt for a virtually worthless degree. Westwood did not (and still does not) have accreditation for the program. Westwood graduates learned this when they applied to police departments. Over 1,000 students have contacted the AG's office since the lawsuit was filed two months ago. To top it off, because Westwood is not accredited, their credits will not transfer to accredited schools.
Kentucky Attorney General Jack Conway (D) pointed out that the amount of student loans taken out by parents has tripled in the last 20 years. Private student loan volume has tripled in the last six years.
"…you called it a mystery amendment. What I say is that it was actually a solution in search of a problem since we know from the data that far less than 1% of student loans are ever discharged in bankruptcy to begin with." – Kentucky Attorney General Jack Conway
Conway's first experience with the debt burden carried by some students of for-profit institutions was during investigations of Decker College and the American Justice School of Law. Decker College was closed and forced into bankruptcy in 2005 following its loss of accreditation and the loss of eligibility for Title IV funds. The school closed before many students completed their training. Like the situation with Westwood, the credits could not be transferred. The American Justice School of Law also closed leaving its students in the same situation. Students with federal loans were eligible to have those loans discharged because the school closed. Not so with the private student loans; though he was able to obtain some relief for students from private loans because the lender had an inappropriate relationship with one of the schools.
After these experiences, he pursued investigations of seven other for-profit "career" schools. What he has found is that the students enrolled in these businesses disguised as schools are among the most financially vulnerable. They get Pell Grants and rely heavily on student loans. An estimated 96% of graduates from proprietary schools have student loans; 42% of which have private loans compared to 14% at public four year institutions and 4% at public two year institutions. While for-profit institutions account for 10% of the higher education student body they account for about half of loan defaults.
Conway also found troubling instances regarding recruitment at Fort Campbell and Fort Knox. The Army Times reported that last year, for-profit schools accounted for 37% of the GI bill and almost 50% spent by the Department of Defense on tuition assistance.
President Obama acted last month to curb abuses of veterans. But that action does nothing to ensure GI Bill and Tuition Assistance money is being used for quality education and training. And it does not extend to the majority of Americans vulnerable to predatory practices.

On the 31st of May, Public Hearings will be held as part of the Negotiated rulemaking for Higher Education process. But these hearings appear focused on the use of Title IV funds to reign in abuse by distance education programs. That is only one aspect of the career education fraud iceberg.
Frankly, none of this is sufficient to cure what ails higher education and stop the coming disillusionment. All drink from the same financial well and that well is sabotaged with a debt bomb. The consequences will be a tsunami powered by for-profit institution greed creating a tidal wave that will wash over public institutions. The perception will be that higher education no longer provides an adequate return on investment. The reality will be that higher education will no longer be within the financial reach of most Americans. There's some more of your supply side economics at work.