This morning, on Trumpster Radio ("The John Fredericks Show"), Virginia State Sen. Chap Petersen (D-Fairfax) had a bunch of interesting things to say, including...
I was listening to the Kojo Nnamdi Show, waiting for Arlington County Board Chair Katie Cristol to come on the program, and heard some...
Unlike ideologues (e.g., climate science "deniers") immune to empirical evidence, I've always considered myself first and foremost someone who looks at (and respects) data,...
Half the Senate has
signed a letter
urging the NFL to pressure the Washington Redskins to change its racist nickname. Conspicuous by their absence were Virginia's two Democratic senators:
Fifty members of the Senate have signed a letter to the N.F.L. to urge its leadership to press the Washington Redskins to change the team name in the aftermath of tough sanctions against the owner of the Los Angeles Clippers for racially charged comments. [...]

"The N.F.L. can no longer ignore this and perpetuate the use of this name as anything but what it is: a racial slur," said the letter, which was circulated by Senator Maria Cantwell, Democrat of Washington, and endorsed by Senator Harry Reid, Democrat of Nevada, the majority leader. "We urge the N.F.L. to formally support a name change for the Washington football team." [...]

All but five Senate Democrats - Mark Warner and Tim Kaine of Virginia, Joe Manchin of West Virginia, Joe Donnelly of Indiana and Mark Pryor of Arkansas - signed the letter. It was not circulated among Republicans.
Of course
"Redskins" is racist.
You have to wonder if Maureen McDonnell will be hyping
Anatabloc
at the gates to the Redskins camp. Somebody has to make some money off of this fiasco of a deal. As the layers of the arrangement unfold, it is clear that Bankrupt Bob had a hand in it.
From the beginning the numbers did not add up. Richmond would pay the Redskins a half million a year to hold a camp at a facility that Richmond would build for 10 million with a pipedream that Richmond would somehow recover the cost through increased tourism. Well, that might be difficult to determine, but we'll try.
Tammy Hawley, press secretary to Richmond Mayor Dwight C. Jones, said the total costs probably will not be available until "post-camp." - Richmond Times Dispatch
That doesn't help much. So, maybe there is reason for concern:
"We're trying to get information to assess how well they are handling the preparations for this and whether there's going to be a full accounting." - Wayne Taylor, secretary of Better Government for Richmond in the Richmond Times Dispatch
Here's a start. The number of camp visitors is projected at 100,000. Keeping it simple and being generous (the projection has been reduced to 65,000), we'll say all of them come from out of town and they will spend all of their hard earned dollars inside the city of Richmond so that all the tax revenue is generated there. Of the 5.5% state sales tax, something on the order of 1.65% will be returned to the city's general fund. A little math and that means every man, woman, and child attending must spend $303 (so a family of 4 must spend $1212) dollars to cover just the base $500,000 Redskins corporate welfare. We'd better hope for some well healed visitors. And that isn't anything near the bottom line for Richmond. Those figures really need to be doubled or more.
That property on Patterson where Shirley McClain's and Warren Beatty's father was a school administrator is being used in a clumsy bait and switch. You have to wonder if Shirley will one day return there to haunt the place. You don't have to wonder if this deal will haunt Richmond.
The seven basic principles of (fiscal) magic:

Palm - Hold the public trust in an apparently empty hand.
Ditch - Secretly trade the public trust.
Steal - Secretly obtain a fungible obligation.
Load - Secretly move the obligation into a form that is popular.
Switch - Secretly exchange one obligation for another.
Simulation - Give the impression that something has happened that has not.
Misdirection - Lead attention away from a secret move.
With Mayor Jones "acting" to represent the public interest, private interests unveiled a Redskins summer camp proposal that featured a "public-private partnership." The mayor apparently unwittingly allowed his "advisors" to pretend they went with nothing in hand to the private sector seeking sponsors. There is actually no telling how many different objects were palmed during the pitch. Palm: But we now understand one of the hidden objects was a property on Patterson Avenue. Ditch, steal, and load: Quietly, Bon Secours sidled up, greased the palm and that property slid into theirs.
George's handlers have found their perfect messenger. It doesn't matter if he understands the message; just that he can stay on message. Allen is an empty vessel who'll do and say whatever it takes to play. But even with a tighter muzzle, they can't shield the lack of intellect.
Napoleon used his Corporal as a sounding board for his orders. If the man could understand what was conveyed, Napoleon assumed it interpretable by his subordinate commanders. George Allen, in his charade as a Reagan Ranch Presidential Scholar, is rolled out to deliver Madison Avenue tested bromides. In front of his paying audiences (asking price: $20,000 per appearance), there is little threat he might be called out and even less chance he'll address any objection that his arguments are flawed.
But on the campaign trail he leaves a record of his disregard for fact. No matter the amount of rote drill he is given, he cannot escape evidence that discounts his arguments without a practiced duck and weave. "See me afterwards and let's talk," is his routine way of setting aside any question that doesn't conform to dogma.
At a spring appearance during the Republican primary campaign for his old Senate seat, one of the economic prescriptions featured today in the Richmond Times Dispatch rundown of the Allen plan was challenged. Allen wants to cut the corporate tax rate from 35 percent to 20 percent.
Allen's primary argument then was that the rest of the world has a rate in the area of 20 percent and we had to be competitive. A CPA in the audience, who was clearly a frustrated Allen supporter, pointed out that the last time this was tried, when Reagan reduced the rate from 50 to 35 percent, the rest of the world taxed at around 35 percent and responded to our reduction by dropping rates to the now prevalent 20 percent. Allen could have learned a lesson about markets if he'd listened or had the requisite intellect. Instead he put off the man with his standard and his handlers re-crafted the message. Now he uses hiring and investment as the rationalization despite the fact taxes don't really factor into those decisions. There really isn't a high bar for a Reagan Presidential Scholar.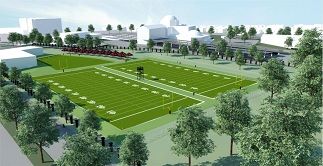 The Times Dispatch would expect city business to be directed by a lobbying firm. He'd turn his back on the franchise that invested in the city in favor of one with connections. He'd try to obligate adjacent jurisdictions to unjustified projects. He'd feel confidence from a Democratic U.S. Senator's complicity.
"The setting said it all.
...
Instead of City Hall, the mayor received the final recommendations of a business-laden team of advisers at the downtown Richmond law offices of McGuireWoods." - Richmond Times Dispatch
That Republican Mayor would listen to those enthusiastic promoters whose investments in their schemes would benefit dollar for dollar by any increased revenues, recovering their marginal costs in the short term, and ignore the fact that it takes 20 of those dollars for the city to recover a single buck. That Mayor would ignore the math that says the city's investment takes 20 times more revenue to recover than his advisors'. That Mayor would have learned about the $10 million capital investment required by the Redskins deal by reading Blue Virginia weeks before his pals at McGuireWoods confirmed it.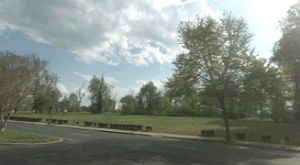 Virginia owns 11.2 undeveloped acres of prime industrial property adjacent to railroad turnout and intermodal freight transport access. Offer it to
an innovative auto company
for development and year round employment for hundreds? Or, give it away and commit to an investment of millions for an annual three week carnival.
Instead of industrial development financed by the private sector, our Governor, prospective author of the Republican platform fiscal chapter, has backed the city of Richmond into a corner that will result in the commitment of millions of state and city dollars to fulfill the deal he cut that already cost a $4 million state "incentive." Maybe Bruce Allen learned something at the University of Richmond after all and is a shrewder negotiator than imagined. Not. Our Governor is more of a tool than ever imagined. And, Dwight Jones's silent acquiescence in this matter is his own indictment.
"The property is attractive to the team because it is undeveloped and large enough to accommodate two side-by-side football fields and a fieldhouse..." - Richmond Times Dispatch
The size of the required investment becomes clearer as Richmond arrives at the point where it is time to fish or cut bait. A year from now, Bob's deal may spawn a fieldhouse and two football fields in central Richmond. A fieldhouse. Imagine the conversation where Bob explains to Dwight that the state's investment, the transfer of 11.2 acres of state owned land, now never to generate a potential dollar of property tax revenue ever, far exceeds the value of the city's obligation to build a multi-million dollar facility that has a guaranteed, no rent tenant three weeks a year. Odds are, Dwight takes the fall in this contest.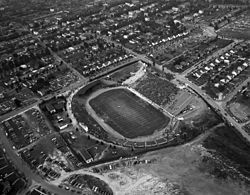 The financial fiasco that is the
'Redskins training camp goes to Richmond'
is laid at Mayor Jones's doorstep. Bob McDonnell has turned economic incentive on its head. He handed out $4 million to the private sector while doubling down with Richmond's unfunded mandate. Bob has a future in banking.
Mayor Jones has to wonder exactly how this political derivative pays off. He has appointed a panel to discover the obvious: Richmond cannot get there from here. It will take more prayers than even McDonnell's pal Pat Robertson can muster to deliver this miracle; better phone the Pope.

Although moving the camp to a spot within the city limits has been taken for a given, Redskins general manager Bruce Allen, interviewed Thursday at the team's headquarters in Ashburn, would only say a site in the city is "preferable." - Richmond Times Dispatch
It really doesn't matter where in Richmond the panel settles upon. There is no existing facility in the city limits. The best nearby is already spoken for. So, wherever in Richmond this burden lands, Dwight Jones knows it will cost dearly. That is even before the annual payment to the team of $500,000. Imagine that! Richmond will pay the Redskins for the honor of having spent millions in infrastructure that might have gone to schools or some other urban luxury. It's a new kind of fiscal chokehold that allows passing a state deficit of $9.6 million to the city of Richmond.