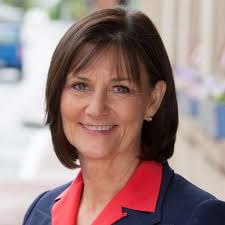 I had a chance to sit down late last week with LuAnn Bennett, the Democratic nominee in Virginia' 10th CD, running against far-right-wing ideologue and "GOP attack dog" Rep. Barbara Comstock. The interview is being presented in three parts: 1) Bennett's background and why she's running; 2) her public service and philanthropic efforts; and 3) the reasons why she can win this race. With that, here's part 3 — my questions and LuAnn Bennett's answers on why she believes she can defeat Barbara Comstock, edited for length and clarity (bolding added by me for emphasis). Enjoy!
Q. The contrast between you and Barbara Comstock, who lives and breathes politics, a total political animal, is stark.
Bennettt: "We're very different people…she's going to fight for her [political] life… she has ambitions…but she's not in touch with the district, her voting record just doesn't represent the constituents she serves…on climate change, she doesn't believe it exists…she has a 3% rating from the League of Conservation Voters (LCV), I'm endorsed by the LCV and the Sierra Club; on women's issue, she doesn't trust women to make their own health care decisions…she's voted against equal pay twice, she thinks it's a radical left-wing agenda item; the 10th district has the highest pay gap between men and women among Virginia's eleven Congressional districts…it's shocking to me…Barbara Comstock has not addressed any of this."
Q. What makes you believe this race is winnable this year?
Bennett: "There are a lot of reasons why it's winnable. First, this is a presidential election year, which means 140,000 more voters coming to the polls compared to a midterm election year, and those additional voters tend to be Democratic voters – minorities, single working moms who have a hard time getting to the polls but make the effort to vote in presidential years." My opponent "has never run in a high-turnout election year, she's only run in off-year elections. And then her first election for this seat was in an abysmal, horrible year for Democrats (2014). So that's a game changer, she's going to have to deal with a completely different electorate coming to the polls. Then Donald Trump shows up, I mean my god, he's the person at the top of the ticket, he came in a distant second in the Virginia Republican primary in the 10th district …"
"The district itself is changing demographically…every year it gets more Democratic…it's really about 50/50 now…that's because of Loudoun County…becoming younger, more diverse, growing Latino community, growing Asian-American community, and lots of young families moving to Loudoun County…We have a board chair now, Phyllis Randall, she's amazing, you should keep your eye on her, I really like her a lot…John Bell and Jennifer Boysko won seats…It's just increasingly becoming Democratic…This is going to accelerate, so once we win this district, we can hold it…This is a real opportunity for us…Also Tim Kaine's on the ticket; he's very popular in the district, including among moderate Republicans and independents…"
"Let's make no mistake about it, Barbara Comstock is a gifted politician, she has ambitions, Republicans and independent expenditure groups have got a lot of money. It's going to be a hard race, but this is the best chance to win this seat that we've ever had, this is a winnable year, things are lined up in a way that we have a great opportunity."
P.S. For more on why this race is winnable, see this Washington Post article, which notes, "Because of Trump's candidacy, the nonpartisan Cook Political Report changed its prediction of Northern Virginia race from 'likely Republican' to 'lean Republican,' signaling a more competitive race." Also see the Loudoun Times-Mirror, which reports:
Despite winning election by 17 percent just 17 months ago, Republican Congresswoman Barbara Comstock could be in trouble if Donald Trump becomes the presidential nominee for the GOP. Comstock's 10th District contest in Virginia against Democrat LuAnn Bennett is among the most flimsy should Trump become the GOP's choice for president, according to Washington pundits.
NBC political commentator Chuck Todd last week listed Comstock as one of several vulnerable GOP members of Congress due to Trump's controversial campaign. This followed the Cook Political Report's mid-March ratings change of the 10th District race, adjusting the status from "likely Republican" to "lean Republican."
P.P.S. Look for additional interviews with LuAnn as campaign season picks up this fall, and keep up with her and her campaign by checking out her stances on the issues important to Northern Virginia on her website and by following her on Facebook and Twitter.