Advertisement

Great job by Virginia State Sen. Jennifer Boysko (D) this morning on "The John Fredericks Show" (see below for the audio), explaining what Del. Kathy Tran's HB2491 is and is NOT about. Note that yesterday, a video of Del. Tran answering questions Monday from Virginia House Majority Leader Todd Gilbert (R), a staunch opponent of abortion, basically "went viral" (now up to 2.3 million views in under 24 hours) on right-wing media and on Twitter, with even national figures like Nikki Haley weighing in (Haley's tweet was, "What is happening in our country. This literally makes me sick to my stomach….#AdoptionIsAlwaysAnOption"). Also, note that Del. Tran pulled down both her Twitter and Facebook accounts after receiving a torrent of negative comments, including threats and abuse, after the video started spreading around right-wing media.
With that intro, I strongly recommend that everyone listen to Sen. Boysko's comments on this. Also, see below for Richmond Times-Dispatch political reporter Graham Moomaw's tweets on this subject, in which he points out that "third-trimester abortion is already legal in Virginia when the mother's life or health is at risk…It doesn't say anything goes." 

Sen. Boysko explained that this bill "is actually taking away the medically unnecessary restrictions on a provider's ability to perform abortions…in 2011, a series of restrictions were put on abortion providers that are not on any other doctor or any other medical profession in Virginia."
Boysko also noted that "abortion is still available under Roe v Wade," and pointed out that "the incidence of a third-trimester abortion is one that is very very difficult for a family to go through. They're dealing with fetal anomalies, where the fetus has no chance of survival. Noone would go into that easily or without really thinking through it. And it's a very painful decision for families. I've talked to folks where the way the fetus is formed, maybe parts of the organs are out of the body, we're talking gross, gross anomalies here, not someone who just decided at the last second that she didn't want to carry the baby to term."
Boysko said we "already have restrictions in place providing that third-trimester abortion would be under very strict supervision, and I support that…I don't think there's ANY instance where there's ever a person who would [have a third-trimester abortion because a doctor says they're suffering from anxiety]…The point is…this is the only medical procedure where somebody can be charged with a crime…Doctors should be able to responsibly practice medicine and make responsible decisions and we should trust our doctors. Politicians should not be making these decisions for people."
Boysko pushed back on the hosts' discussion about the potential political impact of this issue this November and a comment that the bill is akin to "genocide." Boysko read out loud what the bill actually says and argued that: a) "this is already current law" and b) "the only thing this is changing is removing the provision that says you have to have two doctors to one doctor…we're not changing massive things in the Code…This isn't a major shift from what we already have in the Code, and it's being…misrepresented as though this is something sweeping and new, and it's not."
On death threats to Del. Kathy Tran since the Virginia House Republicans pushed out video of her answering questions on Monday about her bill, Del. Boysko said: "People who are claiming they believe in life and respect life are now threatening Del. Tran and her family, including her children; this is not right and it must stop. She's now being forced to contact the police over this. No public official should have their safety threatened because someone disagrees with their political beliefs."
As for the political impact of this, Del. Boysko again said that people "need to understand what the bill says…when we are firing people up on the radio right now, we are participating in getting folks angry and some of those people go off the rail."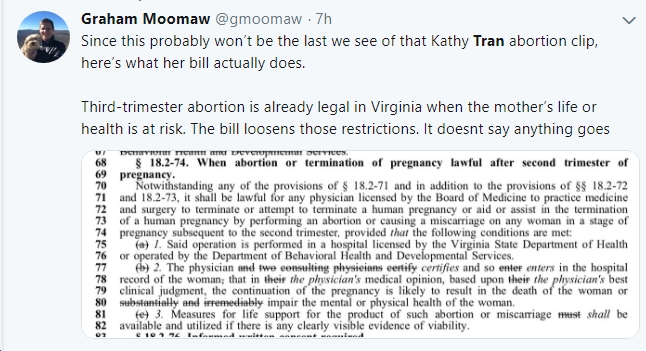 There's no paywall on Blue Virginia, and we definitely want to keep it that way! If you want to help support our work, you can donate here - thanks!
Also, you can
sign up for our weekly email list here
.