Advertisement

UPDATE 3:47 pm – Gov. Northam says he has practiced medicine for over 30 years, that he's had many difficult conversations between patients and their families, that tough medical discussions should be between a woman and her doctor. The legislature, most of whom are men, should not be interfering with women's reproductive healthcare. Gov. Northam said this particular piece of legislation has been tabled for the year, but these comments that have been made have been "nothing more than political points." Gov. Northam said he doesn't regret his comments on WTOP yesterday, that he answered as a physician, that his comments have been "mischaracterized," and that the personal insults against him have been "disgusting."
UPDATE 3:44 pm – House Democratic Leader Eileen Filler-Corn says Republicans have been waging an "all-out assault on the reproductive freedom" of Virginia women for the last decade. Cites the "personhood" bill, the "TRAP" bill, "transvaginal ultrasounds," criminalizing miscarriages. House Republicans have used their majority to shame women and to try and bully women, to dictate to women what they can and cannot do with their own bodies, and ultimately to deny women access to reproductive health and freedom. The "theatrics" by Republicans this week were the latest example in a long line of Republicans putting their anti-women agenda front and center. "Virginia women are watching and Virginia women are paying attention." Democrats know that decisions on reproductive health belong to women, to their families, to medical professionals, not to politicians "sitting in a committee room." Virginia women will not be intimidated by "fear tactics." Virginia women will continue to organize, run for office, win and govern. "And we all will continue to fight to preserve our rights and our freedoms."

UPDATE 3:42 pm – AG Mark Herring says "desperation can be ugly," and that's exactly what we've seen from Republicans the past few days. Republicans have tried for years, over and over again, to make it harder for women to make their own reproductive healthcare decisions (e.g., "transvaginal ultrasounds," banning some contraception). "Their political games have exposed a member of the House of Delegates to violent personal threats." Now, "Kirk Cox has taken his caucus completely off the deep end," accusing Gov. Northam of supporting "infanticide," which "would be laughable if it wasn't such a grotesque and abhorrent claim." Speaker Cox was right about one thing – voters really do have a choice between Democrats (who trust women to make their own healthcare choices) and Republicans (who believe that women are incapable of making their own decisions).
UPDATE 3:30 pm – The press conference has begun. Gov. Northam "misinformation has been circulating" related to where Virginia Democrats stand when it comes to women's reproductive health and "we're here to set the record straight." "There's a fundamental difference between us and the Republicans" on a women's right to choose. Northam says we need to be civil about our disagreements on this. Says he's a doctor who's counseled sick children, and to play politics with this is "just not who we are as Virginians." Northam says the political strategy of the GOP "is to score points any way we can," and that "we believe that women and their doctors should be trusted with decisions about reproductive health…that Roe v Wade should remain the law of the land…that reproductive freedom leads to economic freedom for women." Northam points out that "Virginia Republicans have long advocated for taking those rights away…we disagree." "There is a stark choice" and Virginians have chosen "time and again" to reject the Republicans' approach and to, instead, support women and their reproductive health.
***************************************
I'll be watching Gov. Northam's press conference in a few minutes (see video, below), after days of ginned-up right-wing rage over a bill by Del. Kathy Tran on late-term abortion. For actual FACTS on this bill, as opposed to misinformation by people like House Speaker Kirk Cox and House Majority Leader Todd Gilbert, click here. As NARAL Pro-Choice Virginia puts it, "We believe that a woman should be able to make her own reproductive healthcare decisions in consultation with her doctor and WITHOUT interference from politicians, including when her life is at risk! We #StandWithTran and Governor Northam."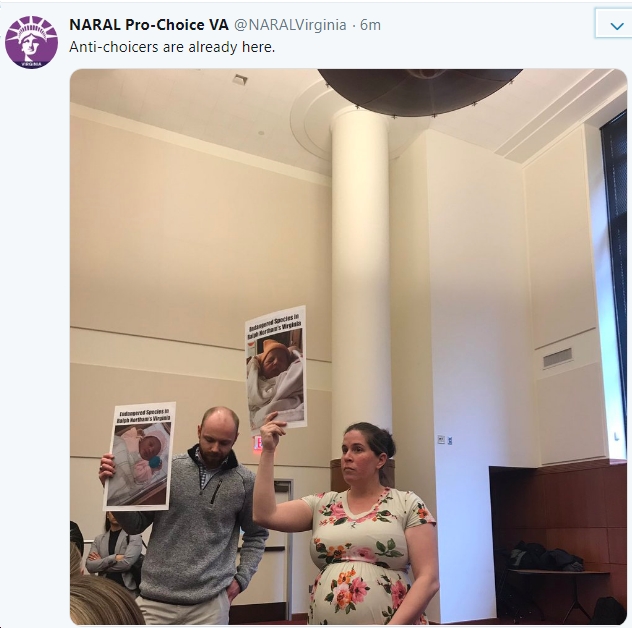 There's no paywall on Blue Virginia, and we definitely want to keep it that way! If you want to help support our work, you can donate here - thanks!
Also, you can
sign up for our weekly email list here
.