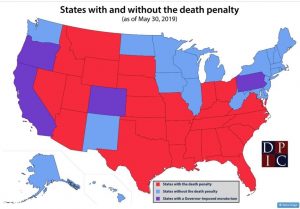 by Kindler
Here's one more reason to replace Senate Democratic Leader Dick Saslaw with Yasmine Taeb in the June 11th primary: Saslaw is a strong and consistent defender of the Medieval practice of killing people found guilty of crimes.
New Hampshire recently became the last state in New England to ban the death penalty, even as its legislature had to override the governor's veto to do so. This map from the Death Penalty Information Center (DPIC) shows the blue states that have bans or moratoria on use of the death penalty – with Virginia forming the Northeast corner of the red region still allowing it.
While we can justly blame the Republican-controlled General Assembly for this situation, the truth is that – as with issues ranging from clean energy and the climate crisis to predatory lending – an undeniable part of the problem is having Democratic leadership unwilling to stand up for progressive values. On all of these issues, and others, Dick Saslaw has long stood on the conservative Republican side, blocking our Commonwealth's progress.
You can hear him cheering on state-sponsored killing here, on the Kojo Nnamdi show in March 2016:
They've done these acts and they've given up their right to live. Essentially, you kill 7 people, you're not a human being, I'm sorry. You kill 7 people, you've given up the title of human being and you deserve whatever you get. Let me repeat that: you deserve whatever you get.
As Lowell responded here at BV at the time:
…this is simultaneously wrong, unconstitutional and unAmerican. For starters, under our country's rule of law, you don't give up your rights to a jury trial, to protection from "cruel and unusual punishment," from double jeopardy, or anything else specified in our constitution or laws, no matter how heinous your crime was. You certainly don't give up the right to "the title of human being…
Yet Saslaw has used his considerable clout in Richmond to back up this cold-blooded viewpoint, voting in favor of the death penalty frequently.
His comments in 2016 related to his enthusiastic support for a bill to make the electric chair the default state killing weapon if lethal injection drugs became unavailable. As the Washington Post noted at the time, "The debate did not fall neatly along partisan lines, with Senate Minority Leader Richard Saslaw (D-Fairfax) among the most forceful advocates for finding a way to carry out the death penalty."
In 2015, he sponsored legislation to "keep the suppliers of the drugs used in executions secret, as well as all the components they mix to make the drug cocktail used in lethal injections." This violation of democratic principles of government transparency (like the electric chair bill) was prompted by European restrictions on the export of lethal injection drugs, forcing death penalty advocates to scramble to come up with work-arounds.
Many Democrats opposed this creepy bill, as did progressive groups from the ACLU to Amnesty International. But Saslaw persisted until he succeeded in getting a version of it passed in 2016. He seemed determined to protect Virginia's #2 ranking among the states that have committed the most executions – second only to Texas.
This is another reason why, while I do all I can to elect Democrats, I select the ones I campaign for carefully – because which Democrats we choose to lead us really does make a difference.
While the death penalty had more political support in the past, the move to abolish it has grown in recent years as information about the sharp racial disparity with which it is applied has become more widely known. As the ACLU notes:
Approximately 35% of those executed since 1976 have been black, even though blacks constitute only 12% of the population. The odds of receiving a death sentence are nearly four times higher if the defendant is black than if he or she is white.
But Senator Saslaw has an opponent running against him in next Tuesday's primary who is a long time death penalty opponent and criminal justice reform advocate – Yasmine Taeb, a human rights lawyer who has worked to protect the rights of immigrants and of victims of torture, human trafficking and other gross injustices. You can see her in a recent debate criticizing him for his support of the death penalty here.
Yasmine has vowed, if elected, to work to abolish the death penalty in Virginia.  On this and many other matters, she is the progressive alternative to what the 35th Senate District – perhaps the most Democratic district in the whole Commonwealth – has had to settle for in its current Senator. Please help boost her over the finish line – with less than a week to go! – by adding your support here.