by April Moore
In honor of Labor Day, I would like to share another of the ads I've been running in my campaign against Mark Obenshain for the (SD-26) seat in the Virginia State Senate.
This ad –appearing in the two main newspapers of the district, the Northern Virginia Daily and the Daily News Record — goes after Obenshain for his consistent anti-worker efforts, in particular his support for Virginia's so-called "right to work" laws.
As you'll see from the ad's text, it exposes "right to work" as a con, designed to keep workers weak in relation to their employers– the big corporate powers whom Obenshain serves.
It is part of the overall theme of the ads I've been running in this majority-Republican area: "Obenshain is serving the Big Money power, and he's not serving you."
(click ad to enlarge)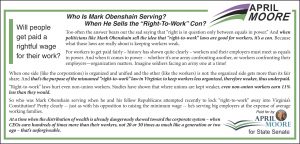 Donations can be made here.
My campaign website is here.
My campaign Facebook page is here.