by Robert Rigby, Jr., President, FCPS Pride
Steven D. Mosley, the Republican-endorsed candidate for Fairfax County School Board in the Mt. Vernon district, is the most remarkably anti-LGBTQ major party candidate in the county. Yes, he's even more opposed to acceptance of LGBTQ people than the homophobic Elizabeth Schultz.
Most recently, Mosley retweeted a story from the Family Research Council about, of all horrors, people saying what their preferred pronouns are at a Virginia Tech orientation. If you are not familiar with the Family Research Council, they are one of the leading anti-LGBTQ organization in the nation, and are labeled a "hate group" by the Southern Poverty Law Center for spreading inflammatory misinformation about LGBTQ people. The FRC has been much involved in Fairfax County's School Board politics, and Steven Mosley has close ties to them.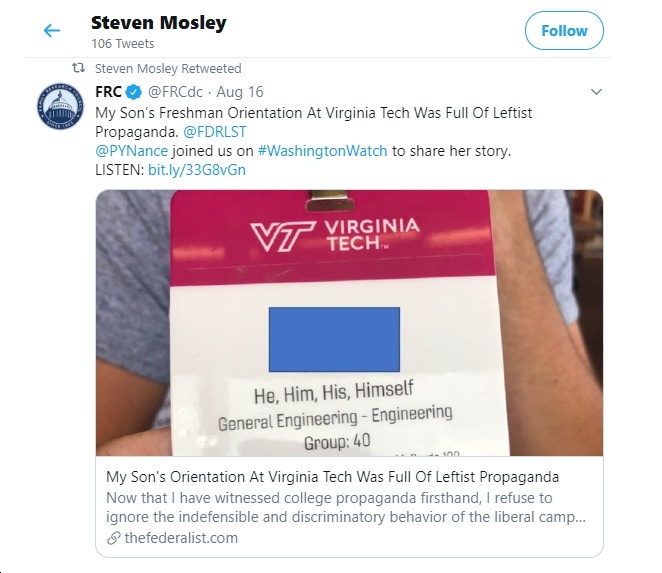 The particular article Mosley retweeted is by the president of the Concerned Women for America (another SPLC-labelled hate group that was formed to oppose the National Organization for Women). That writer was shocked! shocked! that speakers at Virginia Tech would say what pronouns should be used for them. There were no actual transgender people for her to object to; simply the recognition that trans people exist and should be welcomed into our community with the use of appropriate pronouns was enough to set off an anti-LGBTQ firestorm.
Steven Mosley has centered that anti-trans firestorm on his political twitter account.
He brags on one of his twitter accounts that he has signed the "Nashville Statement," an amazing document that rails against the existence and inclusion in our society of Lesbian, Gay, Bisexual and Transgender people. Here, for example, is an excerpt from the Nashville Statement:
"Article 7
WE DENY that adopting a homosexual or transgender self-conception is consistent with God's holy purposes in creation and redemption."
That is what Fairfax County School Board Republican-endorsed candidate Steven Mosley believes about our LGBTQ employees, students and family members.
Besides opposing LGBTQ inclusion in Fairfax's Family Life Education program, and also opposing something he calls "transgender bathrooms," the central piece of Mosley's campaign platform is bringing charter schools to Fairfax County.
That's right, he's running for the public school board position in order to dismantle public schools in Fairfax County.
In stark contrast, Mosley's opponent, Democratic-endorsed Karen Corbett Sanders, has a four-year record as a measured voice for inclusion, progress, and academic excellence on the Fairfax County School Board. She brings her colleagues together to get things done, and for the second year has been elected Chair by her fellow Board members. Certainly, Mt. Vernon voters should not replace Corbett Sanders' well-considered actions and leadership on our School Board with the extremist that Steven D. Mosley has clearly revealed himself to be.