The day after Dominion CEO Tom Farrell made two huge announcements – that his company was cancelling the massive, fracked-gas Atlantic Coast Pipeline boondoggle and also that Dominion was selling its natural gas assets to Berkshire Hathaway – it appears that Wall Street was *not* impressed, with "[s]hares of Dominion Energy (NYSE:D) [falling] as much as 11.3% on Monday."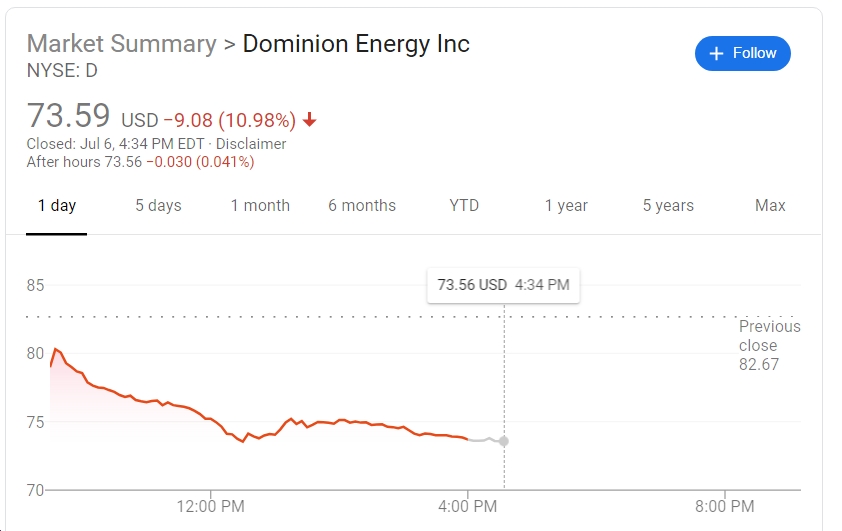 Obviously, that's not the reaction Farrell wanted. Which brings us to a highly astute tweet by former Clean Virginia Policy Director David Jonas on this latest news:
"Why @DominionEnergy CEO Tom Farrell makes $17 million a year wasting investor, ratepayer, and tax dollars at every turn is beyond me. He needs to be replaced immediately by someone who operates in good faith and will actually engage stakeholders rather than steamrolling them."
In short, Farrell wasted years of time, who-the-heck-knows-how-much of his company's money, a lot of public relations goodwill down the tubes, etc. on a 180-degrees misguided strategy to build a massive new fracked-gas, polluting pipeline that would probably end up economically "stranded" in a few years. Basically the worst of all worlds from Dominion's perspective, really. And not too great for Virginians, either. Someone remind us again, why exactly is Dominion given state-protected monopoly status?!?
P.S. By the way, has anyone seen any comment from Gov. Northam on this huge news that took place in his state? So far, I'm hearing crickets quietly chirping…lol.