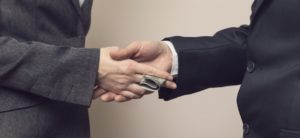 by Kindler
The good news: Virginia has finally begun moving in a positive direction on clean energy, following two election cycles of Democrats taking a pledge to refuse to accept campaign donations from Dominion Energy – with enough of those Democrats getting elected in 2017 and 2019 to win us the Senate and the House of Delegates, and pass some strong legislation like the Virginia Clean Economy Act and the Virginia Solar Freedom Act.
The not-so-good news: In response, Dominion has massively increased its campaign bribes – with lots of Virginia Democrats (and Republicans, of course) continuing to snatch that dirty cash.
The Energy and Policy Institute (EPI) gathered the latest data from the always useful Virginia Public Access Project (VPAP). As 2020 is an off-year for local elections, VPAP compared the data on political donations to that of 2018. While almost every other business interest ramped down its contributions in this year of COVID-19, Dominion gave five times more than it had in 2018 – from $113,381 to a whopping $615,500.
And as Democrats' power has grown, Dominion has shifted more of its giving to the Dems. Do you think that's because our electricity monopoly suddenly changed its mind on a range of policy issues? Or because the company is just cynically using campaign money to buy access from whomever has the power to give the company whatever it wants?
As EPI tells the tale:
"The utility directed more than a third of those funds toward House and Senate appropriations committee members; those committees months later would kill a proposed measure to refund hundreds of millions of dollars in Dominion over-earnings to erase electric customers' debts amid the COVID-19 pandemic."
The EPI story lists the House & Senate Democratic appropriators who've received the most in 2020 donations from Dominion. And these are not small amounts – e.g., $55,000 to House Appropriations Committee Chair Luke Torian, $50,000 each to Senate Committee members Louise Lucas and Mamie Locke, and $25,000 to Senate Democratic Leader Dick Saslaw (who's received over $435,000 over all the years that VPAP has kept track).
Yes, I know that the Democrats on this list frequently have had good positions on other issues, and that when pressed hard enough, we can sometimes get them to vote for clean energy bills.  But it simply is not right that a company allowed to be a MONOPOLY in exchange for the promise of being subject to state regulation is permitted to buy off the Commonwealth's regulators and legislators.
In fact, at the beginning of this year, Sen. Chap Petersen's bill SB 25 to prohibit candidates from "soliciting or accepting a contribution from any public service corporation" like Dominion was voted down by the Senate Privileges and Elections Committee – including by several Democrats who've taken tens of thousands of dollars from Dominion.
And so, the chain of corruption and of quid pro quos between dirty fossil fuel companies and politicians taking their money and enough of their orders as they can get away with continues – until we break it.
Please check VPAP and the No-Dominion Pledge List regularly to make sure that the candidates who represent you and whom you support have cut their ties to Dominion cash. We have a long way to go in building a clean energy economy – and we need to make sure that our elected leaders are working on our side in that battle, not on the side of the Big Oil, Big Gas and Big Coal barons.