by Cindy
In light of the eleventh-hour killing spree conducted by the lame duck Trump Administration and its Department of "Justice," it's a good time to talk about whether Virginia is ready to repeal the death penalty. National polls vary considerably, depending on how the question is worded—55% saying in recent Gallup polls that they "favor the death penalty for a person convicted of murder," but only 36% saying death is the "better penalty for murder," if they could choose between that and "life imprisonment with absolutely no possibility of parole." All four Democratic 2021 gubernatorial candidates, as well as Governor Northam, have said they would sign a bill to repeal the death penalty. And in a recent poll of 13,000+ Virginia Democrats in the Joe Biden for Virginia Facebook group (a sample that is probably more centrist than Virginia Democrats as a whole),  83% of those who responded felt that Virginia should repeal it.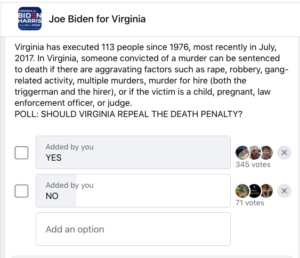 Since the US Supreme Court reinstated the death penalty in 1982, Virginia has executed 113 people for a variety of capital murders. Murders are deemed capital offenses in Virginia, potentially subject to a death sentence, for a variety of aggravating factors including: occurring during an abduction, rape, drug trafficking, robbery, or act of terrorism; where the victim is a minor, is pregnant, or is a law enforcement officer, or there are multiple victims; and murder for hire.
Death sentences must be decided by a unanimous jury—but potential jurors are excluded for cause if they say they oppose the death penalty. Once a person is sentenced to death, Virginia moves faster than any other state to kill them. Through a combination of a restrictive post-conviction appeals process and conservative courts that rarely find merit in post-conviction claims, Virginia kills on average within eight years of sentencing.
Virginia exclusively used the electric chair until 1994, after which those condemned were given the choice between that and lethal injection. When the pharmaceutical companies began blocking the use of their drugs for executions in response to public criticism, Republican Delegate Jackson Miller sponsored a bill to make the electric chair the default when the Commonwealth couldn't acquire the drugs. Then-Governor McAuliffe amended the bill to instead allow the Commonwealth to obtain compounded drugs from pharmacies in secret, exempting the information about those transactions from FOIA.
Virginia's lethal injection protocol consists of a "drug cocktail" of three compounded drugs: 1) midazolam, an anesthetic, 2) pancuronium bromide, a paralytic that halts breathing, and 3) potassium chloride to stop the heart. Midazolam has been frequently cited in botched executions that have left prisoners convulsing, coughing and gasping for breath. A recent study found that autopsies of executed individuals, including two from Virginia, revealed froth and foam in the lungs of many who had been administered midazolam, suggesting that pulmonary edema preceded their deaths, a condition which would have been "painful, both physically and emotionally, inducing a sense of drowning and the attendant panic and terror, much as would occur with the torture tactic known as waterboarding."
Virginia's history with the death penalty is disturbing, including allegedly setting Frank Coppola's head and leg on fire while attempting to execute him; coming within nine days of executing Earl Washington, who was later proved innocent by DNA evidence; executing Teresa Lewis, a woman with an IQ of only 72; and executing William Morva, a man suffering from severe mental illness, despite pleas from the victim's family. There are currently two people on Virginia's death row. Both are Black men who were prosecuted by the same office that worked on the Norfolk Four cases—where four men were coerced into confessing to a murder and rape they did not commit, under threats of the death penalty. One is Anthony Juniper, who was convicted of killing four people. The prosecutors in his case reportedly withheld key evidence indicating that he did not commit the murder, including eyewitness testimony that put the prosecutor's timeline into question, and the results of a photo lineup where the eyewitness identified someone other than Juniper. The other man on death row is Thomas Porter, who was sentenced to death for killing a police officer. He testified on the stand during his trial (which is highly unusual for the accused in a capital case to do, and suggests perhaps he didn't have the best attorneys) that he thought the officer was going to kill him. One of the jurors who sentenced him has since revealed that he didn't disclose during jury questioning that his brother is a sheriff's deputy, which might have biased him.
As in most states, the Governor has the authority to grant clemency to anyone on death row, and to commute their sentence to life in prison without the possibility of parole. It's not totally clear when execution dates will be set for the two men on death row, although it seems possible that Porter's will be within the next year, potentially leaving his case to Governor Northam to decide, rather than the next governor. The Senate has repeatedly passed with bipartisan support a bill to prevent the use of the death penalty for those who had severe mental illness at the time they committed the murder; neither that bill nor its House counterpart has ever passed out of the House criminal subcommittee. Although Senator Surovell's 2020 bill to repeal the death penalty was continued to next session along with Senator Morrissey's bill to declare a temporary moratorium, several Republican senators (Dunnavant, Stanley, and Suetterlein) have publicly indicated that they would support ending the death penalty, making it likely that a repeal could pass the Senate floor. It's less clear how the House would vote, since Delegate Carter's 2020 bill to repeal it was never heard in committee.
Virginia has made great strides in criminal justice and policing reform in the last two years since Democrats took control of the General Assembly, recognizing the harm these policies have done to our communities, and the racist origins of so many of these laws and systems. We've decriminalized possession of marijuana and are on the cusp of being the first Southern state to legalize it altogether. We finally raised the felony larceny threshold to $500 and then $1000. We were only the third state in the country to ban no-knock warrants. It's time for Virginia to become the first Southern state to abolish the death penalty.