Advertisement

With President-elect Joe Biden and VP-elect Kamala Harris still not officially sworn in, I continue remain less than fully focused on the Virginia's 2021 elections. Regardless, they're going to happen, even if we're still not sure what the district lines will look like. So…with that, see here and below for Chaz Nuttycombe's initial 2021 Virginia elections forecasts, including the House of Delegates by district, assuming current district lines (e.g., no redistricting, due to Census data being too late to use in 2021). Also, see here for my Virginia House of Delegates district rankings (again, assuming current lines), from safest "red" or "blue" to most competitive.
As for Chaz Nuttycombe's rankings, I'm mostly in agreement, although I'm more optimistic about HD75 and HD83. But sure, right now, calling it as "Toss-Up" seems about right, given all the uncertainty heading into this crazy year.  One quibble: I'd argue that given almost no ticket splitting anymore, if the statewide races are "Lean D," then ultimately the House of Delegates is probably "Lean D" as well. Although…note that Biden won the popular vote by more than 7 million votes, yet Democrats lost ground in the U.S. House of Representatives. So it's certainly possible for Virginia Dems to sweep the statewide races next year, but also lose ground in the House of Delegates. Of course, it's also possible that Dems could sweep the statewides and *gain* ground in the House of Delegates next year. There are simply too many "known unknowns" right now, including how the economy is doing by next fall, what Biden's approval ratings look like, how strong the Democratic statewide candidates and how extreme the Republican statewide candidates are, etc. Anyway, stay tuned…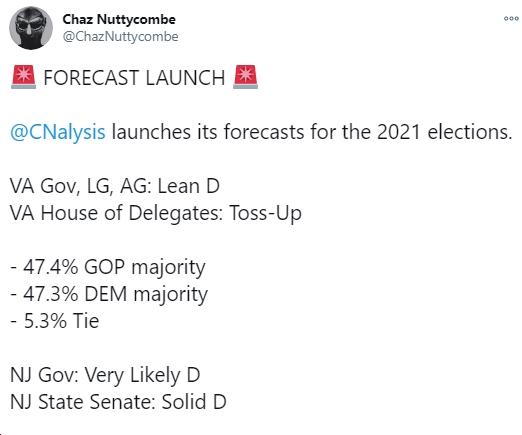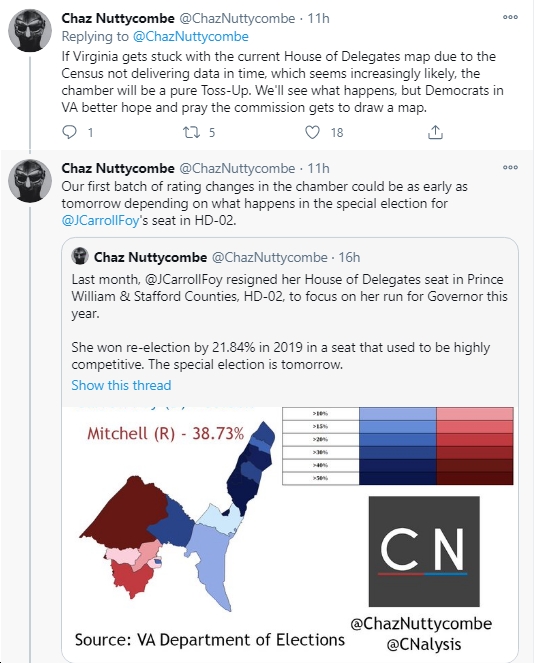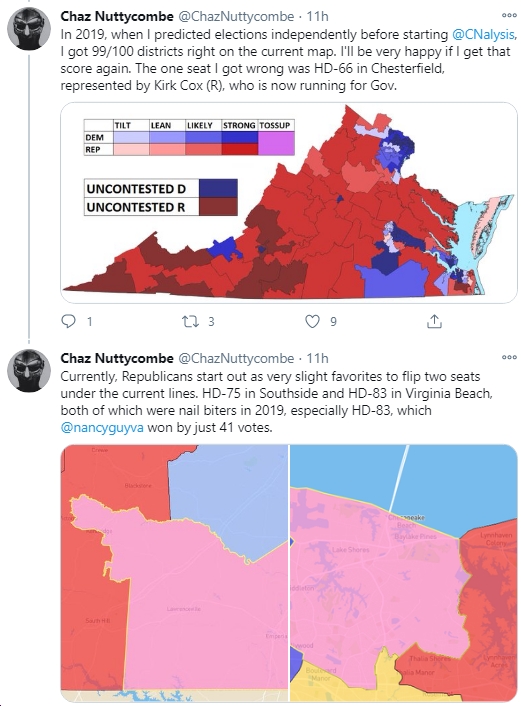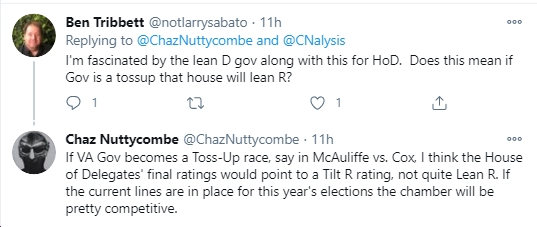 There's no paywall on Blue Virginia, and we definitely want to keep it that way! If you want to help support our work, you can donate here - thanks!
Also, you can
sign up for our weekly email list here
.