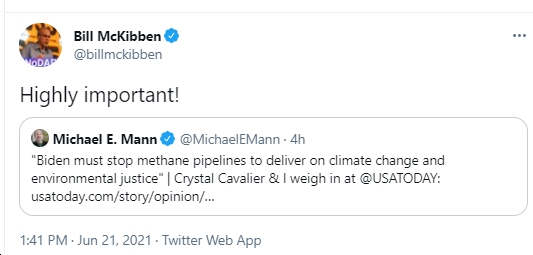 We've been arguing for years now that natural gas pipelines – and new fossil fuel infrastructure in general – make no sense, either environmentally or economically. Now, one of the world's leading climate scientists – Professor Michael Mann, who was persecuted by climate science denier and fossil fuel industry tool Ken Cuccinelli when Mann taught at UVA and Cuccinelli was, horrifyingly, Virginia AG – is out with a new article in USA Today, which argues:
"The Mountain Valley Pipeline and others awaiting approval are nails in America's climate coffin. And most are concentrated among vulnerable communities."
Along with his coauthor (Crystal Cavalier of North Carolina, who is "a member of the Occaneechi Band of the Saponi Tribe and is working on her doctoral dissertation, 'Missing Murdered Indigenous Women in Frontline Natural Gas Pipeline Communities.'"), Mann also argues in this new op-ed:
"…a huge interstate methane gas pipeline now being rammed through the Appalachian Mountains threatens to undermine the progress [Joe Biden's] administration has promised. The 42-inch diameter Mountain Valley Pipeline (MVP) would run 303 miles from West Virginia to Virginia, and it is one of the biggest U.S. gas pipelines in process. The pipeline's climate impact is estimated to be equivalent to about 23 typical coal plants, or more than 19 million passenger vehicles. That does not include a proposed 74-mile extension of the pipeline into North Carolina."
Methane, of course, is disastrous – a "climate change double whammy," as Mann and Cavalier call it, as it's a fossil fuel that release one greenhouse gas (CO2) when burned, another potent greenhouse gas (methane) during the gas production process, particularly fracking (aka, hydraulic fracturing).
Like much fossil fuel infrastructure, natural gas transmission pipelines "are disproportionately concentrated where people experience high levels of 'social vulnerability,' a Centers for Disease Control and Prevention index of race, socioeconomic status, age, type of housing, language spoken and other factors." In other words, it's unlikely they're going to be ramming a natural gas pipeline through a wealthy, white, suburban area anytime soon…
In the case of the Mountain Valley Pipeline (MVP), there are concerns among Native Americans that it "would desecrate sacred sites." There's also "the lower-income and elderly rural residents along the MVP route, too often disenfranchised when confronted with these kinds of projects."
As we've written about many times on Blue Virginia (e.g., see here, here and here, the MVP "has also been an unmitigated disaster for water quality," with "more than 350 clean water violations, amounting to more than $2 million in fines" so far.
Meanwhile, this absurd project is "only half-built, more than three years behind its original schedule and almost 100% over budget."
Bottom line: MVP is "one of the last-ditch efforts of the fossil fuel industry to squeeze out every penny in profit before it goes the way of the dinosaurs." The Biden administration should definitely not view pipelines like this as having any place in its "vision for America" – one that "intends to make genuine progress on the paired crises of climate change and environmental justice." Also, of course, Virginia should use all its power under Section 401 of the Clean Water Act to delay or preferably kill this "reckless, racist ripoff" – as Al Gore once labeled the (now defunct) Atlantic Coast Pipeline, and which applies equally well to the MVP.
P.S. Again, Virginia has a chance to stop this absurd project. DEQ is currently reviewing water-crossing permits. And the Air Pollution Control Board is holding a hearing on July 7 to consider a permit for the Lambert compressor station in Pittsylvania County.  Great chances to just say NO to the MVP.