See below for highlights (courtesy of Sierra Club associate attorney Ankit Jain and VAPLAN), as well as video from this morning's VA Redistricting Commission meeting, which was HIGHLY revealing and somewhat dramatic, actually, with citizen members actually WINNING something for a change over the gerrymanders – mostly Republicans but also Sen. George Barker (D). To date, of course, this commission's been a fiasco, almost exactly what many of us warned would happen (see The Predictable – and Predicted – VA Redistricting Commission Debacle in Graphics, Bob Holsworth: "Given the composition of the [Redistricting] Commission, the most likely agreement is one where incumbent protection is a primary driver", Chris Ambrose: VA Redistricting Commission "travesty that was pushed on the voters by a disinformation campaign by OneVirginia2021", [UPDATED with HIGHLY Revealing "Hot Mic" Moment] "Anyone who doubted that the redistricting amendment was a total partisan sham should have those doubts erased now.", etc.). This morning, though, the citizen members – mostly Democrats but also, surprisingly, Republican member Mackenzie Babichenko – asserted themselves forcefully, pushed for drawing maps from scratch (and not starting from preexisting, gerrymandered-for-incumbent-protection maps), and actually WON. What a concept, eh?  Anyway, check it out…very interesting!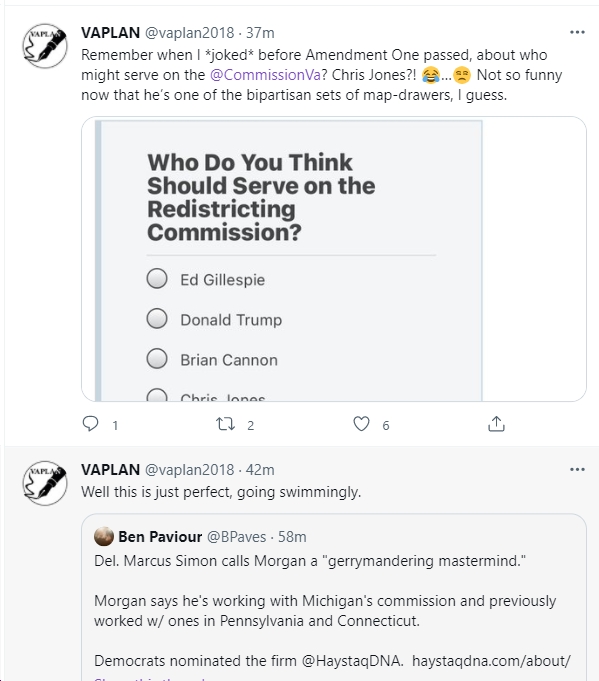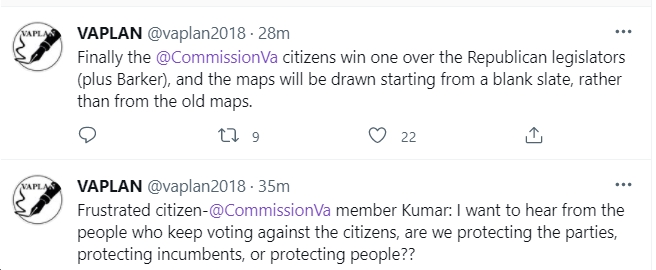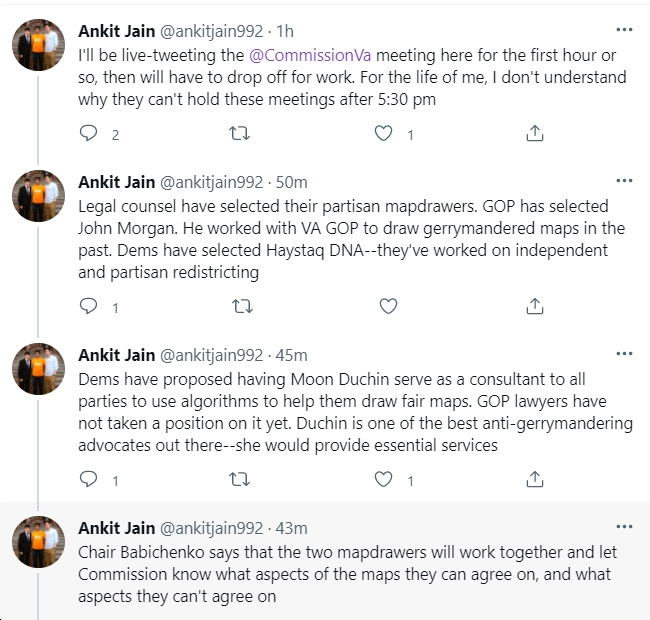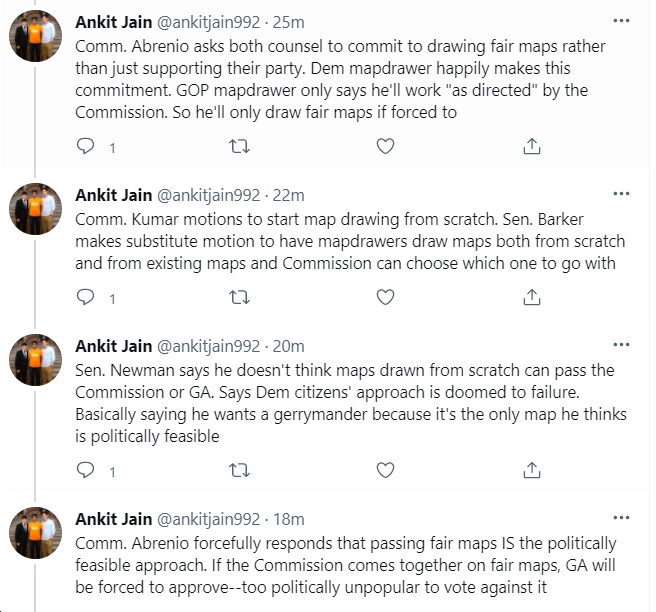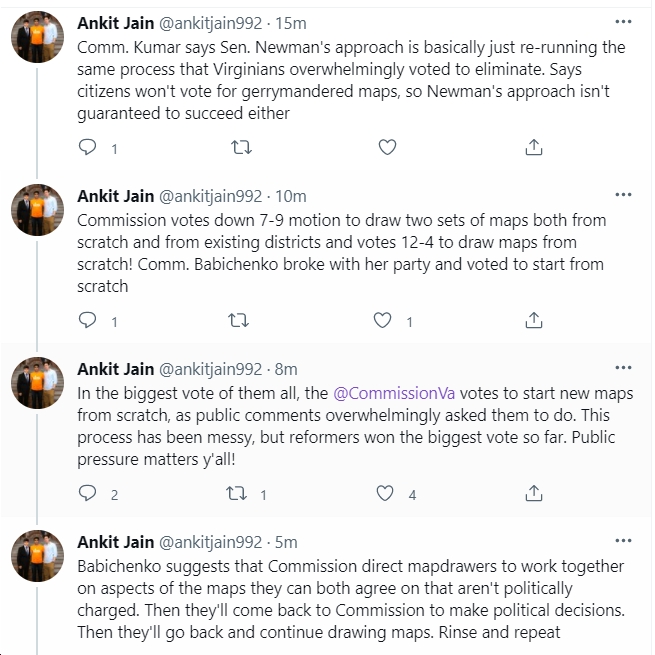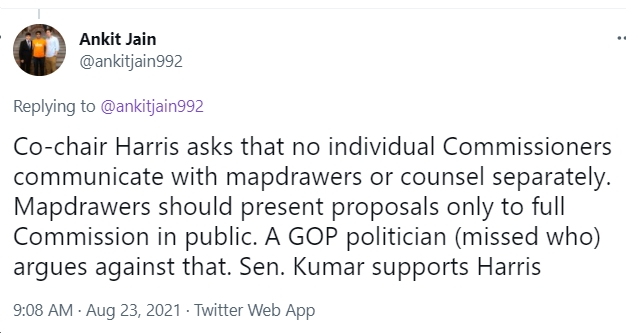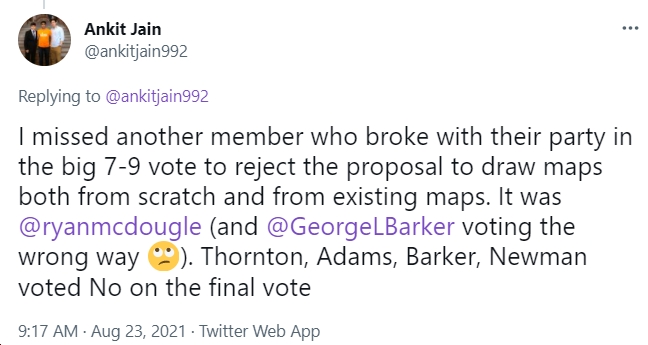 Democratic and Republican map drawers are introduced. On the Republican side, it's John Morgan, who among other things worked for far-right Delegate-now-Representative Morgan Griffith and for Republican former VA Del. Chris Jones, plus "GOPAC,"  "the premier training organization for Republican candidates in elected office on the state and local levels," whose mission is "educating and electing a new generation of Republican leaders." As reporter Ben Paviour tweets, "Del. Marcus Simon calls Morgan a 'gerrymandering mastermind.' Morgan says he's working with Michigan's commission and previously worked w/ ones in Pennsylvania and Connecticut. Democrats nominated the firm @HaystaqDNA." (P.S. Note, by the way, that Republican "gerrymandering mastermind" John Morgan totally dodged Democratic citizen commissioner James Abrenio's excellent question, that the map drawers will commit to be as objective as they can be and to work for the commission, not the parties. In stark contrast, the Democratic map drawer said it was pleased to make that commitment. Highly revealing, eh?)
Also, as Del. Simon pointed out (thanks to Ankit Jain for summarizing this very well!): "Del. Simon says if we're going to have this be an adversarial, partisan process, then Dems should select partisans like GOP. Otherwise, when they 'meet in the middle', it'll be a pro-GOP middle." Jain adds, 100% correctly: "Haystaq DNA 'echoes' Simon's concern with negotiating with themselves, but says they will do whatever Commission tells them to do. Says he hopes to come to agreement with GOP mapdrawers on certain aspects (this stinks of an incumbent protection agreement)." Great job by the Democratic citizen members of the commission this morning, pushing back against the gerrymanderers (mostly the Republicans, but also Sen. Barker, as noted previously). As Ankit Jain summarizes very well:
"Comm. Kumar makes a plea for putting fairness and the people above the interests of political parties and incumbents. He doesn't want this just to be about making sure neither party is screwed. He wants fair maps. He subtly questions whether this is what other commissioners want." (Kumar adds "It's hard to be collaborative unless people kinda say what their interests are from the get-go, and I feel like there's a lot of us on the commission that haven't done that…everything we've talked about so far this morning has been about partisanship and protecting the political parties," as opposed to "looking out for the people," and "what we're talking about doing here is basically not too distant from what we've done in the past, which is what people have fundamentally and overwhelmingly told us they want something different…It doesn't have to be this way." Commissioner Greta Harris noted that the reason she even wanted to serve on the commission was to "lift up shared democratic principles of fairness in this redistricting process," and to have the numbers "speak for themselves," as opposed to approaching this from a partisan or incumbent protection perspective.)
"Barker had suggested a mindset of each partisan mapdrawers making sure their party isn't screwed, and through that conflict coming to a compromise that both parties can support. This exchange really lays bare the different visions for this Commission"
"Comm. Abrenio asks both counsel to commit to drawing fair maps rather than just supporting their party. Dem mapdrawer happily makes this commitment. GOP mapdrawer only says he'll work "as directed" by the Commission. So he'll only draw fair maps if forced to"
"Comm. Kumar motions to start map drawing from scratch. Sen. Barker makes substitute motion to have mapdrawers draw maps both from scratch and from existing maps and Commission can choose which one to go with"
"Sen. Newman says he doesn't think maps drawn from scratch can pass the Commission or GA. Says Dem citizens' approach is doomed to failure. Basically saying he wants a gerrymander because it's the only map he thinks is politically feasible"
"Comm. Abrenio forcefully responds that passing fair maps IS the politically feasible approach. If the Commission comes together on fair maps, GA will be forced to approve–too politically unpopular to vote against it"
"Comm. Kumar says Sen. Newman's approach is basically just re-running the same process that Virginians overwhelmingly voted to eliminate. Says citizens won't vote for gerrymandered maps, so Newman's approach isn't guaranteed to succeed either" (Note: Excellent, passionate comments by citizen member Brandon Hutchins in support of drawing maps from scratch: "When I signed up for this role, I intended to do the work of the people…[people] want us to start a map from scratch…I don't think that this is a negotiable thing, I think that we should do what the citizens of the Commonwealth have asked us to do, and that's to start from scratch. We have one shot at this, and I want us to make it count!")
"Commission votes down 7-9 motion to draw two sets of maps both from scratch and from existing districts and votes 12-4 to draw maps from scratch! Comm. Babichenko broke with her party and voted to start from scratch"
"In the biggest vote of them all, the @CommissionVa votes to start new maps from scratch, as public comments overwhelmingly asked them to do. This process has been messy, but reformers won the biggest vote so far. Public pressure matters y'all!