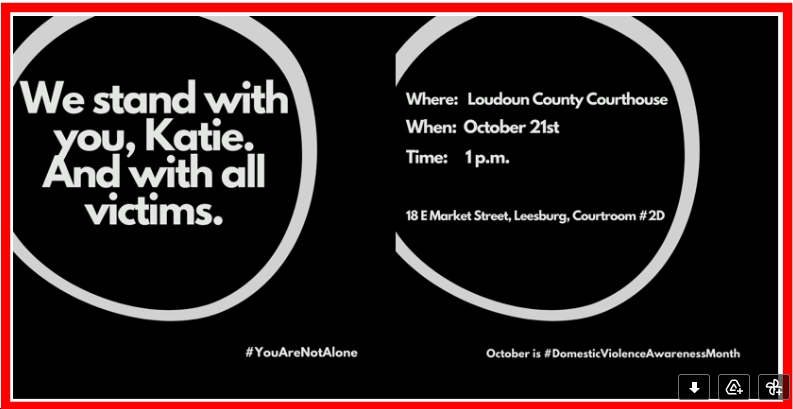 See below for information – courtesy of sexual assault survivor and advocate Lisa Sales – on what she correctly calls the "American health crisis" of domestic and sexual violence, and specifically the egregious case of Loudoun County Judge James Fisher's appalling treatment of domestic violence victim Katie Orndoff:
"…Loudoun County Circuit Court Judge James Fisher "interrupted [domestic violence survivor Katie] Orndoff's testimony, released the jury…interrogated her with a series of questions she nervously and respectfully answered," then "found her in contempt of court for admitting her use of a legal substance, cannabis, that morning to calm her fears at having to appear before her assailant. The judge ordered six deputies to take custody of Ms. Orndoff, haul her out of the courtroom and jail her for 10 days…Further, he ordered an assault on Ms. Orndoff by demanding her blood be drawn against her will after she was convicted."
Sadly, as the press release explains, the Orndoff case is far from an isolated incident: To the contrary:
"You will see that Judge Fisher exhibits a pattern of sex discrimination and appears to target women and their counsel. Of the first six cases presented since Fisher became a judge, all actions are against a woman or her attorney…[Fisher] has brought disrepute to the office and violated the community's trust and has managed to discourage domestic violence and sexual assault victims from reporting the crimes perpetrated against them."
So, this Thursday (10/21), advocates will be gathering at the Loudoun County Courthouse at 1 pm to make their voices heard and to demand action against this judge and the system that perpetuates the unacceptable behavior described below.