UPDATED 12:29 pm: Courtesy of Ethan Lynne….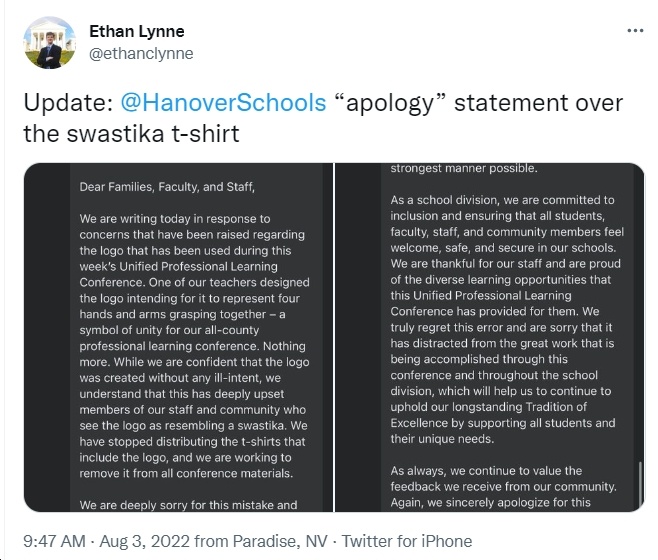 UPDATED 11:50 am: Interesting…the Richmond Times-Dispatch reports:
The superintendent of Hanover schools is apologizing about the district using a logo on T-shirts and other materials that resembles a swastika.
The logo was used in a Hanover County Public Schools professional learning conference this week. After an uproar of criticism from the community and beyond, Superintendent Michael Gill issued an apology Wednesday morning.
"One of our teachers designed the logo intending for it to represent four hands and arms grasping together – a symbol of unity for our all-county professional learning conference. Nothing more," Gill wrote in a message to families and staff. "While we are confident that the logo was created without any ill-intent, we understand that this has deeply upset members of our staff and community who see the logo as resembling a swastika."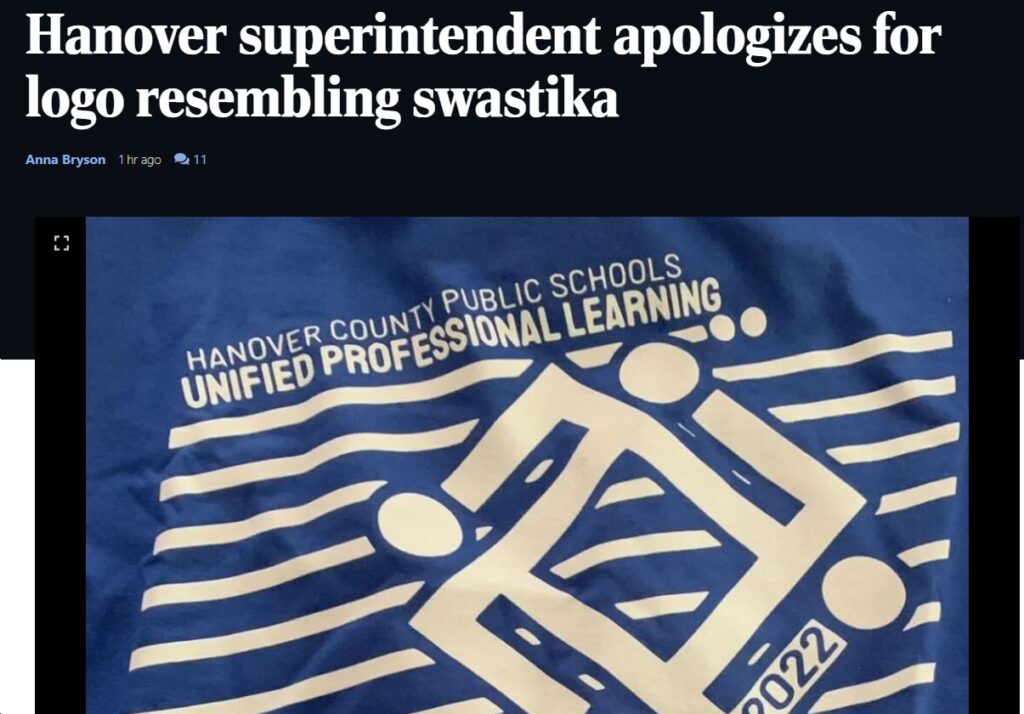 What on earth is going on with the Hanover County school system? See below for the latest craziness (h/t to Rachel Anne Levy and Ethan Lynne!), and also see Right-Wing-Dominated Hanover County School Board Bans Student Walkouts, Nearly Bans Book on Police Killings of Black People (Because, Supposedly, "That Only Happens in the Inner Cities"); Process for Appointing New Hanover School Board Member Violated US Constitution By Requiring That They Be a Conservative Christian, Commit to Breaking Virginia Law and Engaging in Discrimination; Hanover County High School Senior Ethan Lynne Urges: "Please pay attention to the far-right takeover happening in my own county"; Hard-Right Virginia Delegate Claims Hanover County, Which He Represents, "Caved to the Pressure of Anarchists" in Voting to Rename Confederate Schools; His Republican Predecessor Rips Him; etc. This county, by the way, went 62%-36% for Trump over Biden, so it's deep-red and very Trumpist. Here's a case study in what these people do when they're in charge. Ugh.
Yes, I have seen the Hanover Schools new swastika-like logo.

Sigh.

Let's hope an explanation and apology comes soon. pic.twitter.com/GaI6yShIm7

— Rachel for Delegate (@RachelAnneLevy) August 3, 2022