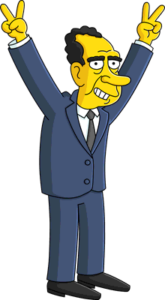 by Kindler
Back in April, I wrote about the curious case of Reid Voss, candidate in the June 20 Democratic primary for Fairfax County Supervisor, Mason District, who has tried to conceal his past working as a staffer for at least four Republican candidates/officeholders.
I presented evidence from across the Web of the various positions he has held as well as the nutty defense of the Confederacy he coauthored to support keeping the name of Confederate General J.E.B. Stuart on the local high school – a mere five years ago.
And as I discussed in comparing him with Republican-turned-Democrat Kyle McDaniel, there are more honest and reasonable ways to make such a transition than just trying to hide the truth from the voters.
Well, with that, I might have just let this sleeping wolf lie – but then, this week, I see him profiled in the Falls Church Patch, responding to a survey question on his "previous public office positions or appointments" like so:
"As a senior at Justice High School, I was elected to the Fairfax County School Board as the student representative to the Board. I have not held any office or public appointments since High School and am entering politics now to give back to the community that I grew up in and love."
As Ronald Reagan would say, "There you go again" – selectively editing his resume to make sure that Democrats voting in the primary don't know that he has been involved in politics, in service to Republicans, as:
Normally, candidates for public office like to brag about their experience working in government and politics. Yet Reid responds to this question disingenuously implying that he is just now "entering politics" and has no background in the field to speak of.
Employers tend to be suspicious of blank spaces on the job-seeker's resume and voters should be too. It should prompt them to ask the question: what are you trying to hide, man?
As his Republican pedigree has leaked out, voters have in fact begun to ask Reid about the issue, and his answers have been very telling – as different variations of "Hey, it's not my fault!" Rather than just owning and accounting for his past, he has tried out various excuses for and frankly distractions from it.
For example, at the recent Mason District Supervisor Candidate Forum, in response to a question about the candidates' history with the Democratic party and their progressive values, he said the following (around minute 56:30 in the video):
"I was friends with the son of Tom Davis, who was the Congressman and he offered me a job back in 2004. Most people would consider him a moderate Republican; by today's standards, he'd probably be considered a Democrat, but I did work on his staff in 2004, and I haven't been involved in politics since. But I consider myself a Barack Obama Democrat. I was left by any kind of Republican party when they took a social agenda that went completely against everything I believe in 2007 and 2008. So I am a strong progressive Democrat that will fight for our values. But…I've been busy running my businesses, so I haven't been working in the Democratic establishment for a long time."
A few things stand out in this answer:
He attributes his entire career to being offered a job in Rep. Tom Davis' office, without mentioning any of his other positions working for Republicans. Yes, Tom Davis was pretty moderate – though never a Democrat! – but Rep. Jo Ann Davis, whom Reid also worked for, was much more conservative.
We do not hear about any values or positions that attracted him to the GOP, only that he got a job based on a connection. So, what are Reid's core values?
He claims that he broke with Republicans over their "social agenda" without citing a single example of what issues specifically resonated with him. This is in contrast to each of the other three candidates at the forum, who answered the question by referring to their progressive values on such issues as a woman's right to choose, immigration reform, housing and the environment.
Reid Voss was also questioned last month by a member of the Lake Barcroft community through that community's electronic communication system, Lakelinks, who noted that she "recognized some avowed Trump Republicans from our community actively campaigning for him today at the Taste of Annandale."
His response was as follows:
"It is a mischaracterization of my volunteers to say I have several avowed Trump Republicans actively campaigning for me. [The commenter] is referring to one of our community members who has been a second mother to me since I was in sixth grade and the godmother to my son for the past ten years. All of us have family members with different political beliefs, and I truly appreciate that despite our different political views this person continues to show her unconditional love and support for my family and me by putting her own political views aside and volunteering to support my campaign."
This response reminded me of Richard Nixon's famous "Checkers speech" in which Nixon deflected criticism of alleged fundraising improprieties in his campaign by referring to the "donation" he received of a dog:
"…we did get something—a gift—after the election. A man down in Texas heard Pat on the radio mention the fact that our two youngsters would like to have a dog. And, believe it or not, the day before we left on this campaign trip we got a message from Union Station in Baltimore saying they had a package for us. We went down to get it. You know what it was?

"It was a little cocker spaniel dog in a crate that he'd sent all the way from Texas. Black and white spotted. And our little girl—Tricia, the 6-year-old—named it Checkers. And you know, the kids, like all kids, love the dog and I just want to say this right now, that regardless of what they say about it, we're gonna keep it."
Reid's answer, like Nixon's, was a skillfully touching diversion. Forget about my dubious fundraising practices – focus on the dog!  Or…forget about the Trump Republicans campaigning for me – focus on my moving "friend of the family" story!
But as another contributor to Blue Virginia, Cindy, noted recently, the strategy of appealing to Republicans to vote in Democratic primaries is a very real, under-the-radar phenomenon this year. She notes, for example, State Senator Chap Peterson stating in boldface in a campaign mailer: "All voters are eligible to vote" as well as candidate for Fairfax Commonwealth's Attorney Ed Nuttall stating on his Facebook page "any registered voter can vote in a primary regardless of political affiliation."
After reading this, I looked back at an invitation I had received for a local meet-and-greet with Reid Voss.  It said: "Any registered voter who lives In Mason District can vote in the Primary election on June 20 regardless of your political party affiliation."
Just coincidence that these different candidates landed on such similar language, or a coordinated strategy to appeal to Republican voters to support candidates running in Democratic primaries who are more GOP-friendly? What kind of pitch is Reid Voss making to Republican voters behind closed doors?
I don't know. But I personally am going to be voting for Andres Jimenez, who has been a known, active Democrat for over 20 years.  No Checkers speeches, just the kind of progressive platform and experience that Democrats want and deserve.