Home
Authors
Posts by ChopraForVirginia
ChopraForVirginia VIRGINIA BEACH, VA - Aneesh Chopra, Democratic candidate for Virginia Lt. Governor won the straw poll hosted Thursday evening by the Chesapeake, Norfolk, Suffolk, and Virginia Beach Democratic Committees. More than 200 people were in attendance for the candidate forum and straw poll.
Thursday's victory comes on the heels of Chopra winning the 9th Congressional District Convention straw poll in Abingdon on May 25. Chopra also won the largest Democratic straw poll -- Congressman Gerry Connolly's St. Patrick's Day Straw Poll -- with 70% of the vote.
"Tonight's victory is a credit to my supporters in the Hampton Roads area, including Hampton Mayor Molly Ward and Virginia Beach Councilwoman Dr. Amelia Ross-Hammond. We're building a movement all across the Commonwealth," Chopra said.
"I am honored to have the support of so many dedicated Democrats in all corners of Virginia and I'm thrilled by the momentum we have heading into the June 11th primary." Today, Aneesh Chopra released the first television ad of his campaign for the Democratic nomination for Virginia Lt. Governor. The 30-second ad focuses on Chopra's commitment to fighting for Virginia's middle class.
In the ad, which begins airing today, Chopra outlines his priorities for strengthening the middle class. These include ensuring women earn equal pay for equal work, raising the minimum wage, and ensuring college is affordable for Virginia students and families.
The ad also highlights Chopra's experience as Virginia's Secretary of Technology for Governor Tim Kaine and as U.S. Chief Technology Officer for President Barack Obama.
"I'm excited to take my campaign of fairness, equality, and opportunity to Virginia voters with this ad," Chopra said. "I am the proud son of parents who worked hard to get into the middle class. I know how difficult it can be for families that are struggling to get in -- or stay in -- the middle class. I stand with them and will work each day to ensure all Virginians have a fair shot at success." HAMPTON, VA - Today, Molly Ward, Mayor of the City of Hampton, endorsed Aneesh Chopra for Virginia Lt. Governor. Ward, who is currently serving in her second term as Mayor, praised Chopra's vision for Virginia's future.
"Aneesh's positive vision for Virginia is exactly what we need," said Ward. "He knows we must turn the page on the politics of the past and work to respect and empower all Virginians. He represents the future of politics in the Commonwealth, where we dedicate ourselves to finding innovative new ways to address our greatest challenges."
"As a Mayor in the Hampton Roads area, I am confident that Aneesh Chopra will be a Lt. Governor who represents all corners of the Commonwealth," Ward continued. "His experience working for Governor Kaine and President Obama have prepared him to be an effective leader on day one."
Upon receiving the endorsement, Chopra said, "I am honored and excited to have the support of Mayor Ward. She has been an incredible leader for Hampton and I am thrilled to work with her to move Virginia forward."
Ward joins a growing list of Virginia mayors in endorsing Chopra, including most recently Mayor Dwight Jones of Richmond.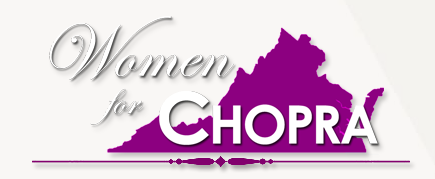 ARLINGTON, VA - Today, Aneesh Chopra's campaign for Virginia Lt. Governor launched Women for Chopra, a grassroots group of women supporters across the Commonwealth. In an announcement to supporters, Kate Hanley, former Chair of the Fairfax County Board of Supervisors and former Secretary of the Commonwealth described the new initiative:
"This year, so much is at stake for the women of Virginia. Over the past four years, we've seen attack after attack on women's rights. It's absolutely critical that this year we elect leaders who will stand with us and fight for equality and opportunity. That's why I am supporting Aneesh Chopra for Lt. Governor, and that's why I'm so excited to announce the launch of Women for Chopra."
Along with Hanley, the campaign announced an initial list of Women for Chopra supporters, including: ARLINGTON, VA -
Today, Congressman Gerry Connolly (D-11th) endorsed Aneesh Chopra for Lieutenant Governor of Virginia.
Connolly released the following statement about the endorsement:
"Aneesh Chopra is a friend of many years and I have seen the results he delivers for the people of Virginia. I saw the positive impact he had on our Commonwealth as Governor Kaine's Secretary of Technology, and that's why I urged President Obama to select him to be our nation's first Chief Technology Officer.
"Aneesh represents the future of politics in Virginia -- where we turn the page on ideological extremism in Richmond and instead focus on making our government work better and smarter.
"As our next Lieutenant Governor, I know Aneesh will use his experience every day to fight for equality and opportunity for all Virginians. I also know he will work to protect and grow our middle class and stand up against attacks on Virginia women. I am proud to stand with Aneesh and offer him my fullest endorsement."
Upon receiving the endorsement, Chopra said, "I am honored to have the support of Congressman Connolly. No one has been a stronger voice and greater advocate for Northern Virginia. I am excited to work with him to move Virginia forward." Arlington, VA - Today, the Virginia Board of Health voted to approve new regulations targeting health clinics that provide abortion services, despite a clear failure to fully evaluate alternatives as required by law. These regulations, which are burdensome and unnecessary, do nothing to protect women and do everything to limit access to reproductive care.
Aneesh Chopra, candidate for Virginia Lt. Governor, released the following statement regarding the Board's decision:
"I am disappointed, but not surprised, by this latest attempt to limit a woman's right to make her own healthcare decisions. Instead of listening to the vast majority of Virginians, the Board of Health instead bowed to pressure from out-of-touch politicians like Ken Cuccinelli.
"Along with thousands of other Virginians, I submitted a public comment against these new regulations. More than 80% of the public comments submitted were in opposition to these regulations. The message is clear: the people of Virginia want their leaders to stop attacking women's rights.
"Today is a stark reminder of what's at stake in this year's elections. As Lt. Governor, I will fight every day to respect and empower women and protect their right to make their own healthcare decisions." You'll never believe who just endorsed Scott Lingamfelter for Lieutenant Governor of Virginia.
Who could chime in to help Scott Lingamfelter stand out in a crowd of seven Republicans? Who would help him move even farther to the right? Who does Lingamfelter want on his team to help him win?
Tom Tancredo, that's who.
Wait. Who?
Tom Tancredo. From Colorado. A former Congressman and a former candidate for President.
Tom Tancredo, who doesn't believe in evolution. Who voted against renewing the Voting Rights Act. Who said that President Obama is a greater threat to America than Al Qaeda. Who suggested a "civics literacy test" as a requirement to exercise the right to vote. Who said that Supreme Court Justice Sonia Sotomayor was a member of the "Latino KKK." Who said that President Obama should be sent back to Kenya.
"I am honored to have the support of former Colorado Congressman and great American patriot, Tom Tancredo!" - Scott Lingamfelter
Tom Tancredo and Scott Lingamfelter want to move Virginia backwards. On Election Day, we can turn the page and choose leaders who will move our Commonwealth forward. This afternoon, Aneesh Chopra's campaign for Virginia Lieutenant Governor submitted 20,630 petition signatures to qualify for ballot access in the June Democratic Primary. The minimum number of signatures required to appear on the ballot is 10,000. Chopra's campaign also surpassed the requirement of at least 400 signatures from each of the Commonwealth's 11 congressional districts.
"This is a credit to the grassroots network that drives this campaign," Chopra said upon delivering his petition signatures. "This is just one step along the road to victory, but I am incredibly proud of our efforts across the Commonwealth."
"Today wouldn't be possible without our dedicated and hardworking supporters and volunteers. I decided to run for Lieutenant Governor because I firmly believe that our state government can be smarter, faster, better, and fairer for all Virginians. This is a message that is resonating across the Commonwealth, and I look forward to engaging with more Virginians on it in the coming months." By Aneesh Chopra
It's more important than ever to expand access to Medicaid in Virginia. We must get this done. Governor McDonnell's March 5th letter to Secretary of Health and Human Services Kathleen Sebelius is a troubling sign for what many thought was a deal on Medicaid expansion.
"Some media outlets and elected officials have labeled this as approving Medicaid expansion in Virginia," wrote McDonnell in the letter. "This is absolutely incorrect."
It's time for Democrats and Republicans to come together and renew the pressure on the Governor to expand Medicaid. It's too important to let this opportunity slip away. We can't let partisan extremists put the health of hundreds of thousands of Virginians at risk.
An example of this extremism came today when Republican Lieutenant Governor candidate Pete Snyder claimed that "it's actually better to be uninsured than to be on Medicaid." This claim is simply not true, and shows the lengths to which the current field of candidates will go to push their agenda.
The truth is that expanding Medicaid means 300,000 fewer uninsured Virginians -- a reduction of more than 37%. It also means those 300,000 people would gain access to preventative care. That access will not only improve people's quality of lives, it also will save lives.
We need leaders who will put the health of Virginians ahead of partisan agendas. That's how we will move the Commonwealth forward and that's what I will do as Lieutenant Governor. Today, candidate for Virginia Lt. Governor Aneesh Chopra submitted the following public comment on proposed regulations regarding women's health centers. The regulations in question would place burdensome and unnecessary regulations on facilities that provide health services to Virginia women. Chopra's comment comes during the Virginia Board of Health's 60-day public comment period.