When I first signed on to manage Kelly Fowler's race for the House of Delegates, I posted on my Facebook page that she was...
by Susan Mariner This past weekend Donald Trump came to Virginia Beach to rally supporters at Regent University. When Trump arrived, he was met by a... The following is from
Susan Mariner
, who asked me to post this for her. Susan came very close yesterday, and from what I hear received nothing but positive feedback on her run for DPVA 1st Vice Chair of Organization. I'm confident that Susan has a great future ahead of her as a Virginia Democrat (and otherwise). She is a class act all the way.
Fellow Democrats,

Please join me in congratulating Gaylene Kanoyton on her election as DPVA 1st Vice Chair of Organization. Gaylene ran a strong, energetic, and determined campaign. These traits demonstrate the kind of outstanding leader Gaylene is, has been, and will be for the Democratic Party. I look forward to working with and in support of Gaylene in her efforts to put "Boots on the Ground!"

I also wanted to thank all of my supporters and the many new friends I made over the past few weeks. Together we talked about how we could grow the Democratic Party across this great Commonwealth. This was a positive campaign based on maximum inclusion. I am proud of what this campaign was about and was deeply honored to have gained the votes and friendship of so many. And though I fell a little shy of the votes I would have needed to win, be assured that I will keep working together with you to make this a Bluer Virginia.

On that note, I hope everyone will join me in making GOTV calls for Kai Degner's and Bill Brown's special election Tuesday. To make calls from home for Kai, please email trent@DegnerforDelegate.com To make calls from home for Bill, please email plclerkin@gmail.com For those of us who don't live nearby enough to put our "Boots on the Ground," let's put our "Fingers on the Dial" for these great Democrats.

In unity towards Democratic victories in 2010 and beyond,

Susan Mariner
Chair, Virginia Beach Democratic Committee
UPDATE
: Also, here is
Gaylene Kanoytan's statement
:
"Yes, We Won! Thank you!"

"To whom much is given, much is required" Luke 12:48
This journey started 3 weeks ago, when Long time Democrat Pixie Bell asked me for the final time to run and I accepted after speaking to Delegate Jennifer McClellan. I thank them both for their support.
Yesterday was a joyous bittersweet day for me! Joyous- Yes WE won the 1st Vice Chair of Operations position and I say "WE" because of the enormous thoughts, prayers and support! Thank you! Bittersweet: During the nomination segment my Church member and very good friend (like a mother) was being funeralized. However, I could hear her voice of support during the entire process. Friendship is Golden and yesterday my opponent Susan did what Democrats do ,when you fall short of votes. A Good Democrat give their votes to the winner to make the vote unanimous. I thank her for that measure of Unity. I attended the National Convention when Hilliary Clinton gave her Delegates to Pres. Obama and the Unity in the audience was awesome!. Senator Locke had me in tears with her 1st nomination speech, she has known me for 30 years..taught me in college and Sean Houlihan President of the YD's 2nd nomination speech was awesome! It's great to have people to speak on your behalf that actually know your work. Now I'm ready to
"PUT BOOTS ON THE GROUND,BOOTS ON THE GROUND, WE'RE GOING TO WIN WITH OUR BOOTS ON THE GROUND!" Thank you all and stay tuned!
UPDATE #2
: Gaylene Kanoytan has posted a revised version of her statement
here
.
With the DPVA's central committee set to meet tomorrow and vote on who is to be the next 1st Vice Chair of the organization, bloggers across Virginia are posting their closing arguments in favor of their favorite. The Richmonder supports Susan Mariner for 1st Vice Chair of the Democratic Party of Virginia. Susan has displayed tremendous commitment to growing the Democratic Party of Virginia. She has the right skills to grow and unify the party going forward.
Susan Mariner has shown the energy needed to fight for all Democrats in every race. I first met Susan during the Webb campaign in 2006. Jim Webb's campaign for the U.S. Senate was far from a sure thing, but Susan was tireless in her support. It was the commitment of people like Susan that positioned Jim Webb to take advantage when George Allen's campaign fell apart in August 2006.
The post of 1st Vice Chair is charged with growing the Democratic Party of Virginia. You can't do that by focusing just on the easy races. Susan has shown that she will take on the longshot campaigns that produce upset victories. Susan has shown that she can work within the Democratic establishment in Virginia while, at the same time, reaching out to new and growing constituencies.
When I decided to support Susan Mariner for the post of 1st Vice Chair of DPVA I also made the decision not to engage in any negative campaigning. I do not know Gaylene Kanoyton, but from everything I have heard about her she seems to be a perfectly decent person and qualified for the position. I simply believe from past experience that Susan Mariner is the superior candidate for the position.
What I do find myself compelled to criticize is the element of race that has been injected into this competition by some of Gaylene's supporters. I have no reason to believe that Gaylene approves of these arguments made on her behalf, so I would ask my readers not to hold them against Gaylene personally.
The element of race I am referring to is the idea that the post of 1st Vice Chair is "set aside" or "reserved" for a black woman. I have searched the DPVA party plan in vain for such a rule, yet there are those who seem to believe it exists. This is simply another reminder. If you think that the DPVA could do a better job connecting with the grassroots, and if you have a vote on the Central Committee of the party or can contact someone who does, then Saturday is the day when we can begin to bring about change.
We can change our party for the better. I have a simple message:
Susan Mariner for 1st Vice Chair!
The election for DPVA 1st Vice Chair is this Saturday, less than 72 hours away. I wanted to update everyone on
Susan Mariner's
endorsement list, which just keeps on growing as the vote nears. Here are a few endorsers since yesterday.
*Phil Burnette, 5th CD Dem Committee Vice Chair, who says, "Susan Mariner is one of the hardest working, most effective, and most dedicated Democrats I know, as highlighted by her attendance at the 5th CD Democratic Committee's nominating convention for Tom Perriello this past weekend. In addition, Susan's commitment to Democratic committees and communities across Virginia, including in rural parts of the Commonwealth, is unsurpassed. I strongly endorse Susan Mariner for the DPVA 1st Vice Chair position and urge others to vote for her!"
*Lovely Lall, Catoctin District Chair and Asian American Community activist
*Thom Beres, Potomac District Chair
*Joe Fitzgerald, Vice Chair 6th CD
*Elaine Owens, Secretary 6th CD
*Lorene Martin, 5th CD Treasurer
*Sam Crockett, 10th CD Chair
*Linda Wyatt, 6th District Committee Chair
*Mike Lieberman, Arlington County Democratic Committee Chair
Thanks to everyone for their endorsements, can we say "momentum?" :) Go Susan!
P.S. Also, thanks to the 368 people who have joined the Susan Mariner for DPVA 1st Vice Chair Facebook page.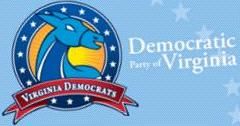 Last year when the same old, same old stole the wheel of the Democratic Party of Virginia and drove it into the ditch, eight years of opportunity ended on the same disappointingly sour crescendo that seemed to accompany every success during those years. Susan represents a refreshing new DPVA tune.
During two Democratic gubernatorial administrations, when the DPVA constituency might have been energized and broadened by embracing new leadership and recognizing areas that would facilitate a flowering of initiative, the "not invented here" syndrome became an obstacle to progress. Personal ambition, self promotion, and self preservation formed the nexus of motivation for too many who were supposed to be protecting the interests of the DPVA. Many of the party officials and electeds who have failed to support Susan Mariner represent a significant who's who of who've been at the helm. They chose poorly for years and in doing so have lost the authority success might provide in this instance.
Should the leadership of the DPVA miss this opportunity to refresh its leadership and select someone who can connect to the now disenchanted grass roots volunteers who energized the party's now ebbing resurgence in Virginia, then they will have what they deserve: abject failure to seize the moment. They will keep the party mired deeply in the ditch.
The following email discusses the latest, superb work by Susan Mariner for Virginia Democrats. Anyone who knows Susan realizes that this is just par for the course, as Susan has always been a tireless worker with boundless enthusiasm and energy. Among many other reasons, that's why Susan is the person best qualified (by far) to be the next 1st Vice Chair of DPVA.
See here
for more information, and please make sure to tell every Central Committee member you know to vote for Susan next Saturday! Thanks.
TAKING the TIME to LISTEN and LEARN: Visiting the 5th Congressional District

Yesterday I spent a wonderful day with Democrats in the 5th Congressional District, home of now official Democratic nominee in the 5th, Congressman Tom Perriello. The 5th CD nominating convention was a great success, and I was inspired by the positive energy and unity of purpose of the delegates in the room. On a less significant but also happy note, I loved getting a Perriello bumper sticker for my car.

Though I am not a resident of the 5th CD, I stand firmly with the delegates at the Convention in saying that we MUST re-elect Tom Perriello this year!

In the many conversations I had with convention goers yesterday (including with many Central Committee members) about what the DPVA needed to do to help Tom in office this election cycle, one message I heard repeated over and over again is that they need help from the DPVA in educating voters, including many who voted for the first time in 2008. We discussed the special challenges of campaigning in a mostly rural district and talked about specific strategies that the DPVA could employ to help build the Party for the long term in the 5th CD.
More after the "flip"
Yesterday, Susan Mariner once again demonstrated her work ethic and commitment to the Democratic Party by driving all the way from Virginia Beach to Leesburg to meet with the
Loudoun County Democratic Committee
and discuss her
candidacy for DPVA 1st Vice Chair
.
Well beyond this particular election, what Susan is committed to doing is listening to Democrats doing the hard work "on the ground." That's why she's traveling around the Commonwealth, asking for people's thoughts, meeting with local elected officials and party leadership, and learning firsthand what's happening with the Democratic Party in key battleground counties like Loudoun.
Susan points out that many Democrats "downstate" tend to think of Loudoun as Northern Virginia, which to many people is synonymous with Fairfax County. That, of course, is not the case. And, Susan adds, it's important that the 1st Vice Chair have the time to commit to understanding and representing all of the state, not just one part.
Susan reports that last night, in speaking with the Loudoun County Democrats at their meeting, nobody could remember any members of the DPVA leadership attending any event other than a fundraiser. Having worked on campaigns professionally (Susan served as the general election Political Director in Hampton Roads for Barack Obama, also as an advisor on Senators John Miller's and Ralph Northam's tough Red to Blue election victories in 2007, etc), she understands numbers, campaign strategy, and tactics. Even more importantly, perhaps, Susan also understands how critical it is for campaigns to listen to Democrats who know their communities and their voters better than any staffer.
Last but not least, Susan believes that a key aspect of the 1st Vice Chair should be to interface between the DPVA and statewide campaigns, which makes understanding the entirety of the state absolutely critical. Fortunately, when Susan is elected DPVA 1st Vice Chair in 8 days, we will not only have someone who understands Virginia and meets the other criteria cited above, we will have a committed, hard-working, dynamic, inclusive leader who takes the DPVA to another level of excellence. Go Susan!
On June 12, 2010, the Democratic Party of Virginia (DPVA) will select a new 1st Vice Chair. The following statement is from former Webb "ragtag army" superstar
Susan Mariner
, who I am strongly supporting for this position. Also supporting Susan so far are people like
Sen. Chap Petersen
,
Del. Scott Surovell
, Roanoke County Clerk of Circuit Court Steve McGraw, Prince William County Democratic chair Pete Frisbie, 10th CD Democratic Committee member Charlie Jackson,
Isaac Sarver
,
Joe Montano
,
Joseph Puckett
,
316 Facebook fans
, and more. I hope you'll support Susan too. Thanks!
WHY I AM RUNNING for DPVA 1st VICE CHAIR of ORGANIZATION

I'm Susan Mariner, and I'm asking for your vote on June 12th

First and foremost, the job of the DPVA 1st Vice Chair of Organization is to elect Democrats. I am running for this seat at this particular time because I believe I am uniquely qualified to accomplish that goal. Here's why--

*I have the proven ability to grow, strengthen, and diversify the Party: In 6 months as Chair of the Virginia Beach Democratic Committee, I have increased our committee membership from 80 to 175, brought in a critical infusion of energetic young people, and vastly increased participation of minorities. If you want a 1st Vice Chair of Organization who has the skills to grow, strengthen, and diversify the Democratic Party across the Commonwealth, I ask for your vote.

*I will leave no committee behind: Over the years, my work with urban, rural, and suburban Democratic committees has made me acutely aware that the challenges faced by committees throughout the state are not the same and cannot be met with a "one size fits all" solution. If elected, I will personally and actively support all committees across this great state. If you want an energetic and knowledgeable 1st Vice Chair of Organization, one who will spend time helping any committee that seeks my assistance in creatively energizing, professionalizing or expanding their organization, I ask for your vote.