The shad are running and Virginia politicians will swim with them today. Last year Democratic candidates gave the Wakefield Ruritan event a cold shoulder. The event's organizers made an insincere attempt to dampen the tea party spirit, discouraging stars and bars. This is a charity event, they cried, after all.
This year Virginia's senior Senator Mark Warner will deliver the keynote and his almost certain Republican opponent will make one of his rare public appearances. It will be informative seeing if Team Warner laid the groundwork for a more civil and less homogeneous atmosphere than this annual carnival for reactionaries nourishes. Earlier this year, they stumbled out of the block when, despite refusing to commit to Democratic events closer in than 60 days, they accepted the Shad Planking appearance well in advance. Maybe, tied to an old playbook, they failed to notice that last year's Democratic statewide success demonstrated the irrelevance of the event. One would hope that the acceptance came with some assurance that the event would be more civil, sane, and inclusive.
The impact of the "traditional" sign war has diminished considerably since the Kaine and Webb surprises during the past decade. When this became a war of paid "volunteers" it was no longer a genuine indicator of anything more than a campaign bankroll. And if the intent is to make this event relevant, where is the outreach from the Ruritan Club or encouragement from more progressive constituents to draw in displays and support from the Democratic Party, the NAACP, or the LGBT community?
So what will today provide? Boney fish, cold beer, and the themes that Senator Warner will employ to shore up and broaden his own constituency, an impressive coalition of common interests. This could also provide the national bellwether for the Democratic strategy that will be used to counter this year's onslaught by Republican reactionaries against the Affordable Care Act. There couldn't be a more promising petri dish.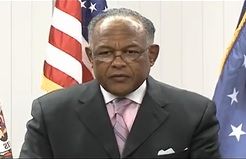 Or agree to resign as Chair either if the
federal appeals court overturns Judge Wright Allen
in Bostic v. Rainey (and/or the Harris case) or if the federal court ruling is appealed to the Supreme Court. In the unlikely case where the ruling is upheld and not appealed, stay on.
Citing an order by the U.S. Supreme Court to halt same-sex marriages in Utah as a federal court ruling allowing them is pending appeal, Brown said "the stay gives us hope that it will be overturned" and that "it is not all lost." - reported in the Richmond Times Dispatch
Come May, there is small doubt that the Democratic Party of Virginia (DPVA) will be called upon for a strong statement of support for same-sex rights. A Party Chair whose views are "evolving" won't carry that water. The Chair must be as dedicated to same-sex equity as those who have vowed to continue the fight against it.
Or, lie. Say you genuinely support marriage equality. You have to decide whether being a hypocrite or a liar is the greater sin; clearly you have to commit one. You do have some experience which will inform your choice. You didn't bat an eye when you spun a tale of success regarding the training camp blunder.
Your choice. But "evolving" isn't leading; it's following. The DPVA deserves a leader who can be honest about where the Party is, be certain where it should go, and be able to deliver tangible results.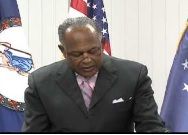 It must be tough being an elected Virginia Democrat; with Governor McAuliffe leaning on you to support his choice for the Virginia Party Chair. No matter where you stand or how this turns out, Terry will be there when the smoke clears. There is no public option. Tough business, this.
So really, the support for Dwight Jones coming from elected officials must be severely discounted. Many of them don't have a vote in this selection or have regularly failed to attend Central Committee meetings, so there they have no say either. And at this point, after the Boyd Marcus maneuver, they cannot be certain if there would be any consequences if Jones does not become Party Chair. The vote is closer than many will acknowledge and a secret ballot provides cover for the principled stand.
"Should Jones assume the chairmanship, it will be interesting to see how Democrats finesse painting Republicans as intolerant for embracing a view their own head of the party shares." - Richmond Times Dispatch Editorial
On the face, some pretty savvy members of the General Assembly have come across as illogically rationalizing their support for Mayor Jones. Calling the objections a litmus test or saying Jones is being denigrated is about the only way you can respond when your Party's Governor has leaned in on you. Rejection of litmus tests applies more appropriately to candidates for elected office, not to the face of the party. And what does it mean when you say Jones should get a pass because the Governor is at fault for the selection? If Dwight Jones aspires to be Governor, this may be his Waterloo. His choices are not what he wants them to be. They are to announce an incredible revelation or to step away. If he becomes Party Chair, he will spend four years documenting his inability to deliver on promises. Unlike
unsubstantiated claims of $40 million in capital investment
, failures to fill seats in the House of Delegates and state Senate are readily evident. Bad posture for one who will want to claim effective stewardship.
Yes, it's our old friend Eugene Delgaudio (see
here
,
here
,
here
,
here
, and
here
for more), this time brought to you by the Republican bloggers at
Too Conservative
. Yes, even Republican bloggers at a site called "Too Conservative" think that Eugene Delgaudio is an embarrassment to Loudoun County, with front-page blogger "Lloyd the Idiot" writing, "Frankly, even if he were to shovel my driveway, cook my dinner and wipe my kids' butts,
no level of constituent service could justify voting for, much less openly supporting, such an individual
." And, as Loudoun Insider adds:
These social conservatives running the county now don't think of homosexuals as anything but abominations. Loudoun County is set to be known as the epicenter of anti-gay activism again with Eugene and Dick Black in power together. Do you think that will have any impact at all on their never ending campaign slogans to bring big businesses to Loudoun County????
Great stuff, huh? The question is, who are the people, and what on earth is wrong with them, who keep voting to put Eugene Delgaudio back in office, election after election?
P.S. Click on the image to "embiggen," and see the "flip" for more. The following statement is from Tiffany Joslyn, President of the
Virginia Partisans
("The PAC of LGBT Democrats of Virginia").
Equality-Minded Virginians: Don't Be Fooled, Vote for Janet Howell and Her Fellow Democrats Tuesday November 8th

Tomorrow, Tuesday, November 8th is a critically important day in Virginia-it is Election Day. Every Election Day is important, but this Election Day bears special significant; not only is every seat of the state legislature up for grabs, but the fate of whose party will control the State Senate for years to come is at risk. Against a backdrop of conservative Republicans controlling both the Governor's Mansion and the House of Delegates, maintaining Democratic control of the State Senate is absolutely essential for the future well-being of the Commonwealth. But, even more importantly, preserving the Democratic majority in the State Senate is necessary to protect every single LGBT person and their families in Virginia.

It is for this singular reason that I call on every Virginian who cares about equality to join me in voting for Senator Janet Howell and her fellow Democrats tomorrow.

I would be remiss if I did not also address the shameful, and entirely manufactured, claims initiated by Senator Howell's opponent, Patrick Forrest; further exaggerated and mischaracterized by the Victory Fund and Log Cabin Republicans; and, sadly, reported as such without any semblance of fact-checking by the media.
Over at Baseball Prospectus (The Green Miles is a huge stats geek), writers contribute to a storytelling session called Lineup Card. This week's is
14 Scariest Things to Happen While Driving
. Far & away the best comes from
Christina Kahrl
, one of my favorite sports writers who also happens to be transsexual, and it takes place here in Virginia:
July, 2006. I was driving on I-66 from my home in Fairfax in towards the Beltway to drop in on Equality Virginia's field office to talk about doing some volunteer work to help campaign against the Marshall-Newman Amendment. Weekday or not, early afternoon or not, we're crawling along in stop-and-go traffic, around 10-15 mph. The VDOT van in front of me stopped that fraction of a second faster than I expected, and for that millisecond too long, it registers that he's come to a complete stop.

That pause costs me: I hit his bumper. Nobody's air bag goes off, not at this speed. There's an embarrassed pause, I can't see how badly my car's been damaged-not very-but we immediately pull over to the inside shoulder.

So far, so good. I'm an idiot and I'm embarrassed, but the Va. Department of Transportation guys-a West African emigre behind the wheel and a beefy, 50-something old-timer riding shotgun-are good-natured and intent on making sure that I'm okay. It's blisteringly hot, and they genially offer me a Gatorade from their cooler as we swelter and wait for a policeman to eventually show up and collect an incident report. I call Equality Virginia to apologize that I won't make my appointment and then my insurance company-just your average dumb day on the road, the sort of thing you'd rather avoid, but happily enough, nobody's hurt. The rest should be a matter of logistics.

And then the state trooper arrived. He looks at me and then my driver's license, which in Virginia has to have one key letter instead of another. He decides right off the bat that he doesn't much care for the cut of my jib. He sets the tone at the outset, referring to me as "Mr. Kahrl" with a snigger; it's a good three years past the time that title would have been appropriate. With transparent glee, he walks me to his patrol car and chucks me into the back. He immediately demands my confession to driving recklessly. At 10 mph. In a low-velocity fender-bender so slo-mo that nobody's air bag went off.
You have to
go read the whole thing
to find out what happens, it's #14. I just wish she'd included the judge's name.

These "It Gets Better" video series continues to amaze me. Here's Rep. Jim Moran's powerful, moving contribution. Personally, I hope some day to live in a world where "It Gets Better" videos aren't even necessary. To get to that point, unfortunately we'll have to overcome a lot of bigoted, intolerant people out there, several of whom are Republican candidates for President of the United States. It's very sad that in the year 2011 we're still at this point, but for whatever reason, progress seems to take a lot of time, as people don't give up their prejudices and ignorance easily. Some day, though, we'll win; I just hope it's sooner rather than later! Great news from the
LGBT Democrats of Virginia PAC
, which has
unanimously
and
strongly
endorsed Democrat
Janet Oleszek
for Braddock County Supervisor over the other candidate, the one I call
"McCain-Palin Dude"
(because he said he strongly supported McCain-Palin for president and vice president in 2008, and also because he's been a Republican his whole life, has never been involved with Democrats, donated to them, volunteered for them, etc.). As the Virginia Partisans LGBT PAC endorsement says, Janet Oleszek "has consistently stood with the LGBT community, refusing to compromise her principles in favor of politics." Go Janet!
LGBT Democrats of Virginia PAC Endorses Janet Olsezek for Braddock Supervisor

Fairfax, VA (Wednesday, August 10, 2011) - The Virginia Partisans, PAC of LGBT Democrats of Virginia, today announced the unanimous endorsement of Janet Oleszek for the Fairfax County Board of Supervisors to represent the Braddock Magisterial District. VA Partisans President Tiffany M. Joslyn praised Janet's commitment to equality, stating "Janet has consistently stood with the LGBT community, refusing to compromise her principles in favor of politics."

Responding to the endorsement by the PAC Board, Terry Mansberger, LGBT Caucus Chair stated, "Janet has been a long time personal friend of mine and the LGBT community for many years and was a leading advocate for safe schools for all our kids as an At-Large County School Board Member. I'm thrilled to see the VA Partisans PAC return that support and look forward to Janet's strong progressive voice for full equality on the Board of Supervisors for Braddock District and our Fairfax area LGBT community!"
Today, Alfonso Lopez submitted his questionnaire to the Virginia Partisans: The PAC of LGBT Democrats of Virginia.
Please find below the break the entire questionnaire. These are important questions covering a wide-array of issues.
I have worked diligently as an activist to expand the rights of others, including in 2006 as a Member of the Statewide Board of the Commonwealth Coalition where I helped fight efforts in the General Assembly to pass the Marshall-Newman Amendment (an egregious piece of legislation that curbed marriage equality in Virginia).

I also led the three-year effort to amend the Democratic Party of Virginia (DPVA) by-laws and create a pathway for new groups to be represented on the State Central Steering Committee. As a result of this effort, for the first time in our history, representatives from the Military & Veterans' Family, LGBT, and Latino Caucuses now sit on the DPVA Steering Committee.

I live with my wife, Sarah Zevin, and son, Aaron Rafael, along Columbia Pike.

The following letter is from the
LGBT Democrats of Virginia
, which includes the LGBT Caucus of the Virginia. I strongly approve of their letter to "Sideshow Bob!" (bolding added by me for emphasis)
Re: Enough is enough, stop lying, Bob!

Dear Delegate Marshall:

In your letter yesterday to President Jeffrey Lacke of the Richmond Federal Reserve Bank, you condemned the flying of the rainbow flag outside of the bank building. While the rainbow flag has been used by various groups for over 500 years as a symbol of diversity and hope, you condemned the flying on the flag in recognition of June being federally recognized as Lesbian, Gay, Bisexual, and Transgender Pride Month.

While we have never doubted your fierce opposition to the LGBT community, as shown by your sponsorship of the discriminatory anti-marriage amendment in the Constitution of Virginia, we are outraged by the claims you made in your letter to President Lacke as the basis for why the rainbow flag should not be flown.

In your letter, you wrote that being gay, "shortens lives, adds significantly to illness, increases health costs, promotes venereal diseases."

We contend that there is no difference in the lifespan or health of responsible members of the LGBT community when compared to responsible heterosexuals, and that such language as you have used to support your opposition to the flying of the rainbow flag is inflammatory, intolerant, and deceptive. Moreover, your claim of moral superiority seems to blind you to the intolerance you have expressed.

As Virginia's own Thomas Jefferson said, "I never will, by any word or act, bow to the shrine of intolerance or admit a right of inquiry into the religious opinions of others."

Delegate Marshall, we call on you stop perpetuating ignorance and falsehoods. It's time to stop lying to the people of Virginia.

Sincerely,

- Terry Mansberger
Chair, LGBT Caucus
Democratic Party of Virginia

- Tiffany M. Joslyn
President, Virginia Partisans
The PAC of LGBT Democrats of Virginia
Photo credit: The Richmonder