As if we need any more reasons why Fairfax County Supervisor Pat Herrity (R-Springfield district) needs to be defeated this November by Democrat Linda...
I've been saying for a long time that Northern Virginia Republicans are in deep, deep shit for 2019, and...here we go - long time...
The "winds of change" are blowing these days - literally, it feels like this morning! haha - in politics, mostly in the "blue" direction...
It's really hard to know if the results we saw Tuesday night, with Tim Kaine absolutely CRUSHING Corey Stewart in major northern Virginia counties...
Following Tuesday night's Democratic landslide wins in Virginia, it's worth looking at the few remaining Republicans in increasingly "blue" jurisdictions like Fairfax County, Prince...
Check out this robocall by the
American Future Fund
, a "a multi- state issues advocacy group designed to effectively communicate conservative and free market ideals." According to
FactCheck.org
, American Future Fund was "founded in 2007 by Nick Ryan, a longtime political adviser to former Iowa congressman Jim Nussle, a Republican." It "is registered as a 501(c)(4), which means it can receive unlimited donations and does not have to disclose its donors." For whatever reason, this group has decided to place a voter suppression robocall into Fairfax County (Braddock District), on behalf of Tea Party/Ken Cuccinelli-supported Republican John Cook, encouraging Democrats receiving the call to vote TODAY (11/7) not TOMORROW (Election Day). Last I heard, that's illegal. Sadly, though, we see this sort of thing
quite frequently
by Republicans. What part of "illegal" don't Republicans understand?!?
P.S. In response to this call, I urge everyone in Braddock District to make DOUBLE sure you vote TOMORROW, ELECTION DAY, for Janet Oleszek!.
In the race for Braddock District Supervisor, Democrat
Janet Oleszek
is finishing very strong, outraising Teapublican John Cook by a 3:1 margin in late money (see
VPAP
-- it's actually $99K-$33K in October and early November). Also, note that raising close to $100K in a district Supervisor's race in one month - let alone a CHALLENGER - is unheard of. Impressive.
Meanwhile, Janet Oleszek's mail program (click on the images of her superb mail piece #5 to "embiggen") has been, by all accounts - including John Cook's! - superb (in his recent email attacking Sharon Bulova, Cook noted that Oleszek had run "a great ad campaign"). Ha.
In contrast, everything I'm hearing is that Cook's mail campaign has been pathetic, low-quality, uninspired, ineffective, amateur hour (in the worst sense) basically. I'm hearing that the reason for this, in large part, is Cook's incredible arrogance, utter unwillingness to take any advice, and other fine personality traits like loving the sound of his own voice and really
believing he's got a great deal to tell the world (and that the whole world NEEDS to hear it - lol!).
Given all this, it's no wonder that all eyes will be on Braddock Tuesday night, looking for a possible stunning upset victory by Janet Oleszek over the "borrow-and-spend," Ken Kookinelli/Tea Party-backed faux "moderate" John Cook. This should be a fun one to watch - stay tuned!
Any further questions? If so, there are two more images you should see on the "flip." :)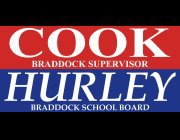 As you can see from his campaign sign, Braddock District Supervisor John Cook (Tea Party-supported Republican) is proudly running with Fairfax County School Board candidate Nell Hurley. Who is Nell Hurley, you ask? Well, in
this morning's Washington Post
, she expressed some...er, unconventional viewpoints.
...one candidate says the next [Fairfax County schools] chief shouldn't be too fat.

"He'll have to make a lot of public appearances," said Braddock District hopeful Nell Hurley. Beyond serving as an excellent manager, she said, a superintendent also should model healthy habits for children and parents. "Somebody who's terribly obese might not be the best person for that particular job."

Weight discrimination in hiring is legal in every state but Michigan, said Rebecca Puhl, director of Yale University's Rudd Center for Food Policy and Obesity. Puhl said a handful of cities, including the District, prohibit such discrimination.

"A person's body weight says nothing about their abilities, their accomplishments or their contributions to society," she said. "We would never see this if we were talking about race or sexual orientation or gender, but with weight this remains acceptable and people do it automatically."
Perhaps that's the case, but it shouldn't be "acceptable" in Braddock District, and John Cook should immediately and forecefully condemn these discriminatory, even bigoted, remarks. Unless, that is, he agrees with his running mate that being overweight has anything whatsoever to do with being an effective schools chief, or any other elected official for that matter.
Nothing against John Cook being a supervisor at Shop Mart (heh), but it seems to me that Braddock voters deserve a full-time Supervisor for their district, not for whatever else the individual's doing to earn money. Go
Janet Oleszek!
:)
P.S. Part two of this funny, clever mailer is on the "flip."