Advertisement

It's really hard to know if the results we saw Tuesday night, with Tim Kaine absolutely CRUSHING Corey Stewart in major northern Virginia counties like Arlington, Fairfax, Loudoun and Prince William, foretell what lies ahead in 2019. But let's just say, if I were an incumbent Republican on, let's say, the Prince William County, Fairfax County or Loudoun County County/School Boards, I'd be just a weeeee bit nervous right about now. 🙂 See below for what I mean, and consider that:
In Loudoun County, Corey Stewart won only 12 precincts out of 99 total. About a year ago, I wrote about Loudoun County's Board of Supervisors Republicans. I argued that, based on the Northam/Gillespie results, Republican supervisors in Blue Ridge (Tony Buffington), Dulles (Matthew Letorneau), Broad Run (Ron Meyer), Algonkian (Suzanne Volpe), and Ashburn (Ralph Buona) should be feeling less than secure in their positions heading into 2019. The results this Tuesday only reinforce my point, as Tim Kaine romped over Corey Stewart in these people's districts.
In Prince William County, which Corey Stewart lost by 36 points (!!!) in his home county, Corey won only 12 out of 92 precincts, while getting absolutely CRUSHED in many precincts (e.g., 11.8% in Porter precinct, 12.2% in Freedom precinct, 12.8% in Potomac precinct, 12.8% in Powells Creek precinct, 13.0% in Lynn precinct, 13.7% in River Oaks precinct, 14.8% in York precinct, 16.1% in Dale precinct, 16.2% in Hampton precinct, 17.1% in Grayson precinct, 17.3% in Library precinct…). Again, we don't know how things will play out next year, when Corey Stewart may or may not be on the ballot, but if I were Republican PW County supervisors like Ruth Anderson (Occoquan magisterial district), Marty Nohe (Coles magisterial district), whoever Republicans to nominate for Maureen Caddigan's seat in Potomac magisterial district, and of course whoever Republicans nominate for County Board Chair, I wouldn't be feeling too confident right now in what is increasingly a deep-blue county (other than Brentsville and Gainesville magisterial districts). [Note: Ralph Northam clobbered Ed Gillespie in PW County last year, 61%-38%, so not sure we can write off 2018 as a fluke, even if Corey Stewart was particularly weak]
And finally, in Fairfax County, it's an absolute nightmare for Republicans, with Tim Kaine utterly crushing Corey Stewart in every single magisterial district (note: as far as I can determine, Corey only won a single precinct – Clifton – out of 244!), with Gerry Connolly (D) crushing Jeff Dove (R), and with Jennifer Wexton (D) beating Barbara Comstock (R) in all the Fairfax parts of VA-10. Given the blue tsunami washing over Fairfax (including in 2017 for Ralph Northam over Ed Gillespie, which I wrote about here), if I were Republican County Board members Pat Herrity (Springfield district, which went 2:1 for Kaine) and John Cook (Braddock district, which went 2.5:1 for Kaine), or Republican School Board members Elizabeth Schultz (Springfield district, which went 2:1 for Kaine) and Tom Wilson (Sully district, which went over 2:1 for Kaine), I'd be seriously thinking about other career options at this point…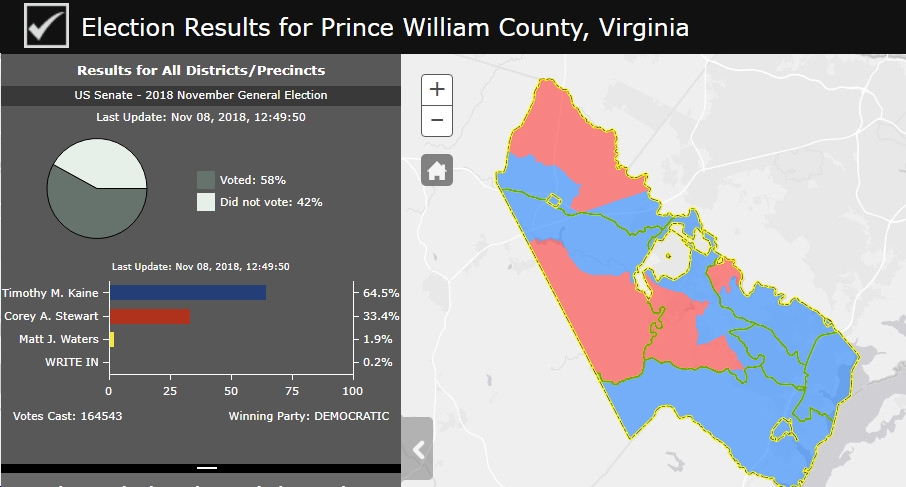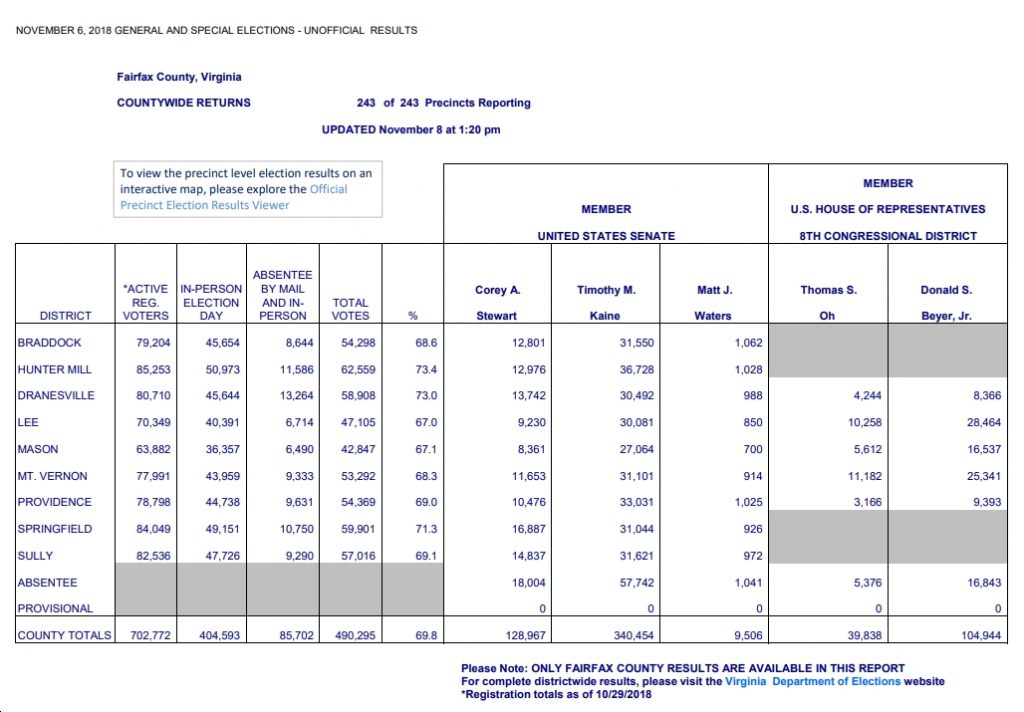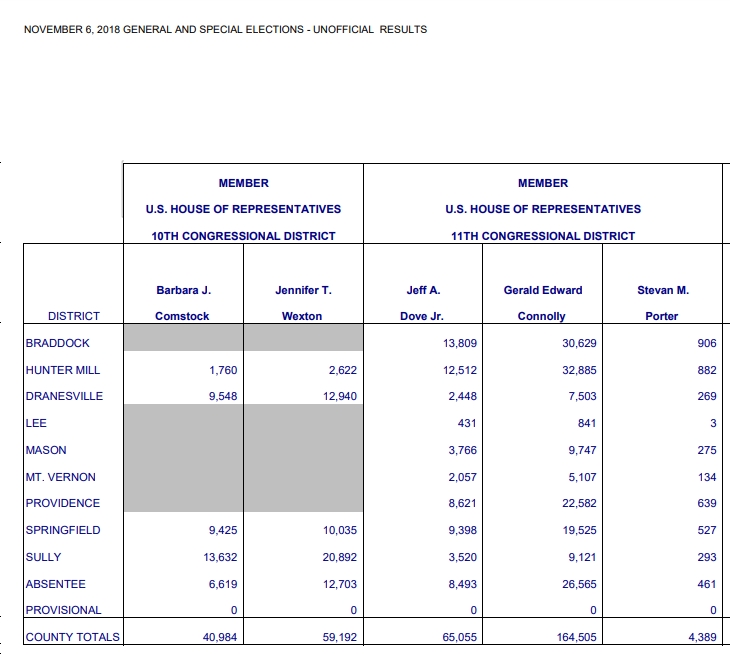 There's no paywall on Blue Virginia, and we definitely want to keep it that way! If you want to help support our work, you can donate here - thanks!
Also, you can
sign up for our weekly email list here
.