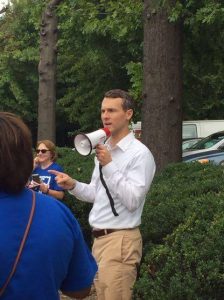 The "winds of change" are blowing these days – literally, it feels like this morning! haha – in politics, mostly in the "blue" direction thank goodness. Here in Virginia, as I pointed out in a series of post-election posts (see here, here, here for instance), Tim Kaine and other Dems on the ballot did particularly well in "blue" and "trending blue" counties like Fairfax County, Loudoun County, Prince William County, Henrico County, Chesterfield County, etc. on Tuesday. And Republicans on the ballot next year, whether for local office or for the General Assembly, are in deep, deep trouble.
Speaking of Fairfax County, we now have a VERY strong Democratic candidate, Rep. Gerry Connolly's long-time Chief of Staff James Walkinshaw, announcing this morning (see below) to take on one of the two remaining Republicans on the Fairfax County Board of Supervisors. That would be John Cook, who represents the Braddock District, which Tim Kaine carried by a greater than 2:1 margin on Tuesday!
As someone who worked to help Democrat Janet Oleszek come VERY close to defeating John Cook not once but twice, and also as someone who is very impressed with James Walkinshaw – note: John Cook must be totally freaking out right about now – I am very much looking forward to helping James beat Cook by a big margin next November.  I just got off the phone with James, and wanted to highlight a few things he mentioned that highlight where he's coming from:
He's lived in Braddock District for six years with his wife Yvette.
He's been heavily involved in the community, mentoring children of undocumented immigrants, some of whom have suffered domestic violence – since 2012. As part of that work, James has gone to PTA meetings, been heavily involved with the Fairfax County Public Schools, and really seen first hand how crucial public education is to leveling the playing field, at least somewhat, between kids from different walks of life, communities, socioeconomic groups, etc.
James has been heavily involved with Fairfax County's domestic violence prevention council, helping lead its "Make the Call" campaign hotline, among other things.
Through all this work, James has come to fully understand the crucial importance and power of local governance (note that Fairfax County is the largest local jurisdiction in Virginia, bigger than several states!) in people's lives.
In helping reelect Rep. Gerry Connolly and Sen. Tim Kaine, James knocked on around 1,000 doors in his home Braddock District this election cycle.
Finally, James specifically mentioned to me that when he's elected to the County Board, he plans to make it a top priority to put the Fairfax County government on a path to 100% carbon neutrality, and to make Fairfax County a leader on clean energy and climate change in general. I'm very much looking forward to that, as I feel like with the federal government completely dropping the ball under Trump/the Republicans, and with the urgent IPCC climate report issued recently, localities are stepping up and will need to step up even more…
With that, here's James Walkinshaw's announcement. I strongly support his candidacy and encourage everyone else to do so as well. Go James!
Yesterday I filed the paperwork to seek the Democratic nomination in 2019 to represent the Braddock District on the Fairfax County Board of Supervisors. I did it because one of the most satisfying things you can do in life is help someone from your own community. To be in a position to do something to make someone's life just a little bit better is a gift.
And in my twelve years as chief adviser to Gerry Connolly, I've had opportunity after opportunity to do just that. From helping a Fairfax County firefighter get a last-minute passport to visit his dying brother, to helping deliver funds to finish transportation projects and save teaching jobs — those are the kinds of things that make this work so rewarding.
In those twelve years, Gerry helped imbue in me a profound respect for the role of local government. Local government is often ignored, especially today amid the rancor and division sowed by President Trump. But it's the most important level. It's where problems must be solved and accountability is absolute.
Government at every level — but especially at the local level — should be about one thing: getting stuff done for the people you represent. And that's why I'm running to be the next Braddock Supervisor.
I was born and raised in Northern Virginia. But like most of you, my wife and I chose to make our home and raise our family here in Braddock District. In addition to my work with Gerry Connolly, I've served as a mentor to children who experienced abuse, on the Board of my civic association in Ravensworth Farm, as a volunteer with the Friends of Lake Accotink Park, and as a member of Fairfax's Domestic Violence Prevention Council.
I helped lead the effort to create Make the Call, a county-wide campaign to get victims of domestic violence access to the services they need, and I've been knee deep in the mud of our parks, lakes, and streams, helping to make them just a little bit cleaner. There's no neighborhood I haven't visited, and after meeting thousands of you I am convinced there's no challenge we can't tackle together.
Together, we can invest in our schools, rebuild aging infrastructure, AND lead the transition to a clean energy economy by putting our county government on a path to carbon neutrality.
Together, we can give our commuters choices by expanding carpool and transit options, modernize the Audrey Moore Rec center, and give our citizens a real voice in the future of Braddock.
Braddock District is a great place to live, and I'm running because I want to do my part to make it even better. I'm committed to never putting partisanship ahead of progress and working with everyone in our wonderful community to build a better future for us all.
These are not normal times. In these times, we all have to do more. So I ask for your support and hope you'll join our campaign!
James Walkinshaw was born and raised here in Northern Virginia and has devoted his career to ensuring that our community remains a great place to live, work, and raise a family. During his twelve years of service as chief adviser to Gerry Connolly, James worked to deliver results for Northern Virgin…