The following is from an eyewitness at today's parade in Churchville (Augusta County), Virginia. Families, cheer, and spirit. That's what you'd hope to find at a...
This piece is running in newspapers in my very red congressional District (VA-06). ***************************** When I was running for Congress in 2012, a very nice couple...
The Seeds of Resistance tour kicked off today in Augusta County, Virginia, in which corn seeds ("seeds of resistance") were planted "on land that... Free Nelson attended Thursday night's Federal Energy Regulatory Commission (FERC) meeting in the Shenandoah Valley. The meeting was designed to hear concerns from the public regarding the proposed Atlantic Coast Pipeline (ACP), and to contribute input towards the Environmental impact study (EIS) FERC is required to conduct.
What we found truly astonishing about this meeting was the lengths to which Dominion Power continues to sink in its efforts to create the appearance of support for its ill-conceived, dirty fossil fuel pipeline. Some of the tactics used by Dominion are eerily similar to a 6-year-old throwing a temper tantrum, and they're just as unattractive.
After inviting folks who do not live in the affected areas of the proposed ACP, Dominion's uninformed "plants" attended a pre-meeting meal supplied by Dominion. To be allowed to speak, everyone had to stand in line to receive a speaker number. Everyone, that is, except - surprise, surprise! - Dominion supporters. One Dominion supporter even tried and failed to cut into the front of the line. After a commotion, he was summarily sent to the back, grumbling all the way.
When grassroots activists arrived at Stuarts Draft High School at 5 pm, Dominion was already present and had put up its "clean energy" signs. Friends of Augusta and Augusta County Alliance volunteers put up two large "No Pipeline" signs, dwarfing Dominion's yard signs. Dominion reps came out and added a dozen more yard signs. Grassroots activists continued by putting up yard signs -- this time, a set of No Pipeline signs harkening back to the old "Burma Shave" signs.
Again, Dominion reps appeared with more "Clean Energy" signs, placing them so as to block the message of the Burma Shave signs. Volunteer Tom Harvey insisted Dominion move those signs from blocking our message. As both the activists and Dominion countered with signs, Mr. Harvey approached a Dominion employee stating he had 1,000 signs in his vehicle. He suggested he could put them all up or they could call a truce, which the Dominion representative readily agreed to. First, Gov. Terry McAuliffe
ducked into a restaurant in Charlottesville
last fall to avoid anti-pipeline protestors. Now, just this past Saturday at the Governor's Mansion, McAuliffe did a tight circle dance attempting to avoid grassroots anti-pipeline activists yet again (see the video).
The Democratic Party of Virginia (DPVA) held its quarterly meeting Saturday. DPVA central committee members were also invited to a reception following the meeting at the Governor's Mansion. In support of a resolution Democrats were to present regarding climate change, members of anti-pipeline groups Free Nelson and Friends of Augusta went to the DPVA meeting and the reception hosted by the governor which followed.
The climate change resolution was deferred until DPVA's quarterly meeting in June, said Second Vice Chair of Rules and Resolutions, Fred Hudson. LG Ralph Northam, AG Mark Herring and Governor McAuliffe all spoke at the meeting about the accomplishments they had made on behalf of Virginians during their first year in office. Governor McAuliffe touted his success in job creation and the 325 "deals" and $6.1 billion in economic activity those deals will generate to help create Virginia's new economy.
McAuliffe spoke eloquently about climate change and its effects on rising sea levels and the naval bases in our Commomwealth. He noted that heavy rains lasting only an hour in duration force road closures in the Norfolk and Hampton areas on a regular basis. He told us that climate change is real and that we must act to counter its effects on our Commonwealth. McAuliffe didn't, however, mention his support for the proposed Atlantic Coast Pipeline. McAuliffe did tell those assembled that he wanted to hear from them, to talk to them, that his door is always open.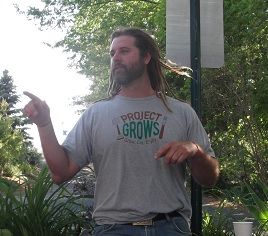 Ryan Blosser was raised in Waynesboro and a stand-out basketball player at
Fishburne Military School
who earned an athletic scholarship to play for a Division I college. That foray lasted a year, after which he began a circuitous journey to a farm in Churchville and
Project GROWS
in Verona.
People often ask me "What happened to you?" I don't look like the short-haired Fishburne basketball player that I was. - Ryan Blosser
Growing up, Blosser says, local food was Domino's pizza and a gallon of orange juice. He spent all his time at the YMCA indoors. He didn't know he was missing anything. When he went off to college he just did not like the experience. He quit. But basketball had been his entire identity. He met his future wife, Joy, and decided to move to Hawaii. It was on Oahu that his obsession with local food started.
Blosser sees his life as three woven tracks. First there is his need to engage his body somehow physically; an intellectual need, which being a college basketball player did not fulfill; and finally an emotional need. In Hawaii, the guy who had never been outside started to surf. Then he happened on a local farmer's market and he bought and fell in love with a basil plant. Finally while taking a college course on poetry he discovered the haptic poets. The basil plant became his fetishized object.
This is going to really sound really, really "woo woo," but I started to actually connect to the rhythm of the planet, not in that hippie kind of way, but in a real way where you are outside in the water and you actually feel it.
These experiences motivated him. He could grow his plant and eat it too. He could smell it, put it in his food and eat it, all without going to the store to buy it. To that point he had been living off of rice and beer; that was what the money they had bought. Then about 12 years ago, in a corner of his yard, he started an herb garden.
We are no closer to expanding health care coverage in Virginia than we have ever been. Governor McAuliffe blames the tea party but that is too kind to the legislators who do not support expansion. They are either math challenged or corrupt, morally and/or ethically. The tea party provides obfuscation.
"There still is a House of Delegates which remains unmoved and unmoving on this issue." - Reverend John Peterson speaking at an Organizing Virginia vigil for Medicaid expansion just prior to the Senate joining the forces of obstruction
Hospitals and patients in Virginia have to live within the reality of the law whether or not one agrees or disagrees with the Affordable Care Act, explained John Peterson, Chairman of the Board of Augusta Health. So it is in all our best interests to find a solution that makes the law as workable as possible for as many patients and those who serve them as possible. $300 million in annual payments to Virginia hospitals were eliminated under the Affordable Care Act including disproportionate share hospital payments for treating the uninsured and cuts to Medicare reimbursement rates. Those Medicare reductions were to be offset by Medicaid expansion in the states.
Peterson outlined the effects of failing to expand Medicaid. Augusta Health provided some $25 million in uncompensated care last year and an additional $5 million in community benefits related to care.
Two of the striking things during yesterday's event to honor some former Staunton teachers: first, millennials were under-represented; next, the press did not cover it. Those deficiencies will affect politics for the next decade. These heroes of the segregation era and the struggle before equality may become forgotten relics.
"We must remember where we came from." - Sister Patsye Robinson
This was the second celebration of Staunton's teachers from that era: the first was for those who taught in the high school; this one focused on elementary teachers. Some of the honorees crossed through both based upon the needs of the segregated school district. The Staunton-Augusta African American Research Committee (many members are former students of the teachers) organized the efforts to remember them. Looking around the filled church hall at Mount Zion Baptist Church on North Augusta, the relevance of those times seems to only speak to those who lived them and most have or are approaching social security eligibility. That in itself is amazing because to us as students, being that age seemed so very far away when segregation was contemporary. In fact, there were days themselves that seemed like years when the fight for equality was as hot as the Viet Nam War.
"What is the cost of knowing our past? And what is the cost of not?" - Wright Thompson reflecting upon the enrollment of James Meredith at Ole Miss
To paraphrase Steve Allen, tragedy plus time equals humor. A lot of good humor was shared as these former teachers and an administrator passed the mike in turn. That reveals that there was tragedy in bushels to go around during those days but these educators persevered. It only follows that the oldest honoree (recently turned 90) made the most of the fun. How they have all matured with such grace and so little bitterness confounds. But their toil has been rewarded over the years in the pride of watching the children they helped shape grow into adulthood and by the admiring love of their former pupils.
In Waynesboro yesterday Mark Herring concluded a series of productive meetings with regional officials aimed at helping the top prosecutor's office best serve the needs of communities. Unfortunately, many of the reports of these meetings have reduced the lessons to budget shortfalls. Problem? He isn't carrying a rabid social agenda.
Herring began this meeting explaining that his heart is truly with local government where he got his start in politics. Before elected office, he served as the town attorney for a small town in western Loudoun County.
As Attorney General, he has taken three major initiatives: first, is a review of systems and operations to see that the Office is operating as efficiently and effectively as possible; next is a top to bottom review of all the services and programs the Office is a part of as well as the human capital that is linked to those; and, the third piece, what he was doing yesterday, is meeting directly with local law enforcement, those on the front lines protecting the community, so he can hear first-hand about the challenges they face as well as ways they have worked with the Office in the past and ways the Office might be able to help meet the challenges they face.
The series of 22 meetings have been incredibly informative according to Herring. There have been some common themes. Funding, he said, is always a challenge. But another common theme has been mental health. There are some regional differences which you would expect in a state as large and diverse as Virginia. While overall, violent crime is down, there are some areas that are continuing to experience gang problems. In some areas the gang problem is not as visible but the gangs have become an offshoot of organized crime. Some other localities are seeing continuing problems with meth labs and prescription drugs. He also pointed out that there can be the tendency, when you take a short period of time to talk about crime, which can lead to a misimpression of an area; that he knows these communities are safe locations where a lot of people are doing a lot of good work. And it is those local successes he wants to hear about as well. The Virginia budget shell game is creating tensions in localities revealing the no tax pledge's fallacy of composition. In the black and white pledger world, there are no consequences to cutting budgets. But stark reality is inspiring grassroots action demanding remedies to the McDonnell budget:
LOCAL TAXES
.
"I have softened the blow on local governments to allow them to phase in a small differential in tax revenues that need to be paid by local employers. I've allowed them five years to phase that in. I've tried to accommodate them, but these are local employees. They pay for teachers; they're local employees. They have the obligation...We pay a third of all the retirement for teachers even though they're one hundred percent local employees. This differential that everybody's talking about is a very small slice of the whole retirement pie" - Governor McDonnell to WHSV, Staunton, VA. (use Search: McDonnell, then select "1 on 1: Va. Gov. Bob McDonnell)
In Augusta County, an informal citizens group (Support Our Schools) has overwhelmingly demonstrated displeasure, coming out in force to show that grassroots support for funding and necessary tax revenues far outweighs the astroturf pronouncements of the Tea Party. However, popular, oversimplified mantras continue to inform the debate.