The following video *really* illustrates how far right the Republican Party has lurched, even in just the past few years. For those of you...
Rep. Scott Rigell (R-2nd, VA) nails it (now what about every other Republican???): "If I could isolate all the character deficiencies I see in...
The Washington Post headline on today's Supreme Court hearings in the 3rd CD racial gerrymandering case is "Supreme Court may decide against Va. Republicans...
The
latest Congressional scorecard from the League of Conservation Voters
flunks every single Virginia Republican, including House members like Scott Rigell, Rob Wittman and Frank Wolf who'll be trying to sell themselves as moderate in November. Committed opponents of clean air & water, public health, and wildlife like Eric Cantor, Randy Forbes, Bob Goodlatte, Morgan Griffith and Robert Hurt all scored in the teens. Meanwhile, Virginia House Democrats Gerry Connolly, Jim Moran and Bobby Scott all scored 100%. On the Senate side, both Sen. Mark Warner and Jim Webb scored 100%, though given that both support oil drilling off Virginia's shores and Webb has
opposed clean air regulations
, neither is perfect on conservation.
What drew the LCV's ire? Every single Republican voted for the House Republican budget resolution to gut the Clean Air Act & Clean Water Act, to protect billions in tax giveaways for oil corporations that banked $137 billion in profits in 2011, and to weaken offshore drilling safety rules even as they pushed to bring oil drilling to the Virginia coast: The three guests may be forgiven their lack of business savvy, they are physicians. But the self-proclaimed business icon and Virginia 2nd District Congressman Scott Rigell can't. In the Republican free market version of a death panel, the four of them claimed to be protecting those over 55.
Representative Rigell hosted a town hall last night in Virginia Beach. It was billed as "Let's Talk About Health Care, A Conversation with Members of Congress." Everyone there recognized that there are problems and issues. There was plenty of chatter. But no one who attended was provided any information that would change their already rigid opinions. Anecdotes passed for evidence. No one on the panel had any credible argument to support positions presented. Everyone applauded statements they supported and ignored information challenging their firmly held assumptions. However one BIG LIE proffered was that grandfathering citizens over 55 in the current Medicare system is some magnanimous, compassionate gesture. Another BIG LIE is that business experience conveys financial acumen. Rigell never recognized the first BIG LIE, demonstrating the second BIG LIE (see Governor Bob McDonnell and ABC).
"To give us a little background on why this is such an issue going forward for our country, as you can see, the average couple turning 65 today in their lifetimes has contributed a little over $100,000 to the Medicare program over the course of their lives. But because of the increased costs of healthcare and all the technology and all the things we can do for people today, that same couple will have about $300,000 in benefits over the course of their lives." - Representative Larry Bucshon (M.D.) R-IN
So, what's your point, Doctor? That works out to be a surplus of over $54,888.88 at death. $100,000 invested on a straight line over 45 years earning a reasonable (until recently) 5% per annum, compounded, would yield $354,888.88 (game it yourself). A surplus even if the bill was levied on the first day of eligibility; which it isn't and the balance will continue to accrue interest and grow through the remainder of their hypothetical lives.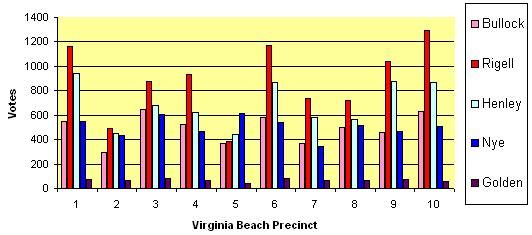 Frame it any way you want: Black at the Beach is a tough political road.
Tanya Bullock
self-identifies as Republican. Though there are city council "districts," every voter votes in every race. Meanwhile, local political leadership demonstrates prejudice and tolerates the prejudiced. Tanya Bullock failed election during Rigell's overwhelming win.
What does Tanya Bullock's performance at the polls tell us?
Does the insensitive leadership of the RPVB manifest the social outlook of the Virginia Beach electorate?
Is that general social outlook reflected in an electoral system that makes it virtually impossible for a black candidate to prevail in local races?
Tanya Bullock is a Virginia Beach attorney. She was
endorsed by Governor Bob McDonnell
, a fellow Regent University Law School alumnus. She happens to be black. After last week, she might be wondering who her constituency is.
Republicans are not good at math (see the McDonnell ABC disaster), so this might wear on them a bit. That's why a picture is worth a thousand words and millions of calculations. This graph is not cherry-picked. It is representative: the first 10 of 95 precincts. The remainder of the data follows below the fold. At first glance what you see appears to say that Tanya doesn't know who her constituency is. Barbara Henley was the Democrats' candidate. Councilwoman Henley is white. Apparently a lot of Republicans (and Modern Whigs) preferred her for some reason. The
Democratic Party of Virginia
whacks 2nd CD Republican nominee Scott Rigell for his "hate group" support. For more on that,
see here
. The DPVA also reminds everyone of the racist emails - including one called "Barack the Angry Negro" - forwarded by Rigell supporters.
Upon hearing and reading of Rigell's ties with Lou Sheldon, Charley Conrad, chairman of the DPVA's LGBT Caucus, said, "I am shocked and disappointed that anyone, a Democrat, Republican, or Independent, would promote the endorsement of someone from a hate group."

DPVA Executive Director, Dave Mills, said, "This is three strikes on Scott Rigell's associations. Scott has yet to provide a satisfactory explanation about why he has associated himself and his campaign with these kinds of individuals."

In the last two weeks, David Bartholomew, chair of the Virginia Beach GOP, was caught forwarding racist emails and was forced to step down and Karen Beauchamp, former Virginia Beach GOP chair, and prominent Rigell supporter, was caught forwarding an email that contained a video entitled, "Barack the angry negro". Thanks to
Michael in Norfolk
for the tip on this one. It turns out that Scott Rigell's website lists the Reverend Lou Sheldon - chairman of the
"Traditional Values Coalition"
, as an endorser of Rigell's candidacy for Congress. A screenshot of the endorsement is on the "flip" (also, click on the image above to "embiggen"). So, what's the problem with being endorsed by Reverend Lou Sheldon of the Traditional Values Coalition?
First of all, as Michael in Norfolk points out, the TVC is listed by the Southern Poverty Law Center as an "active anti-gay hate group." That's right, a hate group, listed right along with groups like the Nation of Islam, the National Knights of the Ku Klux Klan, etc.
Second, Sheldon and the Traditional Values Coalition are simply bat**** crazy, espousing the view for instance that:
A dangerous Marxist/Leftist/Homosexual/Islamic coalition has formed - and we'd better be willing to fight it with everything in our power. These people are playing for keeps. Their hero, Mao Tse Tung is estimated to have murdered upwards of 60 million people during his reign of terror in China. Do we think we can escape such persecution if we refuse to fight for what is right?
As I said, they're completely, absolutely, Dick Black-level, bat**** crazy.
Finally, as if all that's not bad enough - and it is! - Rev. Sheldon is also linked closely to the Jack Abramoff and Mariana Islands worker abuse scandals!
more after the "fold"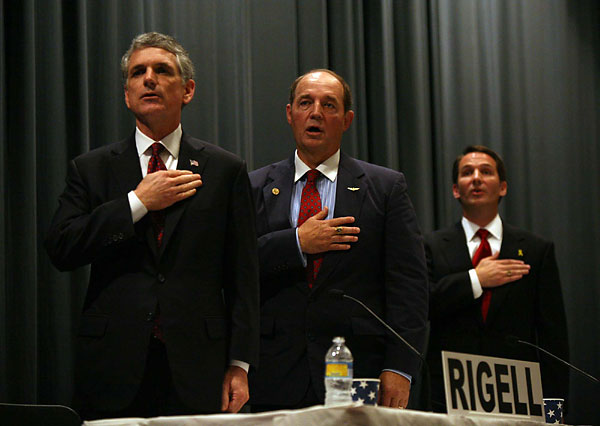 Based on their less-than-stellar past performance, I can't say that I'm exactly a big fan of Christopher Newport University polling. With that caveat, a
new poll by that outfit
finds the 2nd Congressional District race to be essentially a dead heat (Scott Rigell 41.5%-Glenn Nye 41.0%-Undecided 12.4%-Kenny Golden 5.1%). The problem is, undecideds usually break for the challenger over the incumbent, especially when they're angry like they are now.
Still, the Nye campaign is touting this poll, writing, "We've known from the start this race is going to come down to the wire and it has." I certainly can't disagree with that statement. Oh wait, this is actually parody? Well, it's still brilliant, just in a different way than the headline seemed to indicate. Enjoy! :)