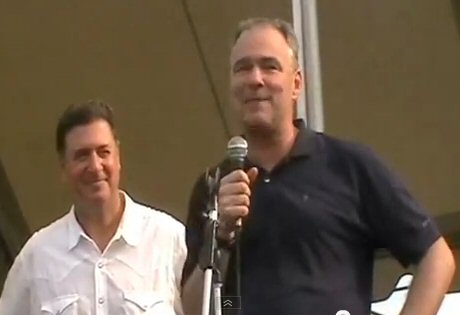 The latest
PPP polling numbers
for the U.S. Senate race this year, and the governor's race next year, are now available. The results are not particularly surprising.
*Tim Kaine leads George Allen by a statistically insignificant 2 points (46%-44%), compared to Barack Obama's 8-point lead over Mitt Romney in the same PPP poll. This has been a consistent pattern in poll after poll; can anyone explain it? I can't.
*For 2013, assuming the Republican nominee for governor is Ken Cuccinelli (which I'd put at a 95% likelihood right now), Terry McAuliffe leads by 4 points (41%-37%). On one level, I find that comforting, but on another...how on earth can this extremist, science-denying wackjob be seriously considered by that many Virginians for our next governor?!?
*If by some miracle Bill Bolling figures out a way to snatch the Republican nomination from Cuccinelli, he actually leads McAuliffe by 3 points (36%-33%). Unfortunately for Bolling, there's almost no way for him to do that, given Cuccinelli's wild popularity within the Virginia Republican Party, if not among the the general electorate.
*Mark Warner remains highly popular, and would easily defeat Cuccinelli (51%-37%) or Bolling (49%-35%) if he decided to leave the Senate and go back to being "his Excellency." Would Warner leave the Senate, though? I doubt it, but it's really his call as to what job he wants, and I see no reason why he can't wait a while to make up his mind. The Koch brothers financed Americans for Prosperity, a libertarian foundation, released a new Television ad targeting U.S. Senate candidate Tim Kaine of Virginia. The 32 second ad attempts to paint Tim Kaine as a "deficit spender" and a tax hiking paragon in typical sound-bite fashion.
Aside from the usual rhetorical flourishes, a quick look at Americans for Prosperity's official website demonstrates the group's focus on reducing the size of government and lowering taxes.
According to AFP's Virginia director, Audrey Jackson, Tim Kaine "can't spend your way to prosperity or tax your way to economic freedom."
As usual, no evidence was given to substantiate these bogus claims.
As is often the case, however, what conservatives and economic libertarians take as gross spending of taxpayer money is the soundest way to stimulate our nation's economy so that more American's can experience economic freedom. In other words, "short-term stimulus with long-term discipline." The already infamous "super" PAC, American Crossroads, began running its two-week ads across Virginia this week attempting to tie Democratic Senate candidate Tim Kaine to the hip of President Obama's policies. The message that American Crossroads is attempting to perpetuate is that Mr. Kaine put the betterment of President Obama over the betterment of Virginians.
All told, Crossroads is doling out $1.6 million for the 30-second ad that fiendishly throws sound bites of Tim Kaine into a distorted mix of one aggregated falsehood.
Former Virginia governor Kaine did much to put Virginia in a healthy economic and social position while he was in the executive mansion of Virginia. Not only did Governor Kaine avoid poking around and restricting the rights of women, Gov. Kaine went on to conserve 400,000 acres of real property in the commonwealth from development while always working on growing Virginia's economy.
If American Crossroads would put half of the money it spends on ads attacking a man who has proven his commitment to the people of Virginia into helping Virginians out, it could help to make up for all of the bad policies that were pursued by George Allen during his time as governor in Virginia.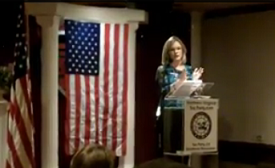 Briefly, a few winners and losers from yesterday. In general, the day belonged to the Republican Party of Virginia since most of the focus was on its contests. Generally not that much unusual to note, but if you have anything to contribute or simply disagree, please jump in.
Winners
1. Democrats in Alexandria. Imagine, left to their own devices and without a slate, they managed to choose six diverse and capable candidates for city council.
2. Republican conventions. Formalize incumbent protection over there, will you? The RPV really should get out of these embarrassing and unnecessary primaries when they already know who they want to run. Let's see what they decide come Friday. (Though a 3:1 beat down by Ken Cuccinelli in a primary might be something to behold.)
3. Jim Moran. A solid and well-deserved victory only surprising by his opponent's meager showing. "Not the incumbent" usually can gather 30% on that distinction alone. (See Bob Goodlatte)
4. Incumbency. Always a good bet and better now than ever.
5. George Allen. This man of solidly adequate accomplishment and famous lineage stands a fumble away from the goal line. Virginia may become the first state ever one of just a handful of states to elect a Senator who was unable to win re-election to the United State Senate as an incumbent. The so-called Reclaiming Freedom Super PAC recently came out in favor of U.S. Senate hopeful, George Allen. Formed earlier in 2012, the PAC was put together by Republican "political operatives" seeking to take over the U.S. Senate for the GOP.
According to a release by Reclaiming Freedom, Allen's political record is touted and in particular his abolition of parole and welfare reforms, his support of the Bush tax cuts, and his continued support for a balanced budget amendment (a politically practical pipe dream but an apparent political must for conservative politicians on the national stage).
At the moment, Allen's latest Super PAC backer has no total expenditure data available to identify who the donors for the PAC are and whether or not it will draw from some of the same donors as other conservative PACs such as Crossroads GPS.
What's clear from the name of the PAC is that it conceives of its mission as "reclaiming freedom," a freedom which has apparently been lost under Democratic leadership. If this group and others like it mean the freedom of the wealthy to do as they please (i.e. to make risky investments that throw the U.S. economy onto the edge of financial collapse), then I would like to think they're absolutely right.
Maybe it was an unguarded moment but a Mercer tweet last night revealed a lot. The decks are cleared for a McAuliffe gubernatorial run. But nothing portends smooth sailing. Creigh Deeds picked up no wind from Obama. Tim Kaine is barely drafting. There's little reason to believe Terry will benefit...unless.
"This is our opportunity to get some payback and to show them that this isn't a movement, this is about governing. We're here to stay. We are the 'New Majority' and its time that they get used to it." - Senator Don McEachin at the 7th District Convention
The conventional wisdom that 2009 was the result of a disillusioned electorate (an electorate that expected immediate change and economic recovery) is absolute drek or balderdash or a more colorful word I would have used in the Marine Corps. Those of us raised in the old south have the embedded memory of a bipolar Democratic Party; a party whose statewide politics and national politics were distinct and different. A Party that in 1964 could convince the same demographic to prefer both Orval Faubus and Lyndon Baines Johnson. Or maintain its stranglehold on statewide offices despite yielding the national contest to Goldwater. This isn't your father's Democratic Party.
There is good cause that President Obama's organization never counted on the Democratic Party of Virginia (DPVA). There really isn't anything behind the curtain. It is an organization designed to support incumbents; a self-licking ice cream cone. It relies on the repugnance of the alternative rather than an appeal to shared values. This worked well when the other side offered up Kilgores and Gilmores in the era of a bumbling Bush, but the Republicans are no longer cooperating. Republicans staying home was more important than the Democratic candidate carrying the day. That won't work for Obama and it won't work for Terry McAuliffe. The numbers reported for President Obama in Virginia earlier today are not a harbinger for a Kaine victory. That is obvious from the poll. Last month, Ben Tribbett examined some of the changes in the electorate and how those will affect the down ticket races in 2012.
Earlier today, I commented that the electorate's memory fades dramatically over the span of six months. Lowell pointed out that if the public is reminded about it constantly, with a barrage of advertising, it is like it happened yesterday. However, I recalled Ben's comments (toward the end of this video) about bringing up the macaca incident recently at a college Democrats chapter. Over half the audience, he said, had no idea what it was.
"People who don't know all that information, don't have all that history, are very vulnerable to cross-over." - Ben Tribbett
After looking at the numbers and considering Ben's analysis, Lowell's observation that the Republicans are doing Kaine a favor with their attempts to hang Obama around his neck is insightful. The President is far from an albatross. McDonnell and the Republicans assassinated it. Jeff Shapiro eulogizes it. Tucker Martin tried to resurrect it in a tweet, hailing Colgan's surrender. But in the end, Governor McDonnell's singular focus on self-promotion has turned our legislature into a congressional clone. Governor McDonnell yells rather than leads; just another wannabe bully.
Virginia has received quite a few headlines these last few months. And it's not been about the best state to do business; it's not been about the best place to raise a child. It's been about ultrasound and the socially conservative overreach agenda that the Republicans pursued in the General Assembly session. -Toscano
Two things have become characteristic of Virginia Republicans. They confuse power with leadership and they are more interested in their own ambitions than the welfare of the Commonwealth. This is distinct and different than the Democrats who have been in power and that is clear in both the Jeff Shapiro piece and the descriptions of this session by state Senator Creigh Deeds (D-25th) and Democratic Minority Whip, Delegate David Toscano (D-57th). Contrast the eras of Gilmore and McDonnell with that of Warner and Kaine. Often, when politicians parade out military and veterans, it is uninformed pandering. Active duty members have served as shields to buffer misbegotten strategy for a decade. Veterans are useful symbols adorning campaign literature and appearances. But Governor Kaine's Norfolk veterans' round-table was a very welcome departure from the norm.
Kaine told the group he was there to "get up to speed for the job that he hopes to have come January." Looking forward, he hopes to pick up Jim Webb's military and veterans portfolio when he enters the Senate and provide continuity to the efforts of predecessors John Warner and Webb. Mark Warner, who will be the senior Senator from Virginia has his own set of interests on the commerce and banking side. So, Kaine believes he can build upon his experience as the state executive by hearing from veterans about Federal issues facing the military and veterans.
Though Kaine did not serve in the military, as Governor during two active wars his role as Commander in Chief of the Guard became a significant part of the job including trips to the theater and, sadly, attending too many funerals. This led to a passion for the issues involving the guard, reserves, veterans, and military families. While he had no role in making the conditions of war any better he did work with the legislature to make Virginia a better place for those affected by the wars. One of the only parts of Virginia government that grew during his term as governor was the Department of Veterans Services. One other aspect of his life that stokes the passion for these issues is the fact that his son will graduate from college this semester and be commissioned as an officer in the Marine Corps.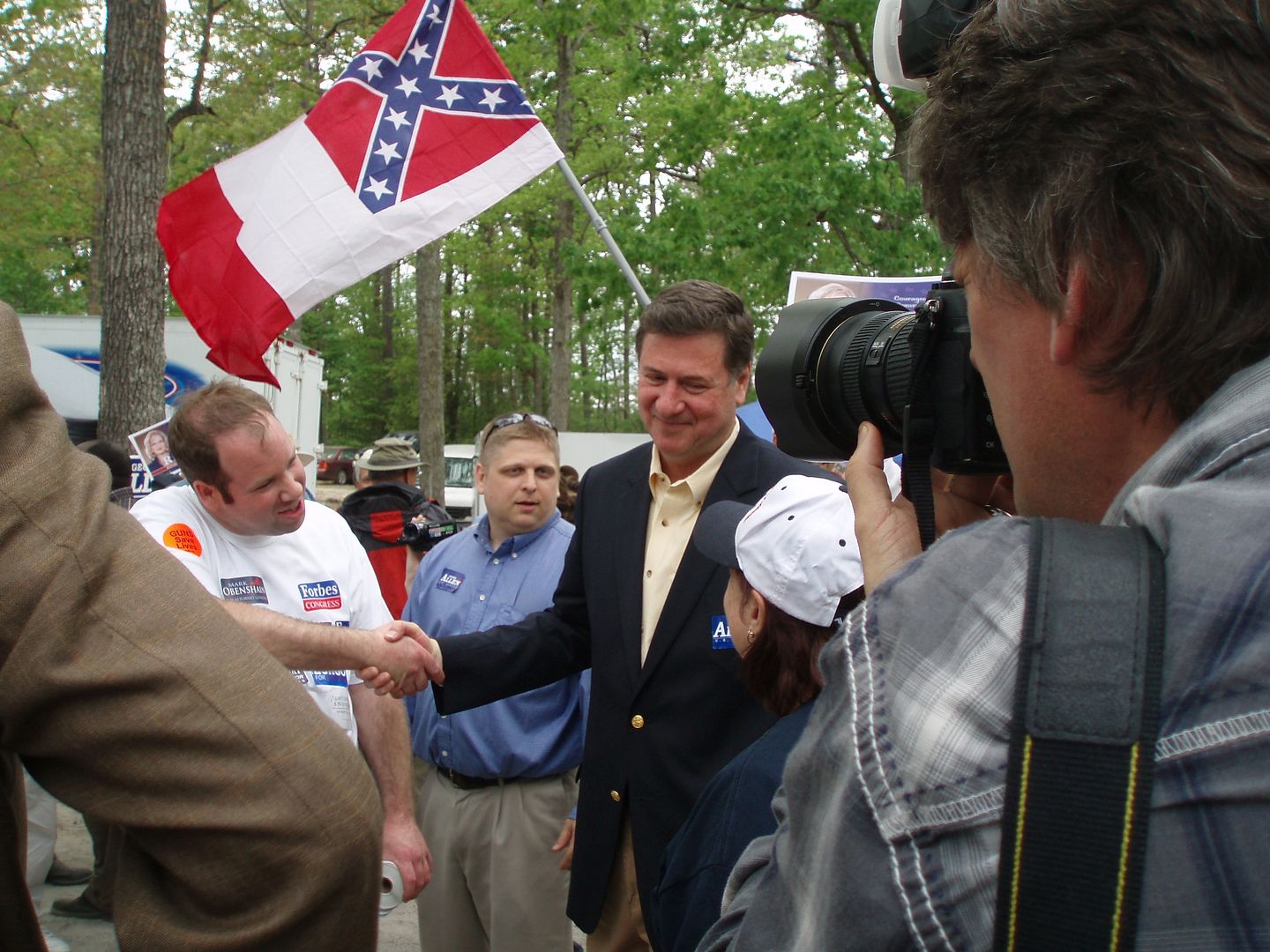 Yesterday's Shad Planking drew its normal school of bony fish enthusiasts, gaggles of gun guys and gals, and passels of Republican wannabes. Missing was the usual covey of Democratic candidates, along with any sign that Ken Cuccinelli has a prayer against Bill Bolling. For George Allen it was same old.
George's same old is this: No matter the facts, no matter your past, pretend there were no witnesses or records and that the electorate has selective amnesia. Yearn for a return to a fanciful, nostalgic past that is a combination of shared myth and vision among supporters. It is as if a team of marketing psychologists are crafting the Republican meme to manipulate perception among the easily influenced. Fortunately for us, this is still a small demographic, despite Republican efforts to cripple education in America.
In what Allen's team probably thought was a dual-edged sword, Allen took on the role of fiscally responsible philanthropist to show how a responsible private sector champion could eliminate waste while supporting the common welfare. Unfortunately for him, there is memory of his uncomfortable 2006 appearance in Hampton, Virginia at an NAACP forum where Allen balked at joining the organization when invited. There is another memory of grassroots supporters planting 10,000 or more Webb signs along the approach to Shad Planking. Allen's team simply knew they couldn't organize a competitive effort without paid stooges and feared another Kaine groundswell. Instead, his team (he's never demonstrated this kind of resourcefulness) decided to hand a check (funded by the campaign?), to the Ruritans, a group his base can easily identify with. This was designed to call out Kaine for typical liberal wastefulness. But the Kaine campaign didn't cooperate. Allen's prepared text had to be modified at the last minute, but his team lacked the acumen to avoid calling out Republican Representative Randy Forbes who did not meet the Allen standard for fiscal responsibility. Oh, by the way, Allen's four 4 x 6's didn't come cheap.