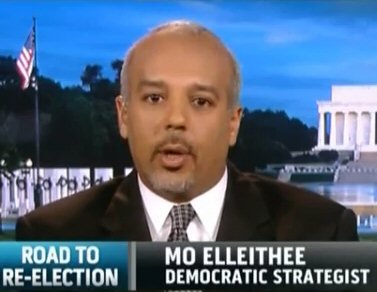 The following memo by Mo Elleithee lays out the state of the U.S. Senate race following Del. "Sideshow" Bob Marshall's entry into the Republican primary field. In sum, heat up some popcorn and grab a comfy chair, because this is going to be fun to watch! :)
MEMO: STATE OF THE RACE

TO: Interested Parties
FROM: Mo Elleithee, Kaine for Virginia Senior Advisor
DATE: January 17, 2012
RE: State of the Race

Virginians turned their attention last week to the start of the General Assembly session and, yesterday, one of that body's members made a big splash by announcing his candidacy for the U.S. Senate. If there's anything that's certain about Bob Marshall's entry into the race, it's this - those Republican primary debates that George Allen has already agreed to just got a whole lot more interesting.

Here are three things we believe Virginians can expect with Marshall now challenging Allen as he runs for reelection to the U.S. Senate

1. Expect George Allen to pander even more to the Tea Party.

Marshall's entry into the race confirms what political observers have been saying for months: Despite constant pandering, George Allen has failed to capture the energy and support of the Tea Party in his bid for reelection. Allen's failure comes despite a consistent effort to parrot the Tea Party on nearly every issue, calling himself the "original tea partier," appearing at numerous Tea Party-sponsored events, and rolling out endorsements from a Tea Party coalition his campaign invented, only to have to walk-back some of his supposed Tea Party support. For months, Allen has bent over backward to pander to the Tea Party as he campaigns for reelection, despite his own record on fiscal issues: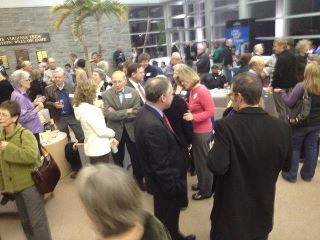 About 150 Montgomery County Democrats happily gave up their Friday evening to welcome former governor and US Senate candidate Tim Kaine to Blacksburg yesterday. The event featured a lengthy opportunity for local Dems to personally greet the former governor, share their thoughts, and hear his vision for the 2012 campaign. It was also a great opportunity for collecting signatures for the petitions to get Kaine on the ballot. (What is the matter with GOP presidential wannabes that they cannot meet the Virginia standard? What a bunch of whiners!) You won't hear Tim whining about petitions!
Kaine's visits are different from most other pols. There is a presence, confidence balanced by humility, knowledge, enthusiasm, optimism and earnestness unparalleled by other state-wide candidates. Each and every person is treated with unparallelled respect. He not only answers questions but shows his vast expertise in both Virginia and national issues. I mentioned some time ago,during the RaisingKaine days, that his willingness and ability to listen, really hear and discuss issues had no equal, much less superior. These skills will serve him well throughout his race to November, 2012.
As just one example... (please follow after the fold):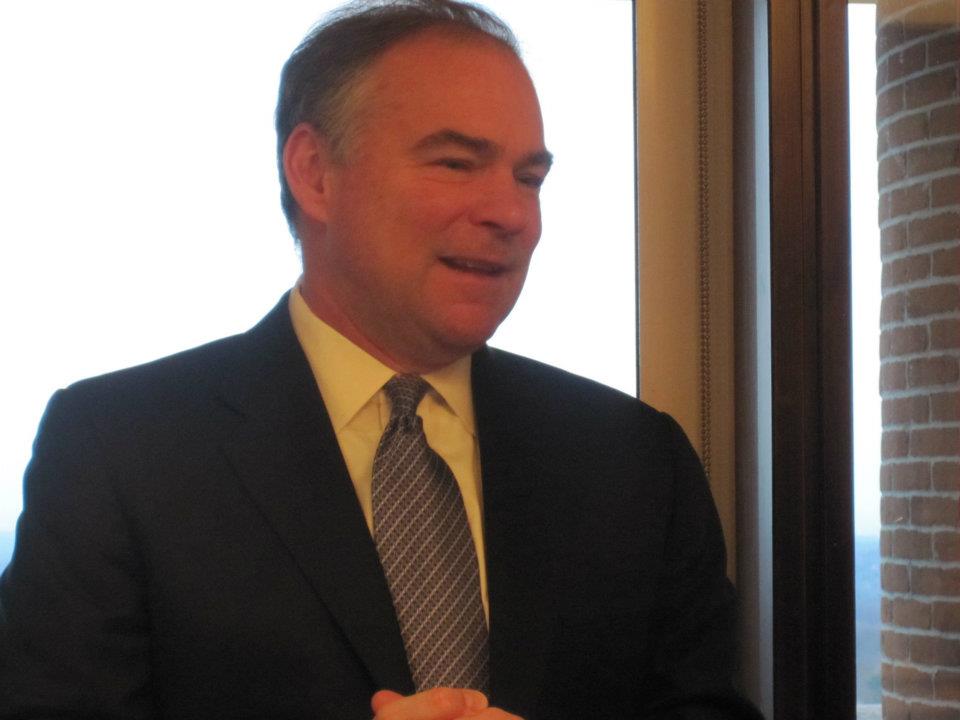 Former Governor Tim Kaine, now Candidate Kaine for Senate, spoke this morning at the January breakfast of the
Northern Virginia Democratic Business Council
(held at the Tower Club in Tysons Corner). Kaine called this the beginning of "the Sprint" to election day in November, providing the friendly audience with a sample of what will be the main themes of his campaign. With typically sunny Kaine optimism and gentility, certain key words emerged: "balance," "working together" to solve the country's problems, and focusing on encouraging "education and talent." These concepts emerged as guiding principles when tackling one topic after another, from deficit reduction to immigration to education. Democrats, he noted, are the party of business and of opportunity for all.
Kaine reminded the audience that in the 1950's, Virginia was 49th among the 50 states in percentage of children in school, yet today we rank 7th, thanks to finally following Thomas Jefferson's original notion of broad public education, and to building a powerful, balanced economy that attracts successful businesses and outside talent. "No state has moved as far as Virginia," according to Kaine, and in his view, Virginia can show America how to move forward.
In dealing as Governor with the state budget during a severe recession, Kaine pointed out that he never applied across-the-board cuts, but used surgical precision in selecting not only where and how to cut, but sometimes actually increasing funding to reflect priorities, focusing on encouraging talent and creating and favoring business development. Kaine will apply the same ability to make hard but principled decisions at the national level because, he noted wryly, "No one has ever cut their way to prosperity." By encouraging immigration of talented people, Kaine attracted new businesses to Virginia, even in the midst of a recession.
From the Kaine campaign, it looks like they're stocking their roster with talented female, diverse, employees. They also appear to be putting a significant emphasis on doing well in the urban/suburban "crescent" from NOVA to Richmond to Hampton Roads, where Democrats traditionally must do well to win in Virginia. Smart moves.
Richmond, VA - Today, Kaine for Virginia announced the campaign will add experienced staff in the Field, Political, Communications and Operations departments, building out the infrastructure needed to convert the early grassroots momentum of 2011 into a winning coalition in 2012. Tim Kaine released the following statement regarding the announcement:

"I'm extraordinarily pleased to welcome so many qualified and dedicated individuals to my campaign team," said Kaine. "Traveling around Virginia, I have been overwhelmed by enthusiasm for our campaign's message that Washington can learn lessons from Virginia on how to rebuild our economy, restore fiscal responsibility and rediscover common ground. I am confident this innovative and talented group will help me deliver that message to every corner of the Commonwealth and build a winning coalition of support."

Please see below for background on new Kaine for Virginia staff:

Ally Coll, Field Director
Ally Coll got her start in field working for Barack Obama in Southwest Iowa during the 2008 presidential primary. She has since worked for Washington Senators Patty Murray and Maria Cantwell. Coll served as the Field Director on Murray's successful 2010 re-election campaign and has most recently worked as Murray's Political Director and Cantwell's State Finance Director.

Tyee Davenport, Political Director
Tyee Davenport has served as Deputy Political Director at the Democratic Party of Virginia (DPVA) since April 2010. Previously, Davenport worked as the Richmond and Hampton Roads Political Director for the Wagner for Lt. Governor campaign. In 2008, she served as Political Outreach Organizer for the DPVA Coordinated Campaign where she assisted Congressman Bobby Scott's campaign in Virginia's 3rd Congressional District. Davenport also brings eight years of private sector experience where she worked for a Fortune 500 logistics company.

Sindy Benavides, Northern Virginia Political Director
Sindy Benavides joins the Kaine for VA campaign from the Democratic National Committee where she served as the National Director of Community Outreach. Benavides formerly served in Governor Kaine's administration as the Director of Board Appointments, the Deputy Director of Constituent Services, and the Latino Liaison.

Brandi Hoffine, Communications Director
Since April 2011, Brandi Hoffine has served as Kaine for VA Press Secretary. Hoffine joined the campaign from the Democratic National Committee where she served as Deputy National Press Secretary. During the 2008 presidential election, Hoffine was a member of the Obama for America and DNC joint rapid response team. Prior to that, she worked in political research.

Lily Adams, Press Secretary
Lily Adams joins the campaign from the office of U.S. Senator Richard Blumenthal where she served as Press Secretary. During the 2010 election cycle, Adams was Deputy Press Secretary for Ohio Governor Ted Strickland's re-election campaign. Adams returns to Virginia where, in 2009, she worked as a member of the Deeds gubernatorial campaign press team.

Nicole Gyorfi Titus, Director of Digital Media
Nicole Gyorfi Titus most recently served as a Director of Business Development for new media firm Blue State Digital. Previously, she worked with direct mail firm O'Brien, McConnell and Pearson as a Director of Client Services managing national grassroots fundraising programs for the DNC, Hillary Clinton for President, Senator Harry Reid and leading advocacy organizations. Titus also worked for EMILY's List during the 2004 election cycle.

Dawn Hillard, Operations Director
Dawn Hillard has served as Operations Director at the Democratic Party of Virginia since 2009. Prior to that, Hillard worked for Virginia Victory 2005 and Moving Virginia Forward PAC also in the role of Operations Director.
So, not only is
President Obama looking good in Virginia
, but so is Tim Kaine (not surprisingly given that finding, not to mention Felix's gaffe-ridden debate performance the other day.
Check it out
.
After getting good reviews for his performance in the first debate of the race last week Tim Kaine has finally gained a little separation in what has been a deadlocked Virginia Senate contest. He now leads George Allen 47-42.

When PPP polled this race for the first time this year in February it was dead even. The main difference between then and now comes with independents: what was a 9 point lead for Allen early in the year at 50-41 is a now 4 point advantage for Kaine at 43-39...
Oh, and just in case Jamie Radtke pulls a miracle and defeats Felix Macacawitz for the Republican't nomination, she'd lose by 16 points (49%-33%). All in all, 2012 is looking to be a much better year than we've experienced recently. Now, let's get to work and make sure that happens!
For whatever reason, the
Richmond Times-Dispatch
won't let anyone embed their live stream of the first Kaine-Allen debate, going on right now in Richmond. Here are some notes as the debate goes along, in part through peoples' Twitter feeds.
*MoElleithee: Here's what I'll do to fix Congress:1) tackle tomorrow's challenges, not fight yesterday's battles. Begins with education.
*Ben Pershing: Kaine says "Congress is dysfunctional and doesn't know how to fix our economy." That's putting blame on both parties, not just GOP.
*Brandi Hoffine : In opening remarks, @timkaine offers positive, forward looking vision. George Allen offers tired Republican talking points
*Ben Pershing: Kaine says it's too early to tell about uranium mining economics versus environmental impacts in Virginia.
*Kaine says he approved Wise County coal-fired plant, but also talks about the need for clean energy.
*Allen goes on and on about the need for dirty energy. Shocker, since he's made a ton of $$$ off of said industry. Will he disclose those ties?
*Ben Pershing: Allen makes clear his two top Obama policy targets: "massive stimulus spending" and "job-killing" healthcare mandates.
*Mo Elleithee: Here we go again. @georgeallenva rails against "sanctimonius social engineers" in Washington. Wonder how many of them live in NoVA. #VASEN
*Flat tax? Allen says our tax code is far too complicated. "Freedom to choose flat tax." Says Kaine is "defending this complicated tax code." (he is?)
*Allen says he thinks mortgage interest deduction and deductions for charitable contributions are good. Taxpayers could stay under "convoluted" system or go to flat tax. Alrighty...
*Mo Elleithee: Allen's response to flat tax reverts to talking points -- completely ignores the question about SPECIFICS of his "plan"
*Kaine -- Allen's answer was as complicated as the tax code. He wouldn't pin himself to a number, and that's instructive. Agrees that tax code is "way too complicated." We should take away the big subsidies that George Allen voted for as a Senator. Bush tax cuts -- Allen was deciding vote. They were put in place temporarily, because if they were permanent they would bust the budget. That's exactly what happened (along with voting for wars that weren't funded, etc.). Let Bush tax cuts expire at top end, over $500,000. We also need to make cuts -- "it's balance, it's balance."
More on "flip"
I just got off a conference call with Tim Kaine's campaign manager, Mike Henry, and Senior Adviser Mo Elleithee, in which they outlined the state of the race for U.S. Senate in 2012. Here are my edited notes.
Mike Henry said he's "excited about what we've accomplished" so far.
According to Henry, the Kaine campaign's focused on four main things. First, building a strong financial foundation, both in terms of grassroots dollars and also in terms of running a "lean and mean" campaign. "Lean and mean" is particularly important, given all the outside spending from pro-Republican groups. Also of note, Allen's campaign has not been as thrifty as the Kaine campaign, having spent as much as they brought in the last quarter, giving the Kaine campaign a cash-on-hand advantage. This is important as negative and false ads are already running and expected to continue)
Second, according to Henry, the Kaine campaign's focused on voter outreach, getting Tim around the Commonwealth, including incredible trips to Southside, Southwest, the urban crescent, pretty much every geographic region in the state. Kaine's gotten a really really good response so far.
Third, the Kaine campaign is focused on online organizing, which is becoming more and more important. Henry is very proud of the Kaine campaign's website, which will help arm grassroots activists with the ability to get involved, also is a fully functional mobile site. The Kaine campaign is organizing through smart phones as opposed to just "old fashioned computers." They've also got a fully functional Spanish language site, not just one page.
Fourth, the Kaine campaign's been focused on constituency outreach, building a large field and political program to reach out to people from all walks of life. That includes the faith community, particularly important given Tim's background and that faith has been such a big part of his life. Also focused on college campuses organizing, reaching out to constituency groups and organizing in key battleground communities and counties. For instance, the Kaine campaign has a very aggressive program to focus on Virginia's Latino population.
Finally, according to Mike Henry, the campaign's off to a great start, but no doubt this will be a competitive race, which is why "we're definitely bringing our A game to this race."
There's a spirited debate going on at Tim Kaine's Facebook wall right now, with some commenters pushing back on his seemingly rose-colored
post
, "Congratulations to Democratic candidates across the Commonwealth. Voter turn-out made the difference in key races!"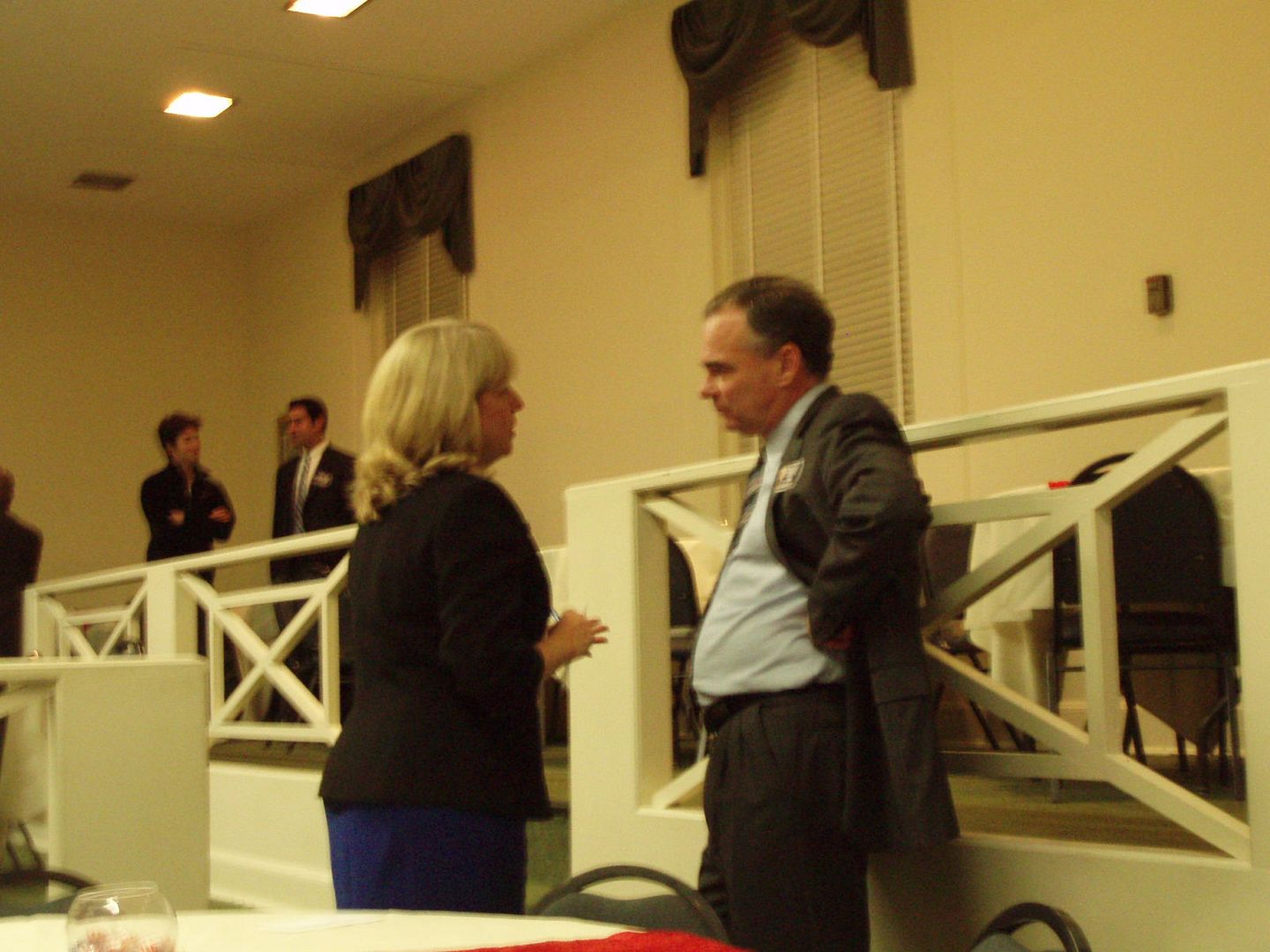 What a Democratic majority means to Governor Kaine is balance. Not to give short shrift to the House and local races, he believes that races like Ralph Northam's are essential to maintain sane government in Virginia. That's why he has made some 50 appearances on behalf of Virginia Democrats recently.
"Holding on to the Senate majority is the thing we've got to go after, hook, line, and sinker, tooth and nail, every minute, every hour , blood sweat and tears between now and next Tuesday." - Governor Tim Kaine
The former Governor offered some thoughts last evening at an event for Senator Northam (D-6th) about what we can do that will really matter and why what we do matters maybe this year more than most. From his perspective, right now in Richmond, the Democratic Senate is the balance. With a Republican Governor, Lieutenant Governor, and an Attorney General who is fighting against science, arguing climate change does not exist, fighting to turn back the clock as far as protecting employees on the grounds of their sexual orientation, that balance is essential. Wow! Rick Perry (shown in this recent bizarre video) has a new BFF (best friend forever) -- in Virginia at least. Remember Jerry Kilgore? To defeat him, we in the progressive blogosphere gave it pretty much all we had. And it worked. We didn't do it alone, of course. Far from it. But it is hard to deny that our efforts to "raise Kaine" were a factor. It is a good thing we trounced Jerry Kilgore too.
His latest announcement shows how far gone he really is. Not only has he endorsed Rick Perry for president, but also Kilgore will be Perry's Virginia campaign chair, according to the Washington Post here.
Poor Jerry lost his candidate when T-Paw withdrew from the race. Now, ordinarily, we could just laugh this off. But in the aftermath of Perry's bizarre speech this week, the nuttiness of this endorsement and campaign chairing is heightened. You gotta wonder at the candidate we could have had for governor had we not worked as hard as we did in 2005. (Remember that next year.)