 Thanks to Loudoun County Supervisor Stevens Miller for his
excellent coverage
of today's "Pledge to America" unveiling in Sterling. The photo of Miller standing behind barbed wire - that's right,
barbed wire
- really says it all, but read the whole thing. Here's an excerpt:
At 9:30 this morning, I was able to stand near all of the (maybe 17?) supporters who had also come, many holding flags and one fellow clacking away with the cap on a tea kettle he held as anyone drove by. Most apparently thought he was funny, but a couple sped up to get past him. He, Eugene Delgaudio, and maybe fifteen of, I guess, Eugene's closest friends waved hand-made signs and chanted things like, "New congress now!" With their district represented by a thirty-year Republican incumbent seeking re-election, that seemed an odd thing to chant.

The handful of chanters and I had to stand outside the event because it, unlike the 1994 signing on the Capitol steps, was private, indoors, and by-invitation-only-thank-you. On this beautiful, sunny day, we stood outside and looked at a building surrounded by a large empty parking lot (empty but for a half-dozen television cameras), which, in turn was surrounded by a barbed-wire-topped fence (wire leaning our way, of course). Plenty of room to reveal their latest contract, but Boehner, Pence, Wolf, Cantor, and the rest of the "make Congress more open" members of the GOP who were present decided that behind closed doors was the right place to have a dialog with the people...
Wonderful, because nothing goes together like orange John BONEr, clueless Eric Can'tor, loony Eugene Delgaudio and barbed wire! Heh.
Superb work by Loudoun County Supervisor Andrea McGimsey
on making Loudoun County more energy efficient, creating jobs, saving money, and protecting the environment.
The possibility of losing the Department of Energy's Energy Efficiency and Conservation Block Grant program, which supports projects and outreach efforts such as the ones outlined in the Loudoun County Energy Strategy, has mobilized local leaders across the country to petition the White House and Congress for support.

, launched the Energy Block Grants Climate Communities, a national coalition led by 15 local government officials, including Loudoun County Supervisor Andrea McGimsey (D-Potomac)Work! campaign on Capitol Hill last week to try to save the program...

[...]

The project that McGimsey found "the most exciting" involves applying integrated energy solutions to the Moorefield Station project -- a 400-acre, mixed-use development in southeastern Loudoun -- where the waste heat from the development's data center cluster will be recovered and used to heat nearby residences and businesses.

Beyond the benefit to the environment, McGimsey said, the projects save money, improve efficiency and create jobs. Calculations based on methodology provided by the Department of Energy show that the combined projects will create an estimated 70 private-sector jobs and save more than $125,000 in annual energy costs, she said.

"I come out of corporate America. I'm a businesswoman, and I look at these energy issues as being pro-business and also pro-environment," McGimsey said. "If you save energy, you put that money toward the bottom line of your company."
This is exactly what we should be doing in this country, and it demonstrates how badly we need leaders like
Andrea McGimsey
- people who "get it" on energy efficiency, by far the biggest "bang for the buck" when it comes to energy - in this country. Thank you, Ms. McGimsey, for your leadership in turning Loudoun "green!"
The insanity continues
, as Loudoun County Supervisor Eugene Delgaudio (R) follows up on his
"Thousands of men in bright neon bikinis"
missive with a "Homosexual Onslaught is relentless" email.
So, we know the dude's got "issues," but when is Delgaudio's Best Friend Forever, Del. Tom Rust (R), going to dissociate himself from this lunacy? And when does Delgaudio endorser Rep. Frank Wolf (R) ("No one works harder than Eugene. He is not afraid to make the tough decisions and speak out for what he thinks is right") going to do the same?
[Cue sound of crickets chirping...chirp...chirp]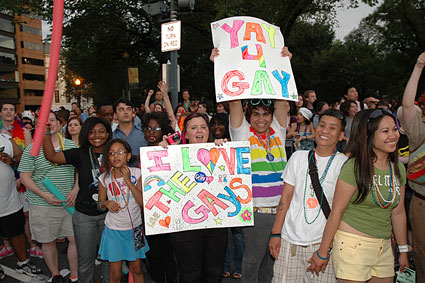 For anyone who ever had any doubts, Loudoun County Supervisor
Eugene Delgaudio
(R) is not only a rabid and obsessed homophobe, he's also
unintentionally hilarious
.
Dear Joe,

It was truly a sight to sicken the soul.

Thousands of men in bright neon bikinis hanging all over each other.

Groups of men and women -- it was hard to tell the difference sometimes -- acting out their homosexual lusts in defiance of all standards of decency and morality.

There were tens of thousands of them flooding the streets.

Throngs of "gay rights" radicals rallied all over our Nation's Capitol. Tourists had to rush to shield their children from the depraved displays of near nudity.
On and on it goes about the "radical homosexuals" (aka, people who want the same rights as everyone else in America), the "dangerous" "Homosexual Agenda" (see previous paranthetical), "Thought Control" (who knows), "homosexual re-education classes" and the dreaded "Homosexual Classrooms Act" (everyone, altogether now - WTF?!?!?!).
P.S. Don't forget, Delgaudio is practically "Best Friends Forever" with Del. Tom Rust. Oh, and don't forget, Rep. Frank Wolf said this about Delgaudio, "No one works harder than Eugene. He is not afraid to make the tough decisions and speak out for what he thinks is right." Also, in 2005, Delgaudio complained that "Frank Wolf's ringing endorsement will see little ink in area newspapers." Gotta love these "moderate" Republicans, hangin' with a homophobic head case like Delgaudio. The question is, how long are people going to let them get away with this charade?
h/t: "Radical Homosexual" - heh - blog Joe. My. God.
Yesterday, Susan Mariner once again demonstrated her work ethic and commitment to the Democratic Party by driving all the way from Virginia Beach to Leesburg to meet with the
Loudoun County Democratic Committee
and discuss her
candidacy for DPVA 1st Vice Chair
.
Well beyond this particular election, what Susan is committed to doing is listening to Democrats doing the hard work "on the ground." That's why she's traveling around the Commonwealth, asking for people's thoughts, meeting with local elected officials and party leadership, and learning firsthand what's happening with the Democratic Party in key battleground counties like Loudoun.
Susan points out that many Democrats "downstate" tend to think of Loudoun as Northern Virginia, which to many people is synonymous with Fairfax County. That, of course, is not the case. And, Susan adds, it's important that the 1st Vice Chair have the time to commit to understanding and representing all of the state, not just one part.
Susan reports that last night, in speaking with the Loudoun County Democrats at their meeting, nobody could remember any members of the DPVA leadership attending any event other than a fundraiser. Having worked on campaigns professionally (Susan served as the general election Political Director in Hampton Roads for Barack Obama, also as an advisor on Senators John Miller's and Ralph Northam's tough Red to Blue election victories in 2007, etc), she understands numbers, campaign strategy, and tactics. Even more importantly, perhaps, Susan also understands how critical it is for campaigns to listen to Democrats who know their communities and their voters better than any staffer.
Last but not least, Susan believes that a key aspect of the 1st Vice Chair should be to interface between the DPVA and statewide campaigns, which makes understanding the entirety of the state absolutely critical. Fortunately, when Susan is elected DPVA 1st Vice Chair in 8 days, we will not only have someone who understands Virginia and meets the other criteria cited above, we will have a committed, hard-working, dynamic, inclusive leader who takes the DPVA to another level of excellence. Go Susan!
Eugene Delgaudio
once again embarrasses himself
, and I would hope Loudoun County Republicans, with his insane antics. Now, he's upset that
"President Obama has nominated a radical ally of the Homosexual Lobby to sit on the Supreme Court,"
that said nominee is
"a rock solid vote for Homosexual Marriage and to uphold Thought Control,
" and that she may even be "a homosexual."
Do people like Eugene Delgaudio really exist? Yes, but they're usually in a padded room, surrounded by men in white coats. Another
instant classic
from the Loudoun County Board of Supervisors, once again involving the infamous
homophobic bigot
(and
all-around lunatic
) Eugene Delgaudio. Watch for yourself, starting around 1:56 of the video and particularly at 1:59-2:01. Fun times.
...Delgaudio attacked Miller for making the proposal and for not being business friendly. Changing the subject, he then accused Miller and his family of leading an effort to disparage him.

[...]

On Tuesday, Delgaudio hinted at the episode and started to mention "Miller's family," when Miller lunged for his microphone to interrupt.

"You are done speaking for me," Miller shot. "I will speak for myself, sir!"

"You've made me mad in the past," Miller continued. "But this is the first time you made me mad in public," before adding, "Keep it up and you'll regret it!"

Delgaudio quieted his stance. "Great, I'm the one that gets laughed at on Comedy Central," he responded, before the matter moved on to another supervisor.
By the way, I couldn't embed this video, but you can click on the image above and it will take you to the Loudoun County Board of Supervisors website, where you can view it.
UPDATE: Liz Miller weighs in.
I strongly encourage everyone to
go vote in the Loudoun Times poll
, "If the members of Loudoun's Board of Supervisors were all up for re-election today, who would you want voted out of office?" Make sure you vote for super-bigot Eugene Delgottago...er,
Delgaudio
. Thanks.