 Somewhere, Richard Nixon is smiling. As the New York Times pointed out the other day, his favorite campaign technique - using massive amounts of money from secret, self-interested corporate donors to buy dirty tricks and dishonest campaign ads - is back, just in time for the November 2nd election.
Public revulsion against the scandals of Nixon's 1972 re-election campaign helped usher in a wave of campaign finance reform in the 70s. But just as Republicans worked hard to make Americans forget the lessons of Vietnam, so they are now working to ensure that we forget the lessons of Watergate. We just need to forget how we've been hoodwinked in the past in order to be fooled over and over again.
Needless to say, the same characters who learned the art of dirty tricks in 1972 are still applying them today. That includes our favorite Jew-counter and dog-barbecuer, Fred Malek, who is applying his expertise as a member of Nixon's campaign team to his new venture, the American Action Network, which is laundering some $25 million in secret campaign contributions in order to buy key Congressional seats - including in the 11th District where I live. The news
that one of those groups of anonymous corporate donors just dumped $1 million into my Congressional district, to buy a new Congressman for me, suddenly made this election very personal indeed.
My Congressman, Gerry Connolly, has his pluses and minuses, but he is a good Democrat and he has worked his way up through local politics and by connecting with the community. The idea that he would be put out of a job by secretive national, and very likely multinational, corporate interests, very likely with zero connection to my district, is disturbing to say the least. Clearly, these corporations are just looking to purchase a government that is not so bold as to question, let alone regulate, how they treat their employees, what pollution they produce, how much they outsource jobs to other countries, or how boldly they increase the gap between the rich and poor in America.
If the people of the 11th District, in the process of this transaction, happen to lose our right to elect a Representative of our choosing, that's just considered so much collateral damage. Even here in the state of Virginia, where people like Thomas Jefferson, George Washington and George Mason first defined what democracy is supposed to mean.
For all that conservatives crow about "original intent", it is obvious that the Founders of this nation did not intend for the the people's democratic rights to be subordinated to the needs of multinational corporations. "One person, one vote" does not allow for those with more money to get the equivalent of more votes.
Nor do I believe that the Founders intended for such donations to be used to pay for dishonest advertising. Not surprisingly for another election being orchestrated by the likes of Karl Rove, big money is being used to spread big lies. You can be sure that months or years after this November 2nd, there will be lots of stories about all the scandals taking place right now, in the improper funneling of unlimited dollars to promote dishonest campaigning. The media, once again, will wring their hands about why they didn't catch all of this earlier. Meanwhile, we will be stuck with a Congress that responds to the highest bidder, not to the will of the people.
I don't accept any of this.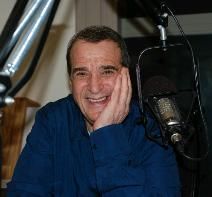 The demographic drawn to talk radio is somewhat pedestrian. Quality interviews and diverse opinions are often not their cups of tea. Many want entertainment that reassures them they have a purpose and importance. As a result, programming like the Joey Reynolds show is displaced by alien abduction intercessor George Noory.
If you have never enjoyed hearing Joey Reynolds conduct an interview or gotten to know the cast of regular characters and features on his show, you have missed a bet. You might have because he filled the overnight slot on stations whose audiences have shifted during the past decade; they may not be your stations. The archives of his shows on his former flagship, WOR in New York, offer proof of his wide ranging ability to elicit the best from any subject. From Leslie Uggams to Curtis Sliwa, from the Gay Hour to the Jewish Hour to music variety hours, the discussion was engaging and informative. But none of that is what appeals to and sustains the most lucrative radio demographic. Courtesy of the
Republican Party of Virginia
, here's an event you won't want to miss! :)
Last Chance! Register for the RPV Reception featuring Karl Rove TODAY! This upcoming Tuesday, June 15th, RPV cordially invites you to attend a reception featuring Karl Rove, former Deputy Chief of Staff and Senior Advisor to President George W. Bush and Attorney General Ken Cuccinelli in McLean, Virginia. Event sponsors will have a special opportunity to sit down with Karl Rove prior to the reception for a private strategy session to discuss the 2010 elections followed by a photo op. Following the Strategy Session we will hold a General Reception where attendees will get a chance to meet our special guests. To RSVP or to learn more information about the Strategy Session and Reception, you can visit www.RPV.org/Rove. Those in attendance will receive a complimentary signed copy of Karl Rove's new book "Courage and Consequence: My Life as a Conservative in the Fight."

You only have 48 hours until left to register, so please RSVP TODAY! We look forward to seeing you there! Visit www.RPV.org/Rove now! Pat Mullins
RPV Chairman Republican Party of Virginia
115 East Grace Street
Richmond, VA 23219
www.rpv.org
804-780-0111
Paid for and authorized by the Republican Party of Virginia If you don't have dinner plans next week, here are a couple of great ideas for you.
First, you can enjoy a lovely soiree with Bob McDonnell, John McCain and Fred Malek. Maybe they'll talk about this or this while they're dining on...this, perhaps? And all for just $2,400 (or more, if you so desire). Sounds like a fun time -- or, on second thought, not!
Second, if that's not enough right-wing fun for you, there's always this event, which looks like a barrel of laffs!

Karl Rove, the man once known as George W. Bush's brain, is coming to Virginia for a fundraiser for the state Republican party.

Party officials expect as many as 300 people to donate up to $60,000. The June 15 event will be in McLean, but the party isn't releasing the location of the house just yet. Could the party be worried about protesters?

Rove, who just released a new book Courage and Consequence: My Life as a Conservative in the Fight, will be joined by Attorney General Ken Cuccinelli and party Chairman Pat Mullins.
In case you attend, here are a few
talking points about Rove
.
*"In the fall of 1970, Rove used a false identity to enter the campaign office of Democrat Alan J. Dixon, who was running for Treasurer of Illinois. He stole 1000 sheets of paper with campaign letterhead, printed fake campaign rally fliers promising 'free beer, free food, girls and a good time for nothing', and distributed them at rock concerts and homeless shelters, with the effect of disrupting Dixon's rally."
*Rove's campaign for national chairman of the College Republicans was run by none other than the infamous Lee Atwater, of the infamous "Southern strategy". In 1981, Atwater explained this strategy, saying, "'We want to cut this,' is much more abstract than even the busing thing, and a hell of a lot more abstract than 'Nigger, nigger.'"
*"Rove was fired from the 1992 Bush presidential campaign after he planted a negative story with columnist Robert Novak about dissatisfaction with campaign fundraising chief Robert Mosbacher Jr. "
*"Rove has been accused of using the push poll technique to call voters to ask such things as whether people would be "more or less likely to vote for Governor Richards if [they] knew her staff is dominated by lesbians."
*And, of course, there's the Valerie Plame scandal. In 2005, "it was revealed that Rove was Novak's second Bush administration source" for outing a covert CIA officer.
In other words, there should be lots to talk about if you decide to attend this dinner. Bon appetit! :)
P.S. Don't miss today's Washington Post story on Fred Malek's background as a "Jew counter" for Richard Nixon.
UPDATE: Wow, check this audio out.