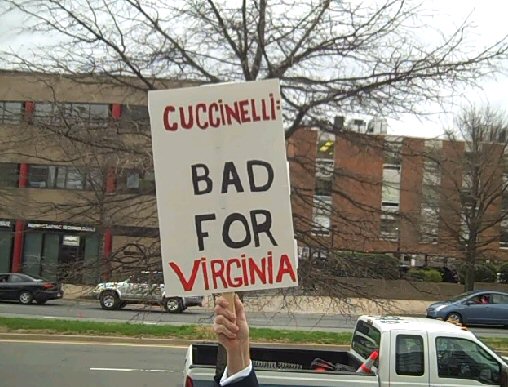 I just got back from George Mason University Law School, where students, alumni, faculty, staff, friends and allies are currently protesting Ken Cuccinelli's appearance at the school. More broadly, they are protesting Ken Cuccinelli's anti-gay attitudes, which Cooch is attempting to force on Virginia as a whole. This is unacceptable, as the protestors and speakers are eloquently and powerfully explaining right now. No wonder why Cooch snuck in the side door of GMU Law School, is not allowing reporters into the event, and apparently is refusing to speak to reporters afterwards. I mean, I can understand why he wouldn't want any sunlight on him, but still that's pathetic.
Also, I should have video shortly of the first speaker, who was absolutely superb. For now, here are some photos, including one (see after the "flip") of Del. Bob Brink listening to the speaker. Also, Miles Grant is there, so he may have more reports and photos.
UPDATE: Follow Miles' twitter feed for more. Other speakers included Arlington Co. Board Chair Jay Fisette & Del. Brink. Also there are Del. Adam Ebbin, Arlington School Board Members Sally Baird, Libby Garvey and Abby Raphael.

Today starting at 4 pm in Arlington, you can
protest Ken Cuccinelli
, who will be speaking at the GMU Law School. Join Del. Adam Ebbin, Arlington County Board Chairman Jay Fisette, (possibly) 2009 Democratic Attorney General nominee Steve Shannon, and many others to protest Cooch's anti-GLBT policies, "specifically...his opinion letter to the Presidents, Rectors and Visitors of Virginia's Public Colleges and Universities urging them to delete sexual orientation from their nondiscrimination policies." As the flyer says, Cuccinelli's stance on this issue "is bad for Virginia's economy, is out of touch with reality, and threatens the competitiveness, reputation and accreditation status of all of Virginia's public Universities." Other than that, it's brilliant!
P.S. If you need any more motivation to protest Cooch, click here and read about Cooch's wild hypocrisy when it comes to health care for his family vs. health care for everyone else's families.
UPDATE: Also, see Barnie Day's column, "Cooch Quixote." It begins, "Thank you for filing suit against the health care bill. You make Virginia-and Bull Conner-proud. Say, where are those water hoses and big German shepherds when we need them?" Ouch.
UPDATE #2: David Englin has launched a campaign "to encourage Virginians who support health care reform to urge Virginia Attorney General Ken Cuccinelli to abandon his threat to file a lawsuit against the U.S. Government." Check it out. If Republicans want to campaign this year on repealing health care reform, that's fine with me. In fact, I encourage them to argue for repealing provisions in health care reform legislation like:
*Preventing insurance companies from denying coverage for "pre-existing conditions"
*Allowing children to be covered on their parents' insurance plan up to the age of 26.
*Closing the "donut hole" (the coverage gap in the Medicare prescription drug benefit)
*Ending lifetime spending limits on policies
*Forbidding insurers from retroactively canceling policies
*Removing co-pays for seniors to get checkups
All of these provisions are in the health care reform legislation passed by Congress, and all are extremely popular with the American people. If Republicans like Rob Wittman, Frank Wolf, Robert Hurt, Scott Rigell, Keith Fimian, Pat Herrity, Morgan Griffith, etc. want to run on repealing these things, I strongly encourage them to do so and see how the voters respond in November. This should be interesting! :)
P.S. It might even be Republicans' "Waterloo." Wouldn't that be ironic?
When the headline is
Griffith 'really not that weird'
... it's probably not all that positive a story from a political point of view:
[Del. Morgan] Griffith [R-Salem] also has an odd fondness for dressing up like one of his heroes, Revolutionary War Gen. Andrew Lewis.

That's a little strange, but there's something about him I've always found even stranger:

Griffith was married five years ago in Salem's East Hill Cemetery, next to the dead general's grave.
Yes, this is House Majority Leader Morgan Griffith, who wants to be the next Congressman from Virginia's 9th district. Hold your children close, put on your garlic necklace, sprinkle holy water on your laptop, and read the whole thing at the
Roanoke Times
.