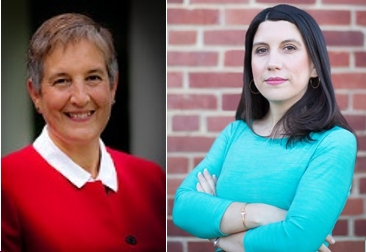 Today seems to be turning into School Board Day here at Blue Virginia. 🙂 This morning, I posted on Fairfax County School Board member Elizabeth Schultz's nasty anti-transgender crusade. Now, here are my endorsements for the Arlington County School Board Democratic "firehouse primary" next Thursday and Saturday. Oh, and thank goodness we don't have anyone on the Arlington County School Board who espouses the types of views we keep hearing from the aforementioned Fairfax County School Board member…ugh.
First, as I noted in my interview with incumbent School Board member Nancy Van Doren, since the first time I met Van Doren in May 2014, I've been extremely impressed with her, and watching her work on the School Board has only reinforced that. So, this is an easy endorsement of her for reelection. I very much look forward to seeing what great things she can accomplish over the next four years for Arlington's public schools!
Second, while I like Michael Shea a great deal, and while Chaz Crismon seems like a very sincere and good guy (he just knocked on my door this morning, had a nice chat with him), my endorsement for the other Democratic Party nominating "slot" unequivocally goes to Tannia Talento. In talking with her, I was highly impressed both with her life story and with her deep AND broad experience in the Arlington public schools. That includes, as her website points out, service "on the Math Citizens Advisory Committee, the ESOL/HILT Citizens Advisory Committee, the Superintendent's Master Planning Working Group, and on the Advisory Council on Instruction as a Vice Chair…the Facilities Study Committee and…the Career Center Parent Advisory Committee."
I've also been impressed with her thoughtful, detailed, clear answers in my interview with her as well as in the Arlington Democrats' School Board debate I covered. Talento's passion for the Arlington County public schools comes through in everything she says and does, and that is much needed on the School Board, particularly with the superb Emma Violand-Sanchez stepping down after many years of service.
Finally, speaking of Violand-Sanchez, my general attitude is that all else being equal, we should absolutely shoot for representation that looks like our community, in all its diversity. In this case, I think that Nancy Van Doren and Tannia Talento are the best choices, regardless, but with Violand-Sanchez leaving the Board, I think it would be an added bonus to have someone who understands the perspective of first-generation American (Talento is the child of immigrants from Guatemala), the perspective of immigrant families and the Latino community. On the School Board, I am confident that Talento – along with the rest of the excellent team we've got there now – will focus intensely on not just the educational needs, but on ALL the needs of every student in the Arlington County school system.  I am looking forward to seeing what this fine team can accomplish starting in January 2017!
P.S. No matter what, don't forget to vote! The election is next Thursday evening (May 19) from 7 to 9 pm at Drew Model School and next Saturday (May 21)  from 11 am to 7 pm at Washington-Lee High School.