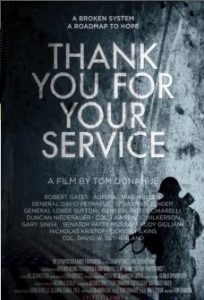 If your son or daughter, father or mother, spouse, or anybody you know came home "a different person," "Thank You For Your Service" shines a light on the painful wounds they conceal. We have an obligation to our active duty, veterans, and their families that has gone and remains unpaid.
Those who have served and their families owe it to themselves to view this film. I am also reaching out to those who haven't served to demonstrate their honest support and gratitude for the sacrifices of our military members and their families by attending screenings of this film in Roanoke tomorrow, March 14th and Charlottesville on March 20th. A trailer can be viewed at the link in the first paragraph.
"We're not allowed to speak of the unseen wounds of war; we're not allowed to prepare for them." – Brigadier General Loree Sutton USA (Ret)
It is in the culture of the profession of arms to be shamed by and to deny any appearance of weakness. I have not met a person connected with a service member that hasn't left this film deeply moved, even nauseated and angry at politicians, Democrat and Republican alike, who constantly pander by saying they support our veterans but deliver nothing substantive to stop the madness and end the benign neglect.
"I had lost everything I had ever had. My marriage had disintegrated. I'd lost my children. I didn't really know who I was. I pointed the gun at my chest and I pulled the trigger." – Kenny Toone, USMC veteran
The statistics are overwhelming. What? 20 veterans commit suicide each and every day? In 2008 my own physician at Portsmouth Naval Hospital, on the fast track to Flag Officer, expressed how enthusiastic he was about deploying to the Gulf theater where he would face the challenges resulting from combat and have an opportunity to care for the seriously wounded. Seeing him a year later upon his return I immediately recognized a dour change. He summed it up in one comment: "Yeah, I treated traumatic brain injuries; 11 Marines with self-inflicted wounds. I'm done."
"There is not a single veteran I know who doesn't know somebody who has committed suicide." Micheal Zacchea, USMC veteran
This is both an indictment and a call for action with a proposed solution that any military planner would embrace with or without a behavioral health background. It is as simple as this: the resources that should be task organized to deliver effective service are stove-piped. Commander Mark Russel, USN (Ret) sums it up succinctly, "You could not have drawn up a more catastrophic way to fail the mental health needs than the blueprints that were followed in this war and that were followed in the previous wars."
"We don't even know what is going to hit us in the next 10 years as a result of the last dozen years of war." – Gary Sinise, Veterans Advocate
There was once a moment when we might have been at the cusp of dealing with the requirement to transition and integrate service members from active duty into civilian life. Toward the end of World War II President Roosevelt issued guidance that could have set precedents for transition and reintegration. Watch closely for something very unusual about the broader social context at this point in the film (It is not in the trailer, so you'll have to attend a screening).
"How many lives can we really affect? How many people's lives we can improve?" Bob Woodruff, Founder Bob Woodruff Foundation
For those of us of a certain age there is a moment in the film when the names on Viet Nam Veterans Memorial Wall are cited that weighs heavily. It speaks to the unpaid debt of gratitude we owe to those veterans who have held the burden of something for us all these years that we have failed miserably to acknowledge; not to mention the families, the spouses and children and parents, who suffered and continue to suffer horribly for us.
The objective of these screenings is to create real social and political impact that leads to a positive and lasting change for our military by organizing a Behavioral Health Corps. Maybe this is the best first step in reforming the Veterans Administration.
This film is distributed through Gathr Films and Theatrical On Demand® to use self-financing political-style grassroots coalition-building to target communities a tool to advance existing social impact and political action movements.
Sufficient attendance is required to justify the screenings and that has been met in both Roanoke and Charlottesville. Please demonstrate your support for our service personnel by signing up here for Roanoke: https://gathr.us/screening/reserve/19044 and here for Charlottesville: https://gathr.us/screening/reserve/19586
If you know of a veteran who cannot afford a ticket to the Charlottesville screening, limited scholarships are available by contacting me at: behavioralhealthcorpsnow@yahoo.com