By Josh Stanfield of Activate Virginia
You've probably seen or read about the racist, misleading TV ads the Gillespie campaign has been running. You know – MS 13, "Kill. Rape. Control." The Washington Post Editorial Board put it well:
"Set aside the fact that Virginia's violent crime rate, as measured by the state police, is the third-lowest in the nation and plunged by more than a third in the decade ending in 2015. Mr. Gillespie's wedge issue of the day is gang violence — specifically, violent Hispanic gangs such as MS-13 — to which he hopes to harness the xenophobic fervor that propelled Donald Trump to the White House."
That same fervor has been peddled via mailers in House of Delegates races. I've collected a few choice examples of attack mailers – please post any others you've come across in the comments.
Delegate Mike Mullin (D) vs. Heather Cordasco (R)
HD 93: Williamsburg, York, Newport News, James City County
I'll start out with the 93rd, my home district. This is a rematch from last November – Mullin defeated Cordasco in a special election to fill (now State Senator) Monty Mason's seat.
Here we find Cordasco pushing that same ridiculous line about nonexistent sanctuary cities. Yet Delegate Mullin is a criminal prosecutor – he sometimes mentions putting away rapists and child predators – so the "soft on crime" line doesn't make much sense. From Delegate Mullin's website:
"Mike is a Certified Gang Investigator by the Virginia Gang Investigator's Association and volunteers his time to stop gang violence in our communities."

Reports from the ground suggest Cordasco is pulling a Gillespie – talking like a moderate in public, at your door – while pumping out undignified and misleading mail. Check it out:
Delegate Scott Lingamfelter (R) vs. Elizabeth Guzman (D):
HD 31: Prince William County, Fauquier County
These images have made the rounds online. First reported by Carolyn Fiddler at DailyKos and further analyzed by Ken Boddye here at Blue Virginia, these racist mailers go all out. Notice, in the top right quadrant of the photo below, the background image: a silhouette presumably penetrating a border fence. Now look at the background image of the first Cordasco mailer above (h/t Drew Shannon).
Thanks to some fine sleuthing by Ken Boddye, we now know the website on the mailer below was registered by none other than Delegate Lingamfelter himself.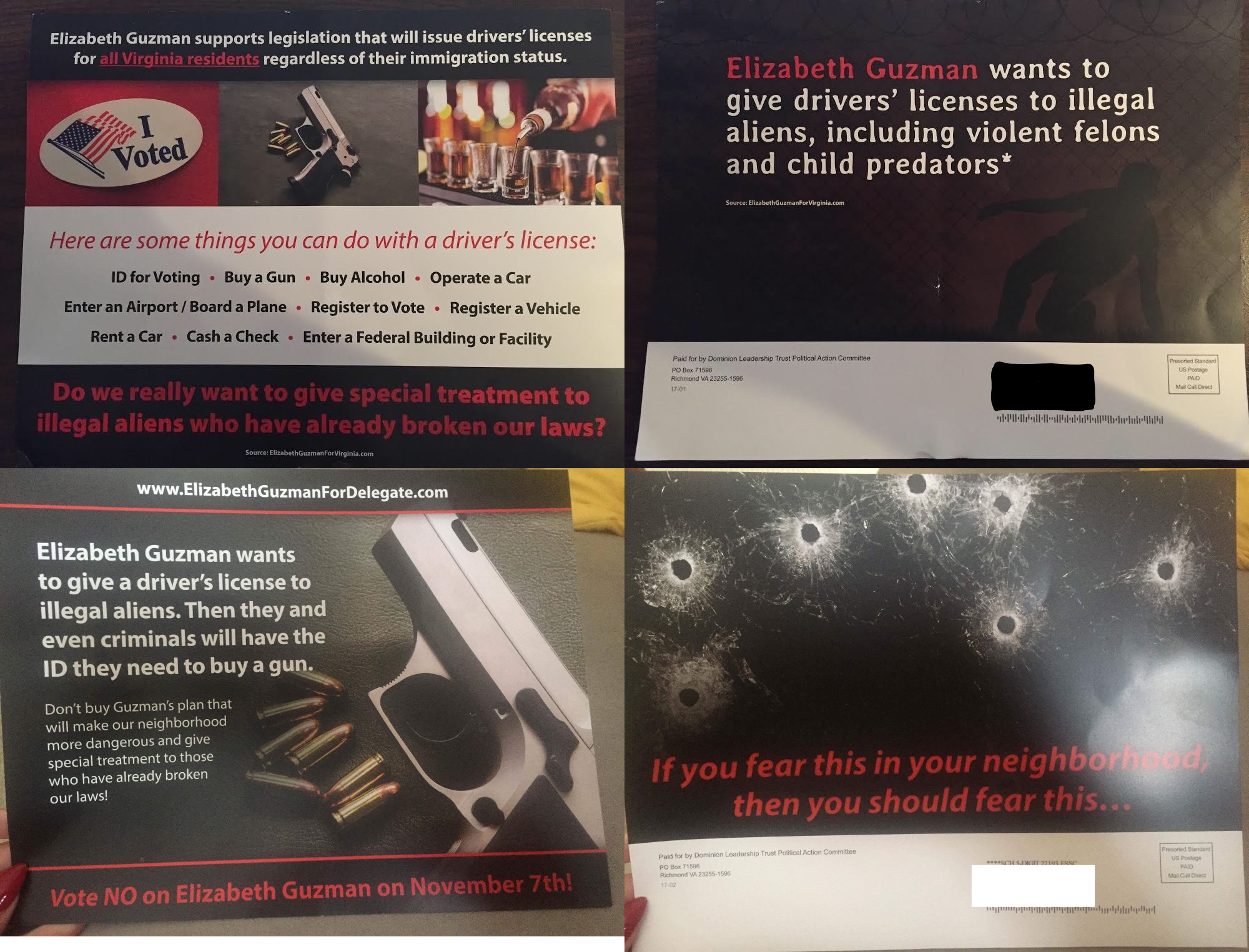 Delegate Rich Anderson (R) vs. Hala Ayala (D)
HD 51: Prince William County
As Governor McAuliffe put it during an announcement on the restoration of voting rights: "Too often in both our distant and recent history, politicians have used their authority to restrict peoples' ability to participate in our democracy. Today we are reversing that disturbing trend."
Republicans like Anderson, however, seem to take the cynical view that criminals can never sufficiently repay society for their transgressions. Commit a felony, lose the core of citizenship for the rest of your life. Regardless of contrition, treatment, or rehabilitation.
And after freaking us out with a silhouette of a potential intruder clenching a crowbar, the mailer reverses to showcase Delegate Anderson boasting about Virginia's low crime rate. Incredible.
Delegate Joseph Yost (R) vs. Chris Hurst (D)
HD 12: Radford, Montgomery County, Giles County, Pulaski County
Alright – this one isn't racist or xenophobic. It's just lame.
I know you're not supposed to actually think about these mailers, but if you accidentally do, this one becomes a bit confusing. We all get the point though: people in California have "left coast values," so does Chris, and they're part of a plot to export those values to the 12th District.
Read about what's going on in California here.
And here's a variation on the same "out-of-state radical infiltration via campaign contributions" theme:
A scene from Virginia political history comes to mind upon consideration of the sleaziness of this campaign season. When Doug Wilder ran for Lieutenant Governor on the 1985 Baliles/Wilder/Terry Democratic ticket, former Republican Governor Linwood Holton delivered a message to Wyatt Durrette, the Republican gubernatorial candidate.
According to Dwayne Yancey, Holton recalled telling Durrette: "If the Republicans in any way tried to take advantage of Wilder because of race, I would come out publicly for [Wilder]. Wyatt accurately and truthfully said to me, 'I'm not a racist. There's not a racist bone in my body.' And that's true. When he was in the legislature, he and Wilder got along very well."
So here's the question: who are the Republican leaders telling this year's Republican candidates to run dignified campaigns? Former U.S. Senator John Warner apparently approves of the "moderation on the stump, racist propaganda behind the scenes" strategy of Virginia Republicans these days.
And what does it say about a political party when its path to power precludes core values of decency, respect, and intellectual honesty?