The extremist crazies at CPAC have given out "Conservative Achievement" awards to three of the most heinous (bigoted, etc.) Virginia elected officials – Del. Dave LaRock, Sen. Amanda Chase and Sen. Dick Black. See below the images for why I say that these three are among the most heinous Virginia elected officials.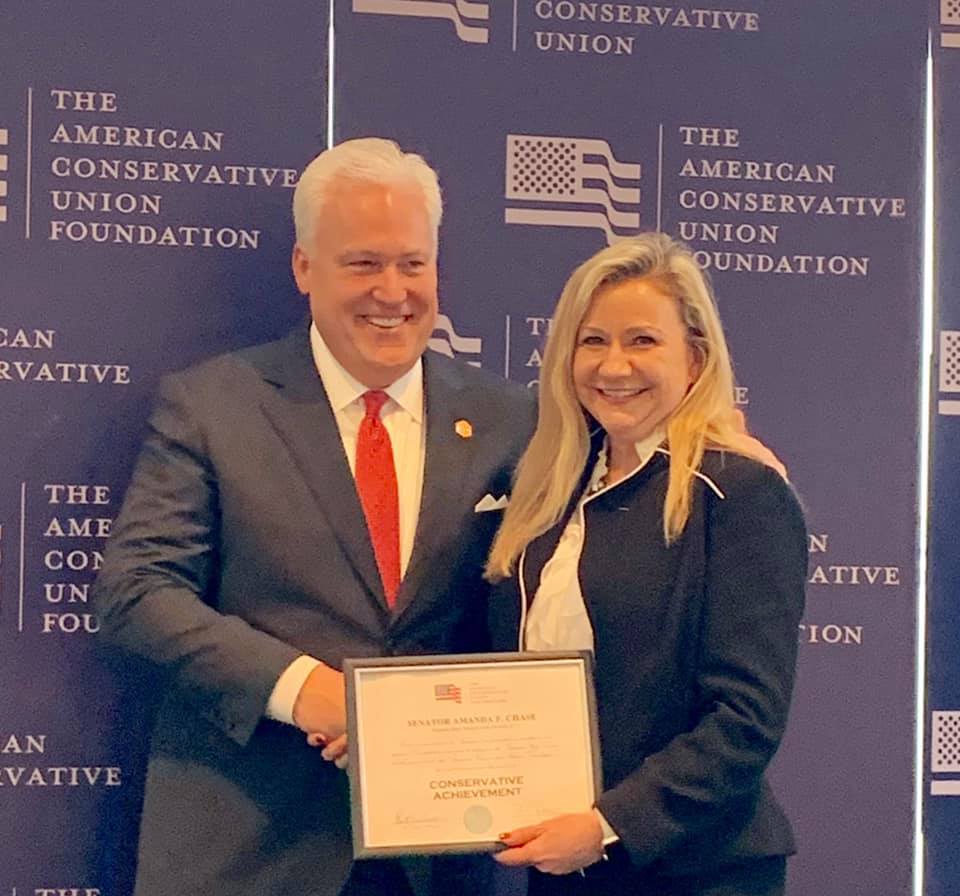 For Dave LaRock, see Virginia Del. Dave LaRock (Faaaar-Right R) Says Being Transgender a "Social Contagion," Like Anorexia; Gets Pounded on His Facebook Page; Rabidly Anti-LGBT Virginia Delegate Dave LaRock Absurdly Claims Loudoun County School Board "Lurches Left" Because It Opposes Discrimination, Supports Public Schools; Dave LaRock Spews Anti-LGBTQ Hate Straight From the House of Delegates and Talking to My Delegate: Dave LaRock (in which LaRock talked about how "beautiful" discredited/harmful gay "conversion therapy" is; refused to call Danica Roem "she"; etc.).
For Amanda Chase, see: VA State Sen. Amanda Chase (R-Theocratic Nutjob Wing) Spews Disinformation on SCOTUS, Virginia Racial "Packing" Case; Far-Right Virginia Sen. Amanda Chase: "The ERA Amendment is nothing more than a ploy by the left to eliminate gender altogether."; "Why is a sitting State Senator in Virginia carrying while presenting at a Committee Hearing?"; Audio: Despite 81% of Virginia Voters Supporting ERA Ratification, Far-Right Sen. Amanda Chase Invites Equally Far-Right Former Del. "Sideshow Bob" Marshall On Her Radio Show to…Yep, Trash the ERA, Far-Right Virginia State Senator, Dave Brat Supporter, Lets Her Inner Theocrat Out; Outraged Comments Ensue, etc.
For a sampling of Dick Black lunacy, see: Video: Virginia State Sen. Dick Black, Friend of Bashar Assad's, Goes on Long, Rambling Tirade About "False Flags," Nuclear Armageddon, etc.; What Is It With Loudoun Republicans?!? Dick Black on Spousal Rape, "Nighties," etc., The Truth About Dick Black (e.g., called birth control pills "baby pesticides," passed out "pink plastic fetus dolls to state lawmakers in 2003 in a creepy campaign to win votes for various anti-abortion measures," called "An Embarrassment to us all" by John Feegel, a former Chief of Staff to the Republican Leader in the Virginia House of Delegates); Republican Loudoun-sanity Continues: Dick Black Rails Against Gays in the Military ("there was a young fellow who went to the showers at night, there were two homosexuals lurking — they were also basic trainees – and they strangled him with a towel and forced him to submit to, you know, things that we won't talk about"); Sen. Dick Black (R-Homophobia): Polygamy "just more natural" than homosexuality; VA Sen. Dick Black (R) Praises "Extraordinary Gallantry" of Syrian Armed Forces, GOP Candidate Who Made Marital Rape Remarks Drops Out of Congressional Race, etc, etc.