Advertisement

Virginia State Sen. Amanda Chase (R-SD11) has responded to the (justified) backlash against her outrageous remarks about rape victims ("It's those who are naive and unprepared that end up raped"). See below for her ridiculous response, and some of the top-rated comments on her Facebook page, ripping her for being "disingenuous," "hav[ing] no shame," "setting up a straw man argument," "trying to sugar coat it," etc, etc. Apparently, Chase simply has no self awareness or ability to listen, learn, etc. For all those reasons and more – like being a right wing extremist – Chase should not be in the Virginia State Senate. I urge everyone to support Democratic nominee Amanda Pohl, and to elect her this November, instead.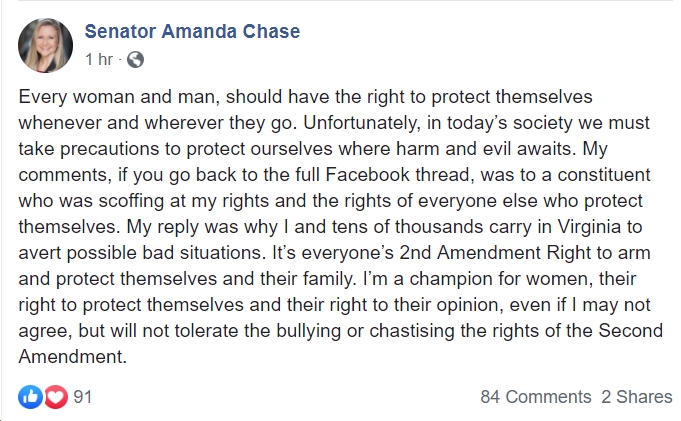 "Your comment said that it's only naive and unprepared women who get raped. That's the full context. Oh and everyone could read it for themselves if you didn't use your personal FB account to respond on this page, blocking people left and right."
"Your reply victim shamed women who had been through rape by implying it was their fault for not carrying. There's NO excuse for that. I feel much less safe when I see a male stranger walking around a playground with a gun on his hip."
"You reply was that women who do not carry a weapon are naive and unprepared and thus, end up attacked. That is victim blaming. You have no shame. If your son rapes someone, will it be her fault if she isn't armed?"
"Disagreeing with you isn't bullying you. No one has posted recommending we repeal the second amendment or take everyone's guns. Setting up a straw man argument to avoid serious discussion of a major public health issue is disingenuous and not what true leaders do."
"I read your comment. You were victim blaming. Stop trying to sugar coat it. It goes a long way to take a step back, analyze why what you said was horrible and wrong and then apologize. People who are capable of learning from their mistakes make much better leaders."
There's no paywall on Blue Virginia, and we definitely want to keep it that way! If you want to help support our work, you can donate here - thanks!
Also, you can
sign up for our weekly email list here
.