Advertisement

UPDATE 11/24: Amanda Chase hits back…exactly as you'd expect her to, with a bunch of blather and more lies.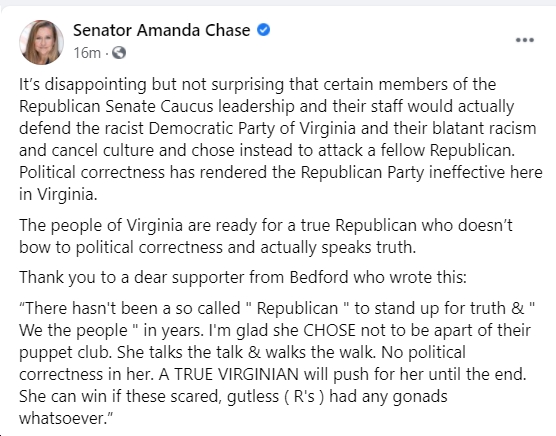 So basically, when Virginia Republicans are motivated sufficiently – by self interest or whatever – to speak up, they are quite capable of doing so. In this case, State Sen. Bryce Reeves' aide has announced an anti-Amanda Chase PAC, which among other things notes that "Radical Amanda Chase has been kicked out of her own party, and now she wants to run for Governor of Virginia." As for Reeves' aide, he has some choice words for Chase as well, including:
"Sen. Chase is the wrong candidate for the Republican Party in Virginia. Her outlandish statements, public disinformation, blatant racism, and her inability to legislate are all reasons why voters should reject her candidacy for Governor of Virginia."
All true, of course – Chase is a COVID-denying, COVID-superspreading, ERA-demonizing, "white history"-defending nutjob, who said "It's those who are naive and unprepared that end up raped" and "The ERA Amendment is nothing more than a ploy by the left to eliminate gender altogether."
But it does raise the question, why are Virginia Republicans so eager to rip into Chase, yet they gave Trump a free pass for the past 4+ years, even as he made thousands of "outlandish statements," spread "public disinformation" 24/7, engaged in "blatant racism" (and misogyny, homophobia, Islamophobia, xenophobia, etc, etc.) and exhibited a complete "inability to legislate" (or in Trump's case, govern)? See below for Cindy Cunningham's theory, which is that it's sexism on the party of Virginia Republicans. Which is certainly a plausible theory, but I'd also argue that it's about these folks' self interest and cynical political calculations, almost never about principle.
On that same topic, note that basically none of these Republicans have denounced Trump's assault on our democracy and our constitution, nor have almost any of them said a single word about Joe Biden being elected president. And yet they're not holding back their (extremely negative) feelings regarding Chase – who, again, richly deserves it – as we (totally coincidentally, I'm sure, lol!) enter into the 2021 Virginia election cycle. Nope, absolutely no coincidence there, or the fact that some of the folks behind the attacks on Chase also have, or might have, statewide political ambitions themselves…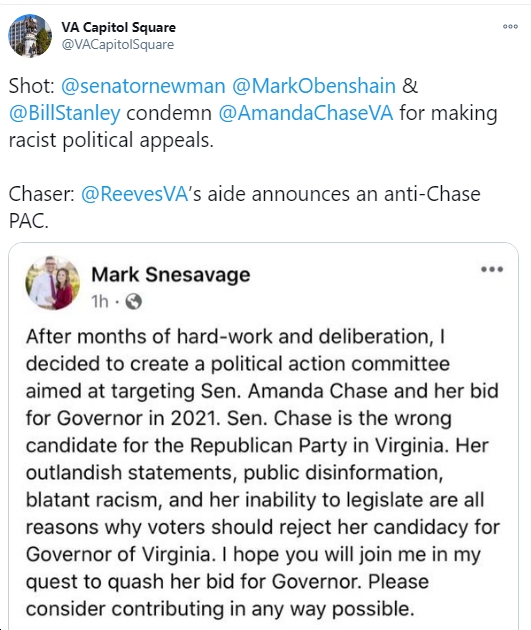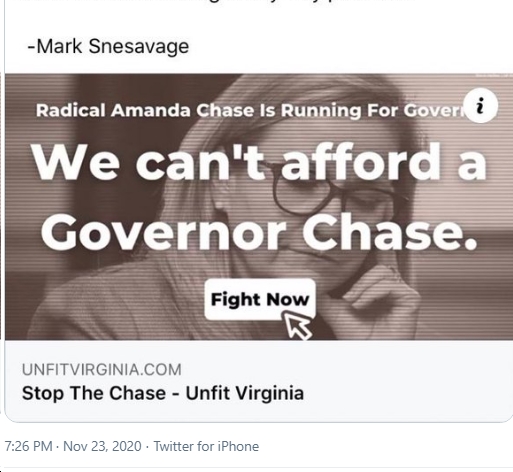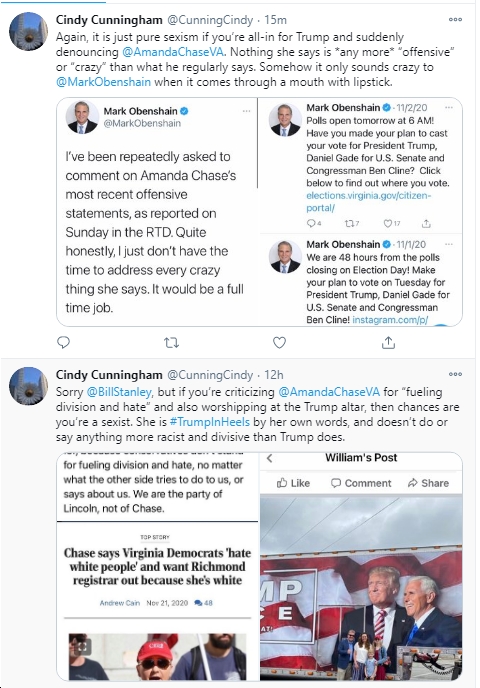 There's no paywall on Blue Virginia, and we definitely want to keep it that way! If you want to help support our work, you can donate here - thanks!
Also, you can
sign up for our weekly email list here
.