Remember what was going on two years ago TODAY? That's right, this: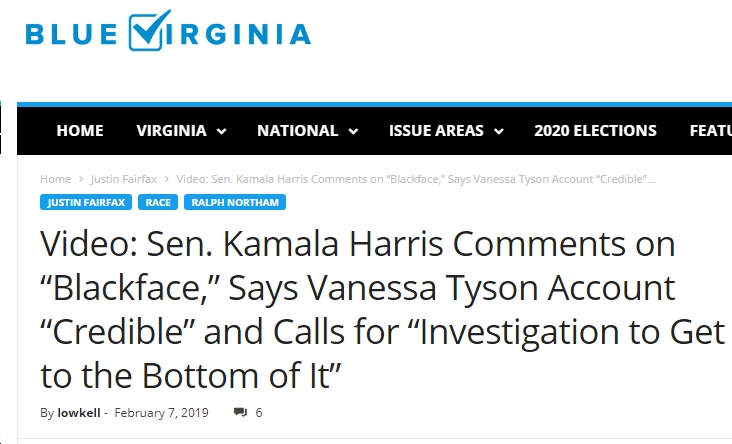 A few more stories from early February 2019 include:
In sum, back in the first week of February 2019 – two years ago exactly – Gov. Ralph Northam was on political life support, with just about everyone calling for him to resign over his "blackface" yearbook scandal. That includes then-Senator-now-VP Kamala Harris, who weighed in that "the history of blackface in this country is the history of racism in this country, the history of slavery in this country, the history of Jim Crow in this country. It is something that is painful for most of us to see to hear about and to think about and it is for that reason deeply troubling that anyone in the 20th or 21st century would engage in that kind of behavior and it should be taken very seriously."
As we know, Northam didn't end up resigning. But even more astounding, head-spinning, etc. is the fact that not only did Northam *survive* that near-fatal scandal politically, he has arguably become one of the most – if not THE most – consequential governors in Virginia history. Just think about what Gov. Northam has accomplished since February 2019, and consider the roles of both chance and skill in determining one's fate.
First, perhaps Northam would have resigned, if a scandal hadn't enveloped Lt. Gov. Justin Fairfax at the same time? Would a Gov. Fairfax have governed similarly to Gov. Northam? How would things have played out from February 2019 to February 2021? We'll never know, but maybe someone (a la Harry Turtledove) can write an alternate history novel at some point about it? LOL
Without Donald Trump precipitating a massive "blue" backlash, Democrats almost certainly would NOT have taken back the Virginia General Assembly in November 2019 (after picking 15 House of Delegates seats in November 2017). But since Democrats DID take back the legislature, and also controlled the Governorship, they ended up passing literally HUNDREDS of pieces of progressive and environmental legislation, from voting rights to criminal justice/policing reform to clean energy to ERA ratification to gun control to…you name it, basically. The fact is, almost any ONE of those areas would have been significant in and of itself, but add them all up, and it alone makes a strong argument for Gov. Northam – who signed all those bills into law – being one of the most if not THE most, consequential (in a good way!) governors. Amazing.
Add in the COVID-19 pandemic, the fact that we have a physician – Dr. Northam – as governor, and the Northam administration's response (whether you think it's been great, "meh," bad or whatever) and it really pushes Northam into historic territory. Again, amazing.
Finally, note that Northam helped fight back against Trump, from back in the spring of 2017, when Northam correctly pegged Trump as a "narcissistic maniac," to Northam sending Virginia's National Guard troops to help save the U.S. Capitol from violent insurrectionists on 1/6/21. I mean, think about all this, and imagine if ANYONE had predicted it back in early February 2019?!? They would have been laughed at, called crazy, etc. And yet…they would have been right! Wild.
P.S. Unfortunately, Governors Warner, Kaine and McAuliffe didn't have Democratic control of the General Assembly, so were extremely limited in what they could accomplish, at least via legislation. Kaine was also hit with the "Great Recession," as was Gov. McDonnell, which limited both of their governorships fiscally speaking. Of course, the "Byrd Machine" (starting with Gov. Harry Byrd from 1926 to 1930) was powerful and consequential, but unfortunately, a lot of it/most of it – segregation, "Jim Crow," "massive resistance," etc. – was very, VERY bad. In stark contrast, what Northam and the Democratic General Assembly have accomplished has been overwhelmingly POSITIVE…