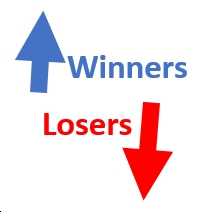 Here are a few winners and losers  from yesterday's primary elections that I believe are worth highlighting. Note that this list isn't even close to comprehensive – nor is it intended to be (in part because it could go on for days…and at some point, enough is enough, lol!) – so please add winners and losers of your own in the comments section. By the way, it's important to point out that you can be a "winner" even if you're a right-wing Republican (e.g., McDonnell and Cuccinelli in 2009 were huge "winners," even though they completely suck!) or whatever, and that you can be a "loser" even if you're my favorite Democrat in the world, because in this context "winner" and "loser" is all about whether someone "won" or "lost" politically in this election cycle, not whether that makes me happy or not or whether it's normatively a "good" or "bad" thing, per se.  With that…on to the Winners/Mixed/Losers from the June 8 Virginia primaries.
P.S. I also asked a bunch of people for their "winners and losers" suggestions, and got some good ones…some of which overlapped with mine. Thanks to everyone who contributed to this list! 🙂
Winners
Speaker Eileen Filler-Corn: As her spokesperson, Kunal Atit, put it to me last night, "For too long Eileen Filler-Corn has been an underestimated presence in Virginia politics, tonight shows that she is undeniably a force to be reckoned with." I agree 100%, and last night was an impressive case in point, with almost *everything* breaking Filler-Corn's way – her endorsements for governor (Terry McAuliffe), LG (Hala Ayala) and AG (Mark Herring all won easily; the candidates she supported for House of Delegates almost all won (with the exception of Del. Steve Heretick, and she's probably better off without that guy anyway); the slate of Democratic nominees chosen last night arguably gives Filler-Corn her best shot at holding the House of Delegates majority this November; etc. So…great night for Filler-Corn, and definitely a big winner!
Terry McAuliffe's campaign: Winning 62%+ in a 5-way Democratic primary field, in which two of the other candidates – Jennifer Carroll Foy and Jennifer McClellan – were heavyweights by almost any metric, is extremely impressive. From what I saw, the McAuliffe campaign was highly disciplined, professional and effective. Clearly, whatever they were doing worked! Also note, I asked Jake Rubenstein with McAuliffe's campaign who the stars of the campaign were, and he said that McAuliffe himself is the campaign manager, chair, chief strategist, makes all the calls and "ran the campaign from start to finish." Also, McAuliffe's campaign was positive, focused on issues and policy papers, and did not "go negative" on anyone. Finally, it's worth noting that McAuliffe stayed heavily involved after he left the governor's mansion, including helping Joe Biden win Virginia, as well as helping Democrats take back the House of Delegates in 2019, after the "blackface scandal" took Gov. Northam off the playing field to a large extent…
Mark Herring's campaign: Got off to a late start, because Herring himself took a long time deciding whether to run for governor, AG, or what to do. By that time, Jay Jones was already in the race, with money and endorsements. So…Herring's campaign had to play catch-up from there, while also dealing with the fact that Jones raised a ton of money, including from Clean Virginia, Sonja Smith, etc. What Herring's campaign did was to focus heavily on his accomplishments as AG, avoid getting into a back-and-forth with Jones, leverage Herring's ties to other Democratic Attorneys General, etc. And it worked, although not by a landslide, with Herring winning comfortably…by 13+ points. Nice job.
Hala Ayala's campaign: As the saying goes in politics, "when you win you're a genius, when you lose you're an idiot." In this case, Ayala's campaign won, so they're by definition winners, if not geniuses. 😉 Anyway, clearly they did something right to beat a very well-funded opponent like Sam Rasoul…and by a wide margin at that.
Virginia Democratic voter turnout: Despite lots of doom-and-gloom takes about how Virginia Democratic turnout was going to fall off the proverbial cliff in the post-Trump-presidency period, last night almost 500k Dems showed up, which is not much lower than the 550k in the extraordinary June 2017 VA Dem primary, and far higher than turnout in June 2005, June 2006, June 2009, June 2013, etc. Note that only about 30k Republicans voted in their cockamamie "unassembled convention" on May 8, which means that Democratic turnout was like 16+ times larger than Republican turnout. So if you see a "hot take" about Virginia Dems are DOOOOOOMED, how there supposedly was No Enthusiasm, blah blah blah, just ignore it, because the evidence doesn't even come close to bearing that out.
Incumbents/de facto incumbents, with a few exceptions: The winning Democratic candidates for governor and AG – Terry McAuliffe and Mark Herring – were either an incumbent (Herring) or de facto incumbent (McAuliffe), while Hala Ayala was endorsed for LG by Gov. Northam, Speaker Filler-Corn, Majority Leader Herring, etc. As for Democratic House of Delegates incumbents, they almost all won easily, except for two (Mark Levine and Lee Carter) who ran both statewide and for House of Delegates, one (Steve Heretick) who was scandal-tarnished, and one other (Ibraheem Samirah). Other than that, incumbent delegates won…usually by big margins (e.g., Alfonso Lopez with 70%, Kathleen Murphy with 74%, Candi King with 69%, Ken Plum with 77%, Lamont Bagby with 91%, Dawn Adams with 61%, Jeff Bourne with 69%, Kaye Kory with 61%,  Elizabeth Guzman with 54% in a four-way field, etc.)
VA House Democratic Leadership: In addition to Speaker Filler-Corn, folks like House Caucus Chair Rip Sullivan, House Majority Leader Charniele Herring, House Majority Whip Alfonso Lopez, etc. have got to be happy about the results last night, on a number of fronts, with the vast majority of their incumbents winning (and a few who they're probably glad not to have around anymore losing). Also, Republican Chris Stolle losing in HD83 helps tough-district Democratic Del. Nancy Guy, which has to make VA House Democratic leadership happy as well.
Trump-loving/Far-Right candidates: In HD09, conservative Republican Del. Charles Poindexter apparently wasn't conservative enough for today's VA GOP(Q) "base" voter, as he lost to a truly extreme, far-right candidate named Wren Williams. Shudddderrrr. And in HD83, Amanda Chase's attorney (Tim Anderson) defeated relatively normal Republican Chris Stolle for the nomination there. Yes, this party is completely off the deep end. To sum it up, Virginia Democrats favor sensible leadership while Republicans descend deeper  and deeper into the QAnon fever swamps…
 Alexandria Mayor Justin Wilson: Easily defeated former Mayor Allison Silberberg for another term as mayor. The question is, what will Wilson do next politically? Run for Congress at some point?
Alexandria City Council candidates John Taylor Chapman, Alyia Smith-Parker Gaskins, Amy Jackson, Canek Aguirre, Sarah R. Bagley, R. Kirk McPike: Congrats and good luck to all the winners, including newcomers Gaskins, Bagley and McPike and incumbents Chapman, Jackson and Aguirre.
Arlington County Board member Takis Karantonis: In early 2020, everyone who knew Erik Gutshall – including his former campaign manager, Takis Karantonis – was rocked by the news that he had a serious brain tumor. Then, we were rocked some more when Gutshall passed away from the brain tumor. 🙁  So then, a special election had to be held, and at the last minute Karantonis threw his hat in the ring, then won that Democratic nominating contest (over Barbara Kanninen, Chanda Choun and Nicole Merlene) shortly thereafter and was elected to the County Board a few weeks later. A year later, Choun challenged him again, and Karantonis won by a 67%-33% margin. Yep, Takis Karantonis is definitely a "winner!"
Del. Elizabeth Guzman: Made the smart decision to drop out of the LG race and focus on her House of Delegates reelection race, which she then went on to win easily…by 18 points over her main challenger, Rod Hall.
Mixed
The Washington Post's endorsements: Yes, two of the Democrats they endorsed – Terry McAuliffe and Mark Herring – won, but that almost certainly would have happened anyway, and there's zero sign that McAuliffe did better in the WaPo's core readership area than he did in the rest of the state – if anything, he did slightly WORSE than his statewide 62%+ in Arlington (59.4%), Alexandria (59.8%), Prince William (56.3%), Loudoun (61.9%), etc. As for Mark Herring, he definitely did better in NoVA than he did in the state overall, but…Herring's *from* NoVA and Jay Jones is from Hampton Roads, so that's not surprising at all, and may or may not have had anything to do with the WaPo endorsement. As for LG, the WaPo's endorsement of Sam Rasoul seems to have done nothing, with Rasoul losing all NoVA jurisdictions to Hala Ayala. Would Rasoul have done even worse in NoVA without the WaPo endorsement? Maybe, maybe not (we'll never know), but in the end, it wasn't a game changer or even a particularly big deal. Is the WaPo's Virginia endorsement simply not that influential at this point, given the ways people consume media, and given the WaPo's home delivery circulation for a couple decades now?
Gov. Ralph Northam: Endorsed Terry McAuliffe for governor, and McAuliffe won HUGE, with 62% of the vote. Endorsed Hala Ayala for LG, and she won handily as well. As for his AG endorsement of Jay Jones…it almost certainly helped Jones, but not nearly enough, as Herring won by 13+ points. Northam also endorsed Patrick Moran for Alexandria City Council, and Moran finished 11th. So…mixed bag. Of course, putting this in perspective, it's amazing that Northam is as popular, powerful and successful as he's been, just a couple years after the "Blackface scandal" almost destroyed his governorship and political career.
Jennifer McClellan: Only got 11.6% of the vote and finished third in the governor's race, which is not great, but…ran a positive, classy campaign, and I'm told "made a lot of friends and her future is bright."
Dominion Energy – Kind of a mixed bag last night, with one candidate it supported (Hala Ayala for LG) winning easily, while another it supported (Del. Steve Heretick) lost to progressive Nadarius Clark (note: Ben "Not Larry Sabato" firm consulted to Clark's campaign, and I hear did great work), who was almost entirely funded by anti-Dominion forces aligned with Clean Virginia/Commonwealth Forward/Sonja Smith/Michael Bills. Also…in HD02, Del. Candi King – who refused to take a pledge agreeing not to take money from Dominion – won overwhelmingly against Pamela Montgomery, who was heavily funded by Sonja Smith/Commonwealth Forward/Clean Virginia.
Elections Prognosticators: See here for the pre-primary predictions by Ben Tribbett, Chaz Nuttycombe, Matt Colt Hall, Chris Saxman and Blue Virginia. Starting with yours truly…I got the three statewide races right (I had McAuliffe and Herring winning easily, which they did, and "slight-lean Ayala" for LG). Everyone else got the governor and AG races, but had the LG race as a slight lean for Rasoul. As for my HoD predictions, I didn't really miss any of the Democratic ones, but I didn't disagree with a couple on the Republican side, and ended up missing a couple there. For HD50, Ben and I thought it was a tossup, Saxman thought Carter could lose, while Chaz said Carter was "pretty heavily favored." In HD79, everyone thought Nadarius Clark would win or that it would be very close…which is what happened. In HD86, Saxman went with Irene Shin to beat Del. Ibraheem Samirah, and he was right. Ben and Chaz thought Samirah was narrowly favored, while I went with tossup. In HD02, Saxman thought challenger Pamela Montgomery had the edge over Candi King, while Ben, Chaz and I thought King would win – which she did, easily! Matt Colt Hall nailed the HD09 prediction of Wren Williams, and I strongly agreed with him, given how the Trump GOP(Q) is now. In HD45, all of us thought that Del. Mark Levine would probably lose to challenger Elizabeth Bennett-Parker…which he did, although by a bigger margin than I thought would happen. (P.S. Chaz tweeted that he got 20/25 primary predictions right)
PredictIt:  Definitely a mixed bag on this front. With regard to PredictIt, they certainly got Terry McAuliffe's big win right (he was at 99 cents for days leading up to the primary) and also Mark Herring's win (he was also at around 99 cents…although he didn't win as big as McAuliffe did), but they got the top two finishers for LG mixed up (in the end, Hala Ayala won easily, with Sam Rasoul finishing second, not the other way around).
Clean Energy and the Environment: Wasn't a big issue in the primary campaigns, although obviously it should have been. On the other hand, good news for Democrats is also good news for clean energy and the environment, and there was a lot of good news for Democrats last night.
The need for Ranked Choice Voting: I strongly support implementing this here in Virginia, and in this case was very concerned that Democrats could end up with nominees who got only 25% of the vote or whatever. Fortunately, that didn't really happen, as Terry McAuliffe romped, Mark Herring only faced one opponent, and Hala Ayala won by a wide margin (albeit not with a majority, as Ranked Choice Voting requires). So disaster averted, but still…is there any good reason NOT to have Ranked Choice Voting for statewide primaries in Virginia?
Jennifer Carroll Foy: She certainly raised her profile, going from an almost completely unknown delegate who was first elected in November 2017 to being on most Virginians' radar screens. But despite a lot of money raised, many appearances on TV, etc., she only ended up with 19.8% of the vote, 42+ points behind Terry McAuliffe. I've also heard that a lot of Virginia Democrats were not too thrilled with her campaign, which heavily emphasized the need for change from a "status quo" that supposedly wasn't working, but which actually has seen the Democratic "trifecta" pass 100s of pieces of progressive and environmental legislation the past three years.  Also, Carroll Foy resigned her House of Delegates seat to go all-in for governor, and now holds no elected position. Anyway, we'll see what the future holds for Carroll Foy, but as for right now, it seems like a mixed bag politically speaking.
Sen. Scott Surovell: This one's from a contributor – "Scott Surovell won last night, because it's HIS bills that die at the hands of Del. Heretick in Civil Sub every year!!" On the other hand, from another contributor, "Long game Inside baseball losers could be McPike and Surovell since one of them (depending on redistricting) will likely get primaried by JCF."
Jay Jones: He lost by 13+ points to Mark Herring, but he massively increased his name ID and may have set himself up for another run for AG in four years. Stay tuned…
Clean Virginia/Michael Bills/Sonja Smith/Commonwealth Forward: They scored a big win in HD79 with Nadarius Clark over Del. Steve Heretick and another nice win in HD31 with Del. Elizabeth Guzman (although obviously Guzman could have – and almost certainly WOULD have – won anyway). Other than that…not good at all, as MANY contributors told me (almost everyone started off their responses to me that Clean VA was a huge "LOSER") – with lots and lots of money going to Jennifer Carroll Foy for Governor (she got just 19.8%) of the vote, Jay Jones for AG (he got 43% of the vote) and Pamela Montgomery in HD02 (she lost badly to Del. Candi King). Also, Clean VA went all-out against Hala Ayala, including a last-minute $125k digital ad buy bashing her for taking money from Dominion Energy after having pledged not to do so, and….Ayala won easily. Also, note that they had aspirations of taking out Del. Luke Torian, but the candidate they supported failed to get her name on the ballot. Also, as a contributor points out, they "now have no ally in any of the statewides because they missed with the AG too." So basically, they're right on the edge of the "Losers" category, but barely sneak into the "mixed" category because they won a big one in HD79 and also win in HD31.
Losers
Running for two offices at the same time: Two Democratic delegates (Del. Mark Levine and Del. Lee Carter) tried to run both for reelection to their House seats and also statewide (for LG and Governor, respectively), and…they to put it mildly, it didn't work.  In Levine's case, he spent a ton of his own money to finish a distant third for LG while also losing 59%-41% in HD45. Not good, to put it mildly. And in Carter's case, he finished last for governor (with just 2.8% of the vote), while also losing his HoD seat 44%-38% to Michelle Maldonado. (In contrast, Del. Elizabeth Guzman dropped out of the LG race to focus on holding her HoD seat, and she did so by 18+ points over her main challenger, Rod Hall). So basically, it's very difficult to take on two major tasks simultaneously and do them both well…as the Levine and Carter situations demonstrate.
VA GOP Chair Rich Anderson: Anderson was almost unhinged in the closing days of the 2021 VA Dem primary campaign in urging Dem voters to reject Hala Ayala (who defeated Anderson in November 2017, knocking him out of the House of Delegates – and yes, he's still VERY bitter about that!). Of course, when a Republican tells Democrats to do something, many Democrats probably feel like they should do the exact opposite. But regardless, Hala Ayala won easily, presumably making Rich Anderson very sad…lol.
VA GOP: More broadly, the VA GOP really didn't get the results it wanted last night. As UVA Professor Larry Sabato tweeted, "

GOP wanted (1)

@TerryMcAuliffe

embarrassed with under 50%. In fact he's topping 60%. (2) A low-turnout primary. No exact % yet but turnout is clearly NOT low. (3) Undiversified D ticket. Not as diversified as it could be but Hispanic woman leads for LG. Dems fine." Also, Chris Stolle lost the HD83 nomination to the far, FAR less electable Tim Anderson, making Del. Nancy Guy (D-HD83) very happy, I presume.  So much for the VA GOP's fantasies…now on to kicking their extremist/Trumpist butts.

House Republican Leader Todd Gilbert: This right-wingnut's dreams of becoming Speaker were not helped last night, for reasons discussed above.  For Virginia's sake, let's make sure Gilbert doesn't become Speaker this November, or ANY November.
Norfolk City Councilwoman Andria McClellan: Losing the LG's race is one thing, but she also lost badly to Hala Ayala in her home region of Hampton Roads…including even her home city, Norfolk, where she's on the city council. Not good – at all.
LG Justin Fairfax: From "rising star" in 2017 and almost becoming governor in 2018 to…getting just 3.6% of the vote in the 2021 Virginia Democratic LG primary is not a good political career trajectory. Unfortunately for Fairfax, the allegations against him by two women just sort of hung out there, without any real chance of definitively proving or disproving them, and pretty much killed his political career.
Allison Silberberg: Has now lost twice for Alexandria Mayor to Justin Wilson, this time by about 15 points. Maybe time to focus her political energies in other ways than running for Mayor?
Chanda Choun: Has now run for Arlington County Board 3+ times – in 2018 (losing 61%-39% to Matt DeFerranti), twice in 2020 (ran against Libby Garvey for a while, then dropped out to run for an open seat, which he lost to Takis Karantonis), then this spring, losing again to Karantonis (this time by a 67%-33% margin). Maybe time to focus his political energies in other ways than running for office?
Fairfax County Supervisors endorsements for LG: A bunch of them – including Chair Jeff McKay – endorsed Sean Perryman for LG, but in the end, Perryman finished fourth in Fairfax County, with just 10.4% of the vote. Doesn't seem like the Fairfax County supervisors' endorsements carry much (any?) weight.
Local Media Coverage of Virginia's Democratic primaries: Unfortunately, state/local media has been in decline for years, and that includes its coverage – or lack thereof – of local and state politics. That was certainly reflected in this cycle's generally shallow, superficial, spotty, "horse race" coverage by the corporate media of the Democratic statewide and (particularly) House of Delegates/local primaries. Sad…
"Left" candidates: There were several of these running for Democratic nominations both statewide and in the House of Delegates, and almost none of them won. That includes self-described socialist Lee Carter, as well left-wing challengers to delegates like Alfonso Lopez (who ended up with about 70% of the vote), Kathleen Murphy (who got 74% of the vote), Jeff Bourne (got 69% of the vote), etc.  Also, in the statewide races, the more "left" candidates – Sean Perryman for LG, Lee Carter or Jennifer Carroll Foy for governor – didn't do that well, with Carroll Foy only getting 19.8% of the vote despite raising a LOT of money. So basically, the Virginia Democratic electorate has always been pragmatic, "centrist," "moderate," etc., and most certainly NOT left wing. And nothing seems to have changed in that regard as of June 2021, at least based on last night's election results.
"Problem Children": I got variants of this from contributors, that "problem children" were the "big losers" – as one person put it, "where the difference between the incumbent and the challenger wasn't substance but style." Several contributors specifically mentioned Lee Carter, Ibraheem Samirah and Steve Heretick on this one.
UPDATE 6/10: Thanks to Adam Siegel for this suggested addition to the "Losers" list.
"I think a loser would be 'Democratic Party debates on/run by Fox/Sinclair outlets' considering the numerous questions that came essentially right out of GOP talking points in multiple debates. Not sure what the answer is, considering the media landscape in Virginia, but no one (okay, no Democrat) can see having Democratic Party debates being moderated by (extreme … in some cases) right wing outlets/personalities is appropriate (or good) for Democratic Party primaries (and, well, not exactly good for general election either)."