How did the polls and prognosticators do on the Virginia 2021 election? Note that the almost-final results have Glenn Youngkin beating Terry McAuliffe by about 2.4 points (50.8%-48.4%); Winsome Sears beating Hala Ayala by about 2.1 points (51.0%-48.9%); and Jason Miyares beating Mark Herring by about 1.3 points (50.6%-49.3%).  As for the House of Delegates, it looks like Democrats will end up with 48 or 49 seats and Republicans with 51 or 52 seats. With that, see below for the polls since mid-October:
Several right-wing polling outfits – Trafalgar, Insider Advantage, co/efficient, and KA Consulting –  for whatever reason(s) nailed Youngkin's two-point margin.
Echelon Insights had Youngkin winning by 3 points, which is very close to the final result.
Fox's final poll had Youngkin winning by 1 point among registered voters, which was pretty close to his 2.4-point margin, but Fox's poll was far too bullish on Youngkin (+8 points) when it came to "likely voters."
Research Co. had Youngkin winning by 1 point, which is very close to the final result.
The WaPo/Schar School poll had McAuliffe winning by anywhere from 1 to 4 points, which is definitely not correct.
VCU's final poll had McAuliffe winning by 3 points, which is also definitely not correct.
CNU's, Roanoke College's and Suffolk University's final polls  all had McAuliffe winning by 1 point, which is not correct.
Emerson College had the race tied, which is not correct, but better than the ones showing McAuliffe winning.
Data for Progress' final poll had McAuliffe winning by 5 points, which is definitely not right. And Fox's penultimate poll had McAuliffe winning by 5 points (likely voters) or 11 points (registered voters)…neither of which was even close to accurate.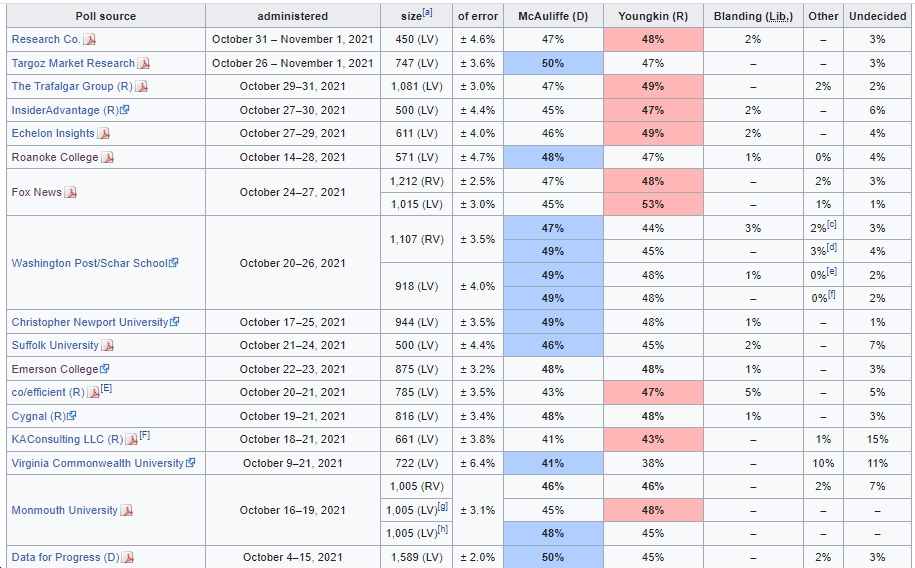 As for the prognosticators:
Sabato's Crystal Ball put out its final prediction the day before the election, switching from "Leans Democratic" to "Leans Republican" for the governor's race, adding: "Our sense is that the race has been moving toward Youngkin, in large part because of the political environment. McAuliffe's Trump-centric campaign also just doesn't seem as potent in a non-federal race with the former president no longer in the White House."  That pretty much nailed it.
Cnalysis' final ratings had the governor's race as "Tilt Republican," which nailed it. Cnalysis had the LG and AG races as "Tilt Democrat" and "Lean Democrat," respectively. Neither of those were quite right. As for the House of Delegates, cnalysis' final rating was "Toss-Up," adding, "there's a 47.6% chance of a GOP majority, a 46.7% chance of a DEM majority, a 0.04% chance of a GOP supermajority, and a 5.68% chance of a tie, which would result in a power-sharing agreement between both parties." That's about right!
Harvard Political Review had its final forecast as follows: "Our forecast predicts that Glenn Youngkin will win the Virginia Governorship with a two-party vote share of 52.1%. The 95% confidence interval for this prediction is (43.1%, 61.1%), meaning that we are not confident that Youngkin will win the race; there is substantial uncertainty in our model. Our simulations predict that his chances of winning the race are 67.9%. Even though this may sound like a solid win, it is truly anything but. McAuliffe's nearly 33% chance of winning, according to our simulation, is still a large probability, and thus we cannot rule out the possibility that McAuliffe pulls away with a win." Not a bad forecast at all!
The Cook Political Report had the Virginia governor's race at "Toss Up," which actually underestimated Youngkin if anything.
Back in May, Dave Wasserman of the Cook Political Report was criticized by many for tweeting, "I think Republicans actually have a good chance to win the VA governor's race this year. We'll see." Turns out he was right!
Ryan Matsumoto had a final prediction of "McAuliffe by 2.5 points. This is a very competitive race and both McAuliffe and Youngkin have solid chances of winning. But I think McAuliffe may have a slight edge and will win by a similar margin to his 2013 race." Instead, Youngkin ended up winning by almost 2.5 points.
InsideElections' final prediction changed from "Tilt Democratic" to "TOSS-UP."
Ryan Brune's final predictions were: "Governor: D+0*  Lieutenant Governor: D+2 Attorney General: D+3 HoD: Rs gain 3 seats. They gain the 12th, 75th, and 10th. *Tossup, but I pick TMac."  In the end, Republicans swept all three statewides, and Republicans apparently gained 7 seats in the House of Delegates.
Jack Kersting's final predictions were: Youngkin 50.9%-McAuliffe 49.1%, which is…almost exactly right. Nice job!
PredictIt had Youngkin as a favorite, although not an overwhelming one by any means, heading into election day. On election day itself, McAuliffe surged for a few hours on some encouraging early vote numbers from "blue" areas, before falling back again and never recovering.
I'm sure I missed some forecasts; please feel free to mention them in the comments section. Thanks!