Home
Authors
Posts by WaynePowellforVA
WaynePowellforVA Recently, Rep. Eric Cantor has been flooding the airwaves and people's mailboxes with attack ads aimed at Wayne Powell, the candidate that Cantor's own senior strategist called the congressman's
"most serious opponent to date."
Beyond mailers and television ads which cite Cantor's own website as their factual source (something every freshman English class warns against), Mr. Cantor has also gotten some mileage out of a subpoena he attained that requests that Wayne appear in court to answer for a bar complaint.
Forget for a moment that the original complaint from 2011 was tossed out by the presiding judge, or that the individual that filed this recent complaint is a former Republican staffer. What we would like to know is how in the world did Cantor get his hands on a subpoena before it had even been delivered to its intended recipient?
A willingness to abuse power and the desire to grasp at straws is a dangerous combination, it seems.
Speaking of grasping at straws, with all of the noise the Cantor's camp has made these past few days over trumped-up and dubious claims of impropriety, we were curious if all of Cantor's hot air was just an attempt to dissuade inquiring minds from looking into his own legal history.
And we're glad we did. We just launched a brand-new ad this morning, entitled "Women's Health." In it, a woman sitting in an examination room notices a large cardboard cut-out of majority leader Eric Cantor smiling down at her.
"What's he doing here?" She warily askes her doctor.
"Eric Cantor?" The Doctor replies. "He thinks members of Congress like him should make your family planning decisions."
Unfortunately, this doesn't apply to just him. Mr. Cantor is also a-okay with Members of Congress like Todd Akin and Richard Mourdock having a say as well.
Now Todd Akin has drifted from the public consciousness somewhat following Richard Mourdock's jaunt down bonehead lane. But we all know him. He's the man who made "legitimate rape" a household term. And he's also the man with which Eric Cantor joined to cos-sponsor or support 32 anti-choice, anti-women, anti-sense bills in the House.
And then there's Richard Mourdock, the male politician who stood before a crowd of people and proudly asserted that if a woman were to get pregnant as a result of a rape, it was "God's will." The same politican who Eric Cantor refuses to denounce.
With company like this, it's a wonder than Eric Cantor can even claim to support the women of his district with a straight face. After all, unlike Mitt Romney and Paul Ryan, Eric Cantor hasn't sought to distance himself from either Akin or Murdock one iota.
Then again, it's hard to speak up for what's right when you've based your career on silent, cowardly ascension.
Which brings us back to our new ad. Eric Cantor's voting history, his co-sponsorships and his lack of character when confronted with extremists in his own party paint a very clear portrait of an ideologue who's antiquated views have no place in the 21st century.
Wayne Powell released this ad because he is the exact opposite of Eric Cantor. He believes that women are smart enough and responsible enough to make their own decisions. He believes that the government has no place in a woman's personal healthcare deliberations. And he believes that we won't get anywhere as a nation if we continue to demonize and scapegoat more than half of our population.
Our country is facing a crisis right now. Too many powerful men who call Eric Cantor "leader" are using their influence to punish, to denigrate, and to shame. But with Wayne Powell's help, we can begin to stem this awful tide. What a way to end the "O Cantor, Where Art Thou?" barnstorm tour of the 7th District! The good folks in Glen Allen sure know how to make a congressional candidate, a bluegrass band and a host of volunteers feel right at home.
Local bluegrass outfit The Hotseats opened for Dr. Ralph Stanley, and they did their elder proud. They performed a series of Virginia-inspired bluegrass tunes that perfectly prepared the audience for the soulful and weary notes that have become the hallmark of Ralph Stanley and the Clinch Mountain Boys.
By the time Wayne Powell took the stage, the room was more than warmed up; it was on fire! And once Wayne began his righteous tirade against the corporate interests that Eric Cantor so gleefully endorses, the crowd was on their feet and cheering.
Ralph Stanley closed the show by throwing on a banjo and performing a nimble, high-speed banjo riff, the kind of playing that shouldn't be possible for an 85 year old.
The show at the Glen Allen Cultural Arts Center was the ideal way to conclude our district wide tour. Across six different towns, we spread the message of social justice and economic fairness. We argued for women's reproductive rights and we argued against corporate plutocracy.
Historically, the whole point of a barnstorm was to take your campaign to the people. To be held accountable by the citizen's who's vote your seeking and to connect with the folks you hope to represent.
Our goal was to bring an old-fashioned, down-home barnstorm to the 7th District.
And today, that's exactly what we did. There must be something in the water out in Goochland! These folks packed the White Hawk Music Cafe, cheered through Dr. Ralph Stanley's first set, then demanded another round of music. They even convinced the legendary bluegrass star to pull his grandson Nathan on stage for a rousing duet. The attendees just couldn't get enough.
But before the guys even took the stage, Wayne was busy taking his message to the people. While the band prepped, Wayne did an impromptu Q&A session with the capacity crowd. He answered questions, discussed issues, and connected with voters in a way Eric Cantor never has.
Following the extended concert and another quick word from Wayne, Dr. Stanley signed autographs, took pictures, and even signed one guest's banjo.
This penultimate show in Goochland was a wonderful example of the effects of a people-powered movement. In the words of Wayne, "This is a bluegrass-roots campaign."
We're back on the bus now, only a few miles seperating us from our final show in Glen Allen. We can't wait! We just finished our third stop on the "O Cantor, Where Art Thou?" Tour, and we're ready for more! We just pulled out of the Walton Park in the great town of Mineral, Virginia.
Refreshments were provided by the Louisa Democratic Committee. Any extra energy was provided by Dr. Ralph Stanley and his Clinch Mountain Boys. And they produced that in abundance!
The boys put on quite a show on that old-fashioned, wooden stage, surprising the folks with an impromptu performance of the fan-favorite "Man of Constant Sorrow." Wayne's spirited speech brought the whole event home, hitting Cantor hard for his refusal to help the people of Louisa following the earthquake that damaged local schools and businesses.
We're more than halfway done with the tour, and we couldn't be happier with the outcome. This tour is, and always has been, about you, the People of the 7th District. We answer to you and no one else.
We're currently on the road to Goochland. See you there! The "O Cantor, Where Art Thou?" Tour moves ever onward! We're hitting the road after a wonderful outside show in downtown Culpeper. Even in this unseasonably hot weather, nearly 150 supporters filled the makeshift amphitheater and waited in anticipation for Wayne Powell to speak and Dr. Ralph Stanley to play.
Dr. Stanley and the Clinch Mountain Boys did not disappoint. In between stirring renditions of "O Death" and "Amazing Grace", Dr. Stanley stopped for a moment and asked the crowd to vote for Wayne.
"Will you do that for me?" He asked. The crowd responded by applauding even louder than they had been.
When Wayne took to the microphone, he noticed a lone Eric Cantor supporter, holding a sign that read "Culpeper is Cantor Country."
"This isn't Cantor country," Wayne roared. "This is YOUR country and YOUR district." The attendees made more noise than they had made all day.
We met a lot of great people and spoke to a lot of dedicated supporters in Culpeper. This campaign is about taking our case to the people, and that's why we're on this tour.
Our next stop is in Mineral, so stay tuned! The "O Cantor, Where Art Thou?" Barnstorm tour of the 7th Congressional district is well under way. It's only 11:30 a.m., and what a day we've already had!
We kicked off the second day of our tour in Ashland at the Hanover-renowned Ashland Coffee and Tea Company. By showtime, the room was brimming over with 136 guests clamoring for Dr. Ralph Stanley and Wayne Powell.
By the time the bluegrass titan took the stage with his Clinch Mountain Boys, it was clear Dr. Stanley was not only made for spreading the gospel of bluegrass, but for musical campaigning as well.
"Will you vote for this man?" Dr. Stanley asked the capacity crowd, pointing to a seated Wayne Powell. He was met with an overwhelming chorus of cheers and applause.
And once Wayne took the stage, it was clear the room knew exactly which box they were going to check in the voting booth on November 6.
We're so excited to bring our message of social justice and economic fairness to the people of the 7th District. And an old-fashioned barnstorm is just the way to do it.
Our next stop is in Culpeper. See you then! By now, the news has made the rounds that congressional candidate Wayne Powell and bluegrass icon Dr. Ralph Stanley are joining forces for a barnstorm of Virginia's 7th District. The retired colonel and the living legend will make their way from town to town, the latter making his case on a banjo while the former makes his case to the people.
But why a barnstorm?
The answer is simple, really. The barnstorm is an American tradition. A relic of a bygone era when being a politician in the south meant standing on the back of a truck, sleeves rolled up, vowing to fight on behalf of all the farmers and mill workers before you. Back when you had to rely on the intelligence and trust of the people to win, not on billionaire donors half-way across the country.
In short, barnstorms and similar events were a way to demand action from your representative. It kept them honest, it kept them open, and it kept them coming back.
Now try to imagine Eric Cantor, with his immaculate hair and stunningly tailored suits, standing on the back of a truck beneath the summer sun, roaring for economic fairness and social justice.
If you can't imagine that scenario, join the club.
The fact is, Eric Cantor isn't a man of the people. Sure, he pays lip-service to his constituents during debates and while pontificating from the podium, but as the old saying goes, "Actions speak louder than words."
And boy, are his actions loud. In the past seven months alone, Mr. Cantor has attended 34 separate fundraisers, none of which were located within the 7th District, and only one of which took place in Virginia. He hasn't held a public event in his own district since March. And just yesterday, while we were preparing for the barnstorm tour, Eric Cantor was attending a $1,000 VIP champagne fundraiser in Florida.
Luckily, we have a candidate like Wayne Powell. A candidate who is willing to mount a stage, address a crowd, invite them to air their grievances and roar on their behalf, then hop into a car bound for another town with another crowd of disaffected voters hungry for change and do it all over again.
And luckily we have a supporter like Dr. Ralph Stanley. With nearly 70 years of experience perfecting a genre of music birthed from rural American culture, Dr. Stanley knows a thing or two about what it means to speak to, and advocate for, the people. His endorsement speaks volumes.
So why are we holding a barnstorm, you ask? Because Eric Cantor never could.
And it's high time someone did.
Tour times and locations:
Tuesday, Oct. 23:
Gordonsville, Virginia, 7PM
Magnolia Farm
17452 Lovers Lane
Wednesday, Oct. 24:
Ashland, Virginia, 8:30AM
Ashland Coffee & Tea Company
100 North Railroad Avenue
Culpeper, Virginia, 12PM
Culpeper Depot
109 Commerce Street
Mineral, Virginia, 2PM
Walton Park
E. 5th Street
Goochland, Virginia, 4PM
White Hawk Music Cafe
1940 Sandy Hook Road
Glen Allen, 7PM
Glen Allen Cultural Arts Center
2880 Mountain Road If you liked our first "Who's at the Door" TV ad, you'll love our new radio spots!
Released today, these two ads reflect an uncomfortable truth that House Majority Leader Eric Cantor would rather ignore: Wayne Powell is an independent-minded, fiscally-conservative Democrat who just might be your kind of Republican.
The radio spots feature two conservative neighbors discussing the upcoming Congressional election. While not a fan of traditional Democrats, the two Republican men decide that party just isn't as important as common-sense leadership, and they agree that Wayne Powell is the man for the job.
The content of the radio spots is indicative of a wider trend that we have been encountering for months, from Culpeper to Chesterfield. Whether its speaking to voters over the phone, in their homes, at events or even on the street, the response is often the same: Eric Cantor is unpopular with folks of all political stripes.
As Wayne's campaign manager Christian Rickers put it, "These ads reflect what we are hearing all over the 7th District. Not only independents but Republicans as well are not happy with Cantor. They're telling us that he represents greed and not them."
Eric Cantor has tried and failed to paint Wayne as an unthinking liberal, but the people of the 7th District are smarter than that. They value results and engagement over cynical spin and party loyalty.
After all, as we've said before, this campaign isn't about red or blue, it's about red, white and blue.
The two ads will air in heavy rotation across the district. Listen to them here, then share them with your friends on Facebook and Twitter.
Spot 1 - "Sign": https://www.youtube.com/watch?...
Spot 2 - "Canvass": https://www.youtube.com/watch?...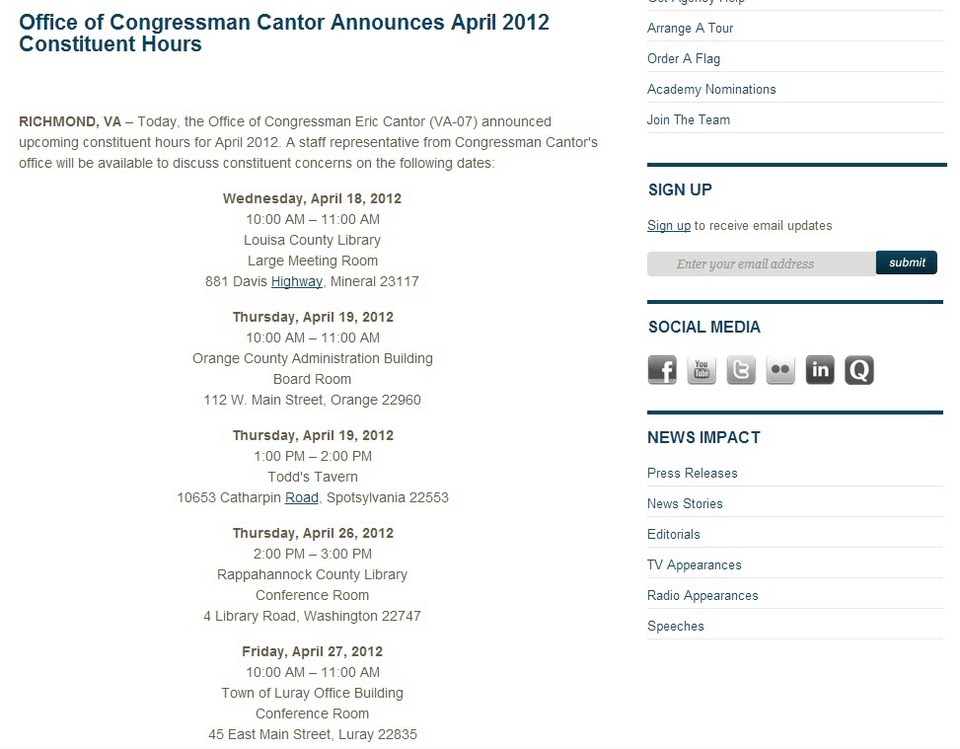 As many in the news media have reported, the Oct. 1 debate between Wayne Powell and Eric Cantor had its fair share of memorable moments. Words like "heated", "slams", and "zinger" became the media's go-to language to describe this contentious one-off meeting. But all too often, the specifics of a debate are washed away in the unavoidable sea of buzz-words and oversimplification.
Which is why we're taking the time to revisit the moment in the debate when half the crowd laughed at Eric Cantor.
At the 59 minute mark in the C-SPAN2 video, following a lengthy and condescending dissertation on the Department of Defense, Cantor smiles and says the following:
"The fact is, I don't think Mr. Powell understands what being a Congressman is about. Because you do your best work when you're at home with your constituents..."
That was when half the room erupted in laughter. You can't hear it well in the video, but you can clearly see just how much of an effect the honest reaction of an indignant citizenry knocked Cantor off his game.
Claiming to be an authority on congressional duties is bold talk for a man notorious for ducking the people of his district. It's common knowledge that calls to Cantor's district offices often go unanswered, appointments are near impossible to make, and he's unwilling to hold free-and-open town halls.
But don't take our word for it. Read this firsthand account first posted on Blue Virginia of one 7th District woman's attempt to have a simple discussion with Mr. Cantor: https://bluevirginia.us/dia...
Unfortunately, this issue of absentee representation isn't an isolated incident. Check out the "Constituent Hours" section of Cantor's official House website, which lists dates and times that he will be available to residents of the district. It's not often an opponent makes your point for you: http://cantor.house.gov/press-...
The site proudly lists Cantor's constituent hours through late April...and then stops. Unless the GOP Leader's office functions within some kind of Republican wormhole, this webpage hasn't been updated, added to or in any way changed in nearly six months. So if you're interested in meeting with a "staff representative" to discuss the issues that mean the most to you, tough luck. Eric Cantor has a CEO who's hand he needs to re-shake.
Is this the kind of engagement Eric Cantor was talking about? Is this the type of on-the-ground hard work he was pontificating about when he gleefully chastised Wayne Powell?
If this is what Mr. Cantor thinks it means to be a Congressman, we're glad Wayne doesn't understand.