Home
Authors
Posts by glenbesa
glenbesa Hurricane Sandy's proximity to Halloween is no doubt responsible for the nickname Frankenstorm. But, the word wits that came up with that clever name may have been more descriptive than they knew.
In the classic story of Frankenstein, a human creation has gotten out of control. In the case of Frankenstorm, human caused climate change is having the unintended consequence of more frequent, more severe storm events to catastrophic effect. If you didn't live in Virginia when George Allen was Governor you may not understand just how anti-environmental he is. In the US Senate he had an abysmal record but those were only votes.
It was as Governor where George Allen demonstrated his utter contempt for environmental laws. Right after he was sworn in as Governor, he gutted the Virginia Department of Environmental Quality. Allen, bringing in what we then caused "wise users" at the time to run this key environmental agency is today's equivalent of putting the Tea Party in charge. There were mass firings and mass resignations of agency staffers who refused to follow orders to ignore pollution violations.
Allen also interfered with an on going EPA lawsuit against Smithfield Foods for water pollution. The CEO of Smithfield at the time, Joe Luter, gave Allen a $100,000 campaign contribution and after Allen was elected he had the state intervene in that EPA lawsuit, effectively neutralizing federal action against Smithfield. As unethical as this may sound, it apparently is not illegal in Virginia where there is no limit on campaign contributions.
The Allen Administration even lied to the US EPA about the status of data collected on toxic emissions. When the EPA sought the toxic pollution data from the state, the response was that they did not have it, all the while it was actually locked in safe at the DEQ.
If elected to the US Senate, George Allen will continue his war against the environment, attacking EPA funding and regulations and voting as he has before to open the Arctic National Wildlife Refuge to oil drilling. We must not let this happen.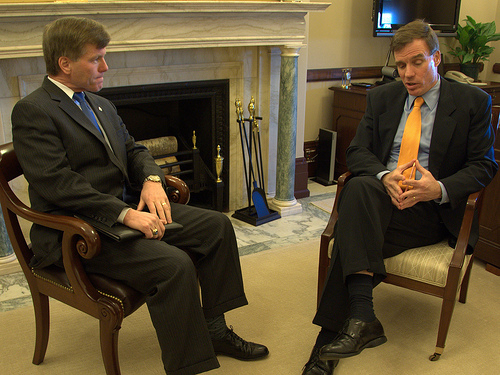 I got an e-mail this morning from a progressive group that in reference to the Senate passage of President Obama's tax package started out with: "Holy cow, the Senate actually PASSED something!" then urged me to thank Senator Warner for his vote.
Yes, we should thank Senator Warner for his vote with the President on this critical issue because lately he as been voting against the President on important environmental bills. So when you thank Senator Warner for his vote on the tax bill, I suggest you also express your disappointed with his recent votes against the President. Note that these votes against President Obama are coming in the middle of an election year in the critical swing state of Virginia--not very helpful to the President's re-election effort.
Senator Warner voted against not only the President but against children when he sided with the outspoken Oklahoma climate change denier, Senator Inhofe and the coal industry to strip the EPA's authority to regulate mercury pollution from coal fired power plants.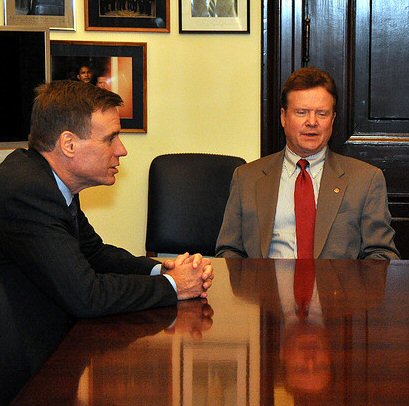 Predictably, the
GOP applauds Warner's anti-environmental vote
:
Both Democrat Virginia Senators And Three Other Democrats Joined 41 Republicans Supporting A Measure To Overturn New Obama-EPA Regulation That Targets Coal-Fired Power Plants
All of us should be deeply disturbed at the inexcusable vote yesterday by Senator Mark Warner (and Jim Webb) against the US EPA and for Big Coal when he voted with Oklahoma climate denier Senator Inhofe to roll back the EPA's new rule limiting mercury emissions.
Putting the interests of Big Coal and companies like Dominion over the well being of children whose intellectual capacity will be harmed for life by mercury is unacceptable. This vote was a breach of the public trust.
One has to question why Warner would vote against President Obama in an election year in our critically important swing state of Virginia. I suggest that you call his office at 202-224-2023 and ask him. I've never wanted to visit Saudi Arabia or other countries that treat women as chattel, and I view their policies that severely limit women's rights as a gross violation of human rights. Why do we buy oil from these sexist tyrants?
Regrettably, it now seems that Virginia, USA is on the verge of going further than even some of these anti-woman states by adopting legislation that would require a woman to under go a medical procedure with a trans-vaginal probe without her consent if she is seeking an abortion.
From my law school days, I recall the common law definition of "rape" as non-consensual penetration. It would seem that the legislators who are voting for this bill to mandate a trans-vaginal ultra sound and the Governor who promises to sign it are guilty of and give new meaning to the term, "statutory rape".
With legislation like this working its way through the General Assembly it may be time for a Virginia Spring similar to the peaceful uprisings that have spread across the Middle East. A vigorous, healthy democracy with active voters is our best insurance against the special interest money of polluters who actively lobby to weaken our clean air and clean water standards. For that reason the Sierra Club considers voters' rights as environmental rights, and this legislative session we will oppose bills that attempt to restrict citizens' access to the ballot.
Requiring photo identification to vote is an effort by Republicans to suppress the vote in Virginia in advance of the November 2012 election. SB 1 (by Senator Steve Martin) and HB 9 (by Del. Mark Cole) would require photo ids rather than other forms of identification like a voter registration card, a social security card or even a birth certificate. Ostensibly, this is to guard against voter fraud even though there is no evidence of voter fraud linked to false IDs.
On the other hand, as many as 11% of American adults do not have a photo ID, many of them elderly. When you stop driving, your license expires and many former drivers have no need to secure a new photo ID. These citizens and registered voters will now be denied the right vote the next time they go to the polls.
For all Americans who believe in democracy this legislation is a affront to our basic right to vote, and you should let your state Senator and Delegate know you disapprove. EPA's first inventory of Greenhouse Gas Emissions finds Dominion-Virginia Power to be the state's Biggest Climate Change Polluter
Following a year of bizarre and destructive weather, the US EPA has just released its first inventory of large emitters of greenhouse gas emissions. The data available on a searchable website shows Dominion-Virginia Power to be the state's largest emitter of greenhouse gases that cause climate change. The top three polluters in Virginia were all Dominion Virginia Power coal-fired power plants: Chesterfield, Clover, and Chesapeake Power Stations.
"We are pleased that Dominion is proposing to retire several of its oldest and dirtier coal units," said Glen Besa, Virginia Director for the Sierra Club. Last September, Dominion announced the retirement of both the Chesapeake and Yorktown coal plants which among the top ten polluters in Virginia.
"The retirement of the Chesapeake and Yorktown coal plants is welcome news except that Dominion has announced its intention to replace that electricity with new gas-fired power plants," said Besa. "Natural gas is cleaner than coal but it still is a major source of greenhouse gas emissions. For example, also in the top ten of the state's biggest polluters is the Tenaska Virginia Generating Station, a gas fired power plant in Fluvanna County ranked at number nine." Just yesterday, Governor Bob McDonnell announced that he was throwing more state money at the Coalfields Expressway in Southwest Virginia, a boondoggle road project of the first order. Worse yet it is an abuse of the state government's power of condemnation to benefit coal companies like Alpha Natural Resources. Local property owners will see their land condemned so that coal companies can get at the coal under their land using the pretense of building a road. Governor McDonnell is directing VDOT to condemn land for the benefit of private coal companies.
The proof of this abuse is evident in the Governor's announcement in which he discloses that the developer of the Coalfields Expressway is not a highway contractor but the coal company Alpha Natural Resources. It is also important to note that Alpha Natural Resources made over $270,000 in campaign contributions in 2011, $192,000 to Republicans including $50,000 to Governor McDonnell's Opportunity Virginia PAC and $77,000 to Democrats. This is the kind of shameful abuse and back dealing that erodes public confidence in the integrity of government.
For additional details see here.
Glen Besa Demonstrate outside Eric Cantor's office
WHERE: Rep. Eric Cantor's District Office
4201 Dominion Blvd. #110, Glen Allen, VA 23060
WHEN: Tuesday, 2 Aug 2011, 12:00 PM
WHAT: Join us for a protest against the GOP's reckless debt-ceiling posturing at Rep. Eric Cantor's District Office on Tuesday at noon. We'll let Rep. Eric Cantor know that we're holding him accountable for leading our nation off an economic cliff.