 Yesterday State Senator
Chap Petersen posted some thoughts on Facebook
about what he called "the latest scandal du jour in the VPAP clips." It was a rather nonchalant introduction to some surprising comments:
I've known Paul Reagan for fifteen years, as an official for Mark Warner, Jim Webb and now Terry McAuliffe. (Back in the 90′s, he also served on the Consumer Protection Commission, where I used to appear as an attorney). I regard him as one of the most honest and reputable people I've met in Virginia. Nothing he said or suggested with Senator Puckett has changed my opinion. I'll leave it at that.
Because, as we all know, people with long and distinguished careers in public service never wreck those careers and self-destruct by breaking the law. No, that
never
happens.
The next "thought" Senator Petersen rolled out was this:
The Puckett investigation is a road to nowhere and we're slowly getting there. While Phil's actions in resigning just before a key vote were wrong (in my humble opinion), that is a matter between him and his friends. It does not involve the U.S. Attorney. This is not "McDonnell Part Deux." There is nothing illegal about resigning from a public office to take a better-paid position, either with the private sector or with state government. If it was, then you could lock up a lot of people in River City right now.
It's true enough that people often leave good jobs for better jobs. Indeed, that used to be the American dream, to build a career by taking a series of increasingly challenging jobs, succeeding in them, and moving on to better compensated opportunities. That's not what Phil Puckett did. Phil Puckett tried to trade control of the Virginia State Senate for not one, but two six figure jobs with the state judiciary and the state tobacco commission--the first for his daughter and the second for himself. There is a strong possibility that this attempted exchange of influence might be a violation of federal public corruption laws. It stretches credulity to suggest that Petersen--by all accounts a talented attorney--does not understand that.
But Petersen did not stop there; he dug deeper: It could have been about mental health or affordable care, but this General Assembly session accomplished favors for the former Governor and itself. John L. Brownlee must be silently gloating. His client will benefit from what turns out is the real Virginia Way. To heck with becoming Attorney General.
What the General Assembly accomplished was to provide tacit approval of almost every unethical act Bob McDonnell, or any one of themselves, committed, ever. Mr. Brownlee, a former U.S. attorney, is a more than competent lawyer and he appreciates that the omission of specific restrictions from the "ethics bill" allows him to argue that those activities are condoned.
Some may not remember, but Bob McDonnell's attorney aspired to statewide office. He was cut off at the knees by Ken Cuccinelli, a centrist by comparison. Turns out it is better to have lost and lived to join a very good law firm than to have won and become such a pariah that the only way to earn a living is to bleed the paranoid. It's unfortunate that we'll never know if Brownlee had the stuff to tango with Jonnie Williams. What we do know is that his defense of McDonnell will be that nothing McDonnell did was unethical, at least anything he is charged with, or it would have been included in the ethics bill passed by legislators with the benefit of hindsight.
What is even more unfortunate is that politicians that take advantage of the Virginia Way to fatten their wallets (or purchase personal automobiles with campaign contributions) will continue to thrive. Frankly, there's no luxury like that of candidates willing to subsidize their lifestyle with campaign funds that the state of Virginia treats as their own. And if elected to office, why hire a staff when no one can be more valuable on your staff than yourself? Where's any reasonable standard for behavior, path for remedy, or process to enforce/punish?
So, bravo General Assembly, you may have made John L. Brownlee's case winnable.

Crossposted from Loudoun Progress
The big news of the week in Loudoun is the filing of the recall trial petition against Supervisor Eugene Delgaudio. (Well, the big news unless you're Leesburg Councilmember, and perennial Mayoral candidate, Tom Dunn.) The filing triggers a process clearly outlined by statute, and ably explained by the ever-cogent blogger at Real Loudoun. One thing that has been lost in the shuffle of this week's machinations, however, is the fact that the recall action was largely made necessary because of something that happened in Richmond earlier this month.
You may recall that the only reason Supervisor Delgaudio was not indicted by the grand jury is that he qualifies as a "part-time" elected official, and as such can - apparently - do whatever he wants with public time and assets without any legal penalties. The grand jury at the time took the remarkable step of calling upon the Virginia General Assembly to change the law removing the Delgaudio "part-time" Loophole as soon as possible. Indeed, that recommendation was the very first recommendation in the Grand Jury's report.
If you're wondering whatever happened to that recommendation, here's your answer. Yesterday afternoon, federal prosecutors indicted Bob and Maureen McDonnell on charges stemming from the Star Scientific gift scandal. These charges only underscore the need for real ethics reform in Richmond. This morning, ProgressVA Education Fund released a new report examining how effective proposed ethics reform legislation would be. The bottom line?
Thanks to massive loopholes, the leading ethics reform proposal (HB1211) would not have banned a single gift in 2012.
The need for real ethics reform legislation has only been amplified by former Governor McDonnell's gift scandal and yesterday's indictment. The House of Delegates will begin considering ethics reform bills this afternoon and the Senate will act soon. It's vital you contact your representatives now and tell them ethics reform that leaves out the reform is unacceptable.
Demand real ethics reform from your representatives now!
Key findings from ProgressVA Education Fund's report are listed below the fold.
While you must applaud the leadership on gift limitations imposed by the new Governor and Attorney General, they are largely symbolic. There are no specific penalties for policy violations. Only because this is an "at will" state are these enforceable. But what is a gift? Who is a friend?
As Bob McDonnell learned, you don't always know who your friends are. Thanks to an embarrassing amendment to the Virginia Constitution championed by Bob Marshall and his ilk, we don't even know when a spouse is a spouse (even though we really know). And while the order may have a chilling effect on corruption in the executive, for the legislature and judiciary it is business as usual.

...Travel that does not serve a "legitimate public purpose" falls under the cap, as do loans, lodging, meals, services, special discounts and entertainment unless it is a ticket to a Virginia school or government event.

Gifts from personal friends, private business relationships and family members are excluded from the cap. So are financial aid, invitations from an official or candidate to political events, tickets that go unused, gifts that are returned unused within 60 days, retirement gifts from government agencies, honorary degrees, awards from civic or religious groups and competition prizes. - as reported in the Washington Post
What is "legitimate?" A "scholarship" to attend an ALEC meeting? I have to tell you, someone who gives me, say, $100,000 is going to be my close personal friend and we are going to have whatever private business relationship they desire. As Richard Nixon once explained, you just can't place a value on some "gifts."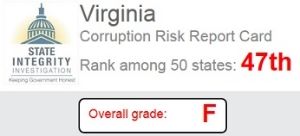 It isn't politicians alone. Commercial media never called out a horribly flawed Governor and Attorney General. Less than two dozen citizens showed up for a public forum on ethics. And the newspaper that hosted that event obscured references to specific instances of malfeasance. Truth is, it's always open season here.
Monday, the outgoing Lieutenant Governor issued a memorandum he penned proposing changes to existing ethics standards. Where was he when it was revealed that his fellow Republican statewide office-holders violated the very standards he proposes? Or anytime during his almost two decades in the Senate chamber? Wednesday members of the House of Delegates offered up what was termed a "sweeping bipartisan ethics reform agreement." The only thing it sweeps is the issue under the carpet. I am ashamed it's called bipartisan. And consistently the media has offered up little in the way of objective or substantive reporting on ethics violations.
Maybe the citizens of Virginia don't care that the state is rated one of the most vulnerable to corruption by the Center for Public Integrity. When the Richmond Times Dispatch held one if its Public Square events last October, it was sparsely attended. When it reported on the discussion, the transcript that publisher Tom Silvestri promised was delivered redacted, removing the most compelling discussion, much of which was about politicians the paper regularly supports.
A couple of things before I continue. No doubt Tom Silvestri would be a super game show host and is certainly an entertaining addition to any cocktail party guest list, but I wouldn't count on his paper or any Media General product for my news. Delegate Jimmie Massie (R-72nd) will come across in what follows as at best naïve and sometimes self-serving, but gives no cause to suspect his personal integrity. At least Delegate Massie puts himself out there and should be applauded for showing up and his openness during this discussion. But there are a number of things you might not know if you rely on the redacted transcript (or "highlights" to use the paper's term), you weren't among the twenty or so at the forum, or you can't find the full video online because the Times Dispatch has made that difficult to search by titling it Public Square 1008 on YouTube. This was Public Square 48.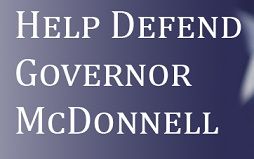 Bob McDonnell spent a week
travelling the Commonwealth making 22 stops
reminiscing about and claiming credit for all things positive during his term in office. At least one member of his administration was also dispatched to a partisan event in Virginia Beach. Were these also ethics lapses?
In an E-mail sent out last Friday by the Restoration Fund, a relatively new organization formed just before his journey to "help cover legal expenses arising out of the Governor's service in office" and to defend his record in office against attack, the tour was the centerpiece. So it begs the question: was the tour a public relations campaign to raise money for his legal defense or a bona fide effort to connect with his constituents?
And since when is it proper to dispatch a state administrator to address a partisan gathering with the message: "How Governor McDonnell made Virginia the Energy Capitol of the East Coast." The prospect of this revelation was too much to pass up, so I wrote the Chair of the Republican Party of Virginia Beach to ask if I could video the event. Chairman Longo responded that he would have to contact the speaker, Cathie France, Deputy Director, Energy Policy, Virginia Department Mines, Minerals, & Energy. But wait, maybe she wasn't acting as advertised, for yesterday Williams Mullins announced she would enter their employ effective 9 September joining the firm's State Government Relations practice. After the fact, Chairman Longo let me know that he never got permission. No wonder. But I digress.
Everything this Governor and his administration does merits close scrutiny. If not for the ethics challenges, at least for the entertainment value. But the bonus with this new scheme to raise money is that as a political organization under section 527(e)(1), the Virginia Public Access Project will broadcast to the world the list of donors who have made it clear that ethics in government matter not a whit to them.
Another Speaker, Tip O'Neill once said: 'All politics is local.' And I say to you tonight that when it comes to health care for all Americans, 'All politics is personal.
So said Speaker Nancy Pelosi Sunday night. And I agree. It is, and it should be personal.
But it should not be personal in the way we saw with the kinds of attacks and slurs that were part of the actions of Tea Party members and their supporters among Republicans in Congress.
I take these slurs and attacks personally. So should you.
While I may be a generous and understanding person on differences of personal belief, my generosity does not extend to when you demean and attack those about whom I care.
So let me tell you why this is personal to me, the health care and the slurs.