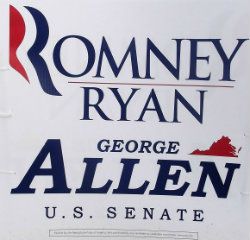 Lost in the news today is a small item that looms large for Tuesday. John E. Gordon has switched political parties. He is one guy. But in the GOTV effort, he is a guy that signals a slippery slope for Republicans who have thrown in with some pretty petty "populists."
"It's not that I'm leaving the Republican Party; it's that the Republican Party left me ... me and many other moderates," Gordon said in his announcement. "It aspired to be a big-tent party; but now it is dominated and exclusive to the tea party and folks with a very conservative social agenda." - Richmond Times Dispatch
So while the Republicans have been pandering to the know-nothing wing for two decades, they have driven those broader minded, more representative of the American electorate, to the curb. Concurrently they have touted a "big tent" welcome mat in an effort to attract a broader base of, well, non-whites. But is it sincere? After expressing frustration that more minorities have not joined the cause during a Virginia Beach appearance last spring, George Allen brushed off an African American member of the audience who commented that he might be able to explain how to help. Allen simply deflected the offer by telling him that he was interested; "see me afterwards..." Not interested or competent enough to share an unscripted conversation publicly. No, that's way too dangerous terrain for George. And there is nothing to demonstrate that Allen or many other Republicans are interested in anything but the votes. George Felix Allen used his clout as a politician when he requested to be in the film
Gods and Generals
playing in a Confederacy reenactment portion of the film. But Felix wasn't happy to merely play a confederate in
Gods and Generals
.
As a young man in Southern California he seemed to think he was in the southern Confederacy and sported a confederate lapel pin. As an adult practicing law, he had a noose in his Virginia law office and a confederate flag in his living room.
Though Felix was a rich boy from the hills above the ocean in Southern Calif, he affected the Southern good ole boy anyway. This was all before actually moving to Virginia.

As a teen Allen started dipping snuff. He wore boots, cowboy hats, and blue jeans, and sported a Confederate flag lapel pin. And he lived for football-if he ever had much of a choice. His dad, who went on to win a spot in the Hall of Fame, was a total hard-ass whose players nicknamed him Hitler and dubbed his training sessions "concentration camp." (Allen sports maxim No. 15: "Most coaches vote Republican.") The hours of game film George Jr. watched in his basement paid off with a spot on the University of Virginia football team.

You can tell a lot about someone by the battles he advocates for. George Felix Allen had a Confederate flag in his living room (and in his office). And he kicks into racist, sexist mode if given the opportunity to "step in it."
Don't let the public forget his "macaca" moment either. He brought shame on the Commonwealth and would bring shame to the US Senate.
It is beyond amazing that George Allen presents himself again to Virginians as a supposedly acceptable candidate for public office. The list of reasons not to vote for George Felix Allen is long. But none is so compelling as the issue of the kind of man he is. He is almost pathologically nasty. And he wraps himself in the worst trappings of bigotry and hatred. It is more amazing still that his voters either do not know about his history of intolerance or do not care.
Lest anyone forget, it is time to remind the electorate of what George Felix Allen is really like. Here is a must-watch and must share video. Some of you have no doubt seen this on the Rachel Maddow show. But it is well worth the time to view it again and send it to those you think need to see it.
You have to wonder: How does the GOP dredge up its candidates? Did they not learn the last time they gave voters Felix? Did they not think we've all had enough of the guy on the TV last time? One thing that we will all appreciate is that when Tim Kaine trounces this guy, he will disappear from a TV screen near you. And how the hell do people vote for this guy? George Allen has a series of radio ads on WTOP FM radio (the news talk rdio channel n the Washington, DC area) where he is criticizing the Obama Administration for defense cuts - saying that needs of soldiders should not be used as a ploy to raise taxes.
The problem with George Allen's argument, however, is that he is a hypcrite on national security issues. You see, George Allen voted against giving our adequate body armor for their service in Iraq.
And that's all you need to know about George Allen's record on national security - who would try to send soldiers to Iraq with body armor made on the cheap? For three straight years we have heard a consistent theme from the McDonnell team:
Virginia has a budget surplus
. 2010: $403
million
; 2011: $544.8
million
; 2012: $129
million
. What hasn't been featured is the growing
long-term Virginia debt
. 2010: added $2.38
billion
; 2011: added $1.89
billion
; 2012: added
billions more
?
This isn't the full story either because the finances themselves are wrapped in derivatives of a sort while the state's infrastructure deteriorates more rapidly than can be mitigated by the maintenance dollars dedicated to preserving it. McDonnell shamelessly went to the General Assembly and asked to issue obligations (through the Grant Anticipation Revenue Vehicles (GARVEE) Bond Program) backed by the promise of a future federal funding stream that is itself threatened by the state's inability to generate transportation revenue and thus the matching funds required to secure the federal funding. Unlike the Governor, we wait anxiously for the 2012 Comprehensive Annual Financial Report for the full story.
"The Governor's plan to accelerate the sale of previously authorized CPR (Capital Projects Revenue) bonds, issue federally backed direct GARVEEs, and create a Virginia Transportation Infrastructure Bank is an innovative approach that doesn't saddle Virginians with further tax burdens." - Senator William Wampler (R-Bristol)
"Innovative:" no taxes...for now. At least Senator Wampler was consistent with Republican fiscal lunacy. Republicans would rather take out a second (or is this a third?) mortgage on Virginia's future than to face the fact that they are fiscally incompetent; that philosophy worked so well for Republicans at the national level. And a hint of the unintended consequences of this charade are reflected in the decreased transportation budget for 2013:

The blackout apparently ends, although this debate should have been televised, radio broadcast, and/or live streamed yesterday. Still, better late than never; enjoy watching Tim Kaine demolish George Allen, it's highly amusing! :) How can we get Virginia Democrats even more psyched to support Tim Kaine? Here's an idea: have Ayatollah General Cuccinelli abuse his office to make a cheap political attack on him.
Well, what do you know? Wish for something hard enough and it happens.
Apparently George Allen and his cohorts have decided that they are not going to win the Senate race on current, relevant issues and so they have to resort to Willy Horton tactics. Horton, for those too young to remember, was the killer George H.W. Bush blamed Mike Dukakis for releasing from prison in Bush's slimy 1988 campaign.
It's an appropriate reference, since Cuccinelli is dredging up documents and issues nearly as old. In a NUTshell, they're trying to blame Kaine for trying to send a German murderer convicted in 1990, Jens Soering, to complete his prison term in Germany rather than Virginia. Bob McDonnell more recently reversed this extradition agreement so that Virginia taxpayers can keep paying for this guy's incarceration. (Lowell summarized the case in a bit more detail here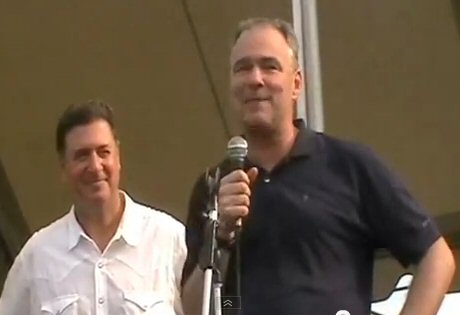 The latest
PPP polling numbers
for the U.S. Senate race this year, and the governor's race next year, are now available. The results are not particularly surprising.
*Tim Kaine leads George Allen by a statistically insignificant 2 points (46%-44%), compared to Barack Obama's 8-point lead over Mitt Romney in the same PPP poll. This has been a consistent pattern in poll after poll; can anyone explain it? I can't.
*For 2013, assuming the Republican nominee for governor is Ken Cuccinelli (which I'd put at a 95% likelihood right now), Terry McAuliffe leads by 4 points (41%-37%). On one level, I find that comforting, but on another...how on earth can this extremist, science-denying wackjob be seriously considered by that many Virginians for our next governor?!?
*If by some miracle Bill Bolling figures out a way to snatch the Republican nomination from Cuccinelli, he actually leads McAuliffe by 3 points (36%-33%). Unfortunately for Bolling, there's almost no way for him to do that, given Cuccinelli's wild popularity within the Virginia Republican Party, if not among the the general electorate.
*Mark Warner remains highly popular, and would easily defeat Cuccinelli (51%-37%) or Bolling (49%-35%) if he decided to leave the Senate and go back to being "his Excellency." Would Warner leave the Senate, though? I doubt it, but it's really his call as to what job he wants, and I see no reason why he can't wait a while to make up his mind. The Koch brothers financed Americans for Prosperity, a libertarian foundation, released a new Television ad targeting U.S. Senate candidate Tim Kaine of Virginia. The 32 second ad attempts to paint Tim Kaine as a "deficit spender" and a tax hiking paragon in typical sound-bite fashion.
Aside from the usual rhetorical flourishes, a quick look at Americans for Prosperity's official website demonstrates the group's focus on reducing the size of government and lowering taxes.
According to AFP's Virginia director, Audrey Jackson, Tim Kaine "can't spend your way to prosperity or tax your way to economic freedom."
As usual, no evidence was given to substantiate these bogus claims.
As is often the case, however, what conservatives and economic libertarians take as gross spending of taxpayer money is the soundest way to stimulate our nation's economy so that more American's can experience economic freedom. In other words, "short-term stimulus with long-term discipline."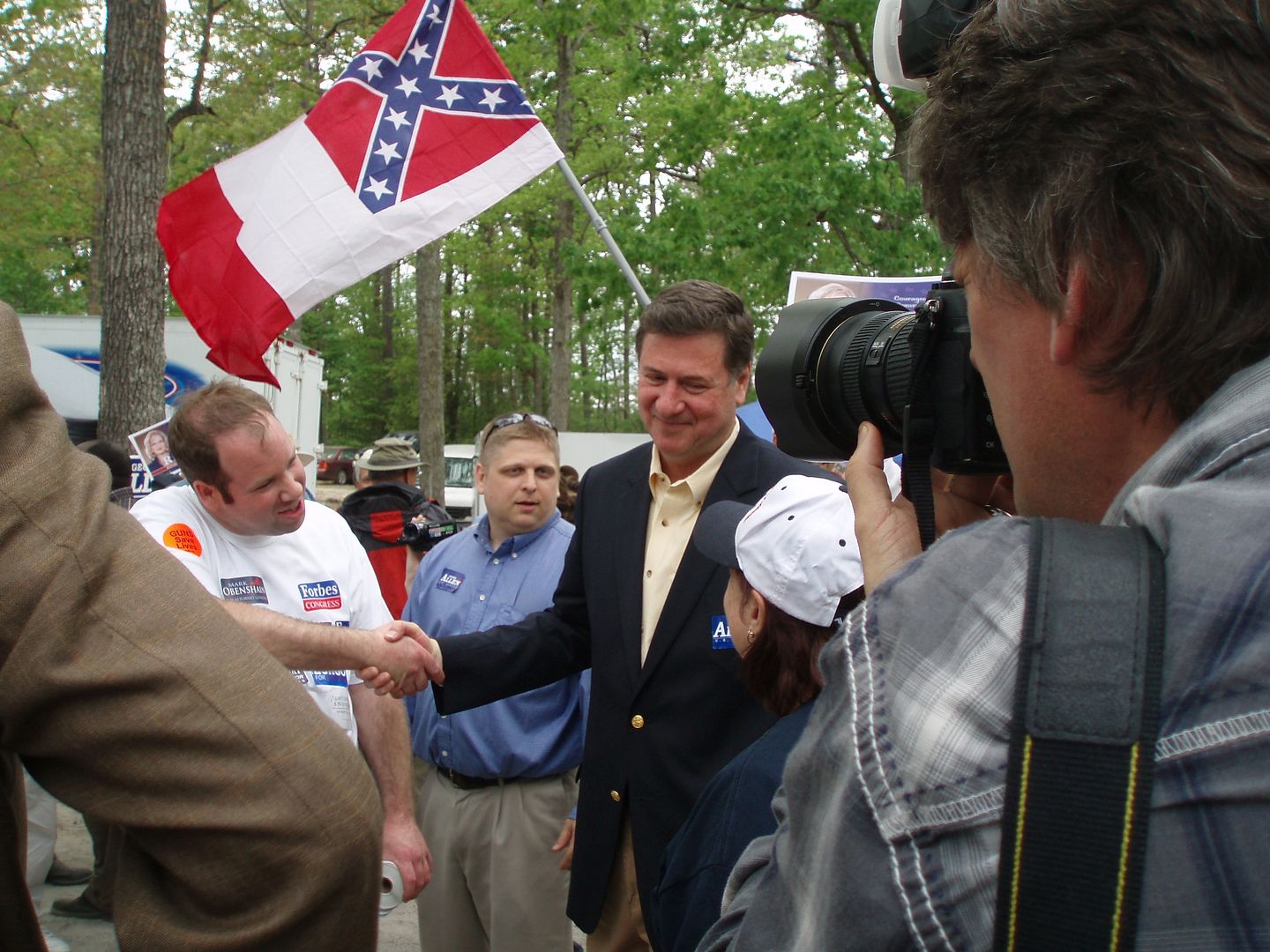 It's been six years since George Allen, then a Presidential pretender, has accepted an appearance on
WNIS
. On that occasion, Allen responded to a pointed question from morning show host
Tony Macrini
, "Tony, it's too early in the morning to answer that." Today, he will be on with Dave Parker.
Macrini: "Then maybe it's too early in the morning for you to be President."
Hampton Roads has become reliably Republican and is essential to an Allen victory. This may explain Allen's change of heart. The Norfolk station airs the Dave Parker show from 10 AM to noon weekdays and is broadcast live (though sometimes lagging) via the internet. Generally, the hosts on WNIS encourage their audiences to participate by calling in or submitting questions via E-mail. It will be interesting to see how Allen's handlers negotiate the interview.
Studio: (757) 627-7979
Dave Parker: dparker@wnis.com
Update: In Parker's intro, he announced that since he invited Allen on the show today, there would be no questions, Allen would be allowed to discuss his campaign, and that he (Parker) would give Kaine the same opportunity in the future.